FourTwentyTwo
Hall: Hall 1 Stand: PO-B102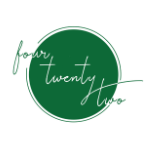 Starting from 2019 we are manufacturing innovative products made from Amni Soul Eco smart yarn.FourTwentyTwo is our innovative brand for biodegradable tights and hosiery made from yarn that decomposes within 3-5 years into a biomass that can be used as energy. Our production capacity in one working shift is about 50.000 pieces of tights monthly.FourTwentyTwo is the future of sustainable fashion and circular economy.
Being leaders in the biodegradable hosiery industry with circular economic practices is our focus, and our mission is to make an impact and change the industry. With our products, we give perfect harmony between the fashion industry and the environment.
Address
Skopje
Macedonia, the former Yugoslav Republic of
Our classic tights made with green tea extract are ready to wear, soft and comfortable, and rich with a refreshing scent of green tea extract. They come in 3 different main colors and all sizes.

Our Spectrum - biodegradable premium limited edition collection is also made of smart yarn known as Amni Soul Eco® technology used to produce enhanced, sustainable yarns that are highly durable and de ...
3 Results