CHRISTINA BRAMPTI
Hall: Grand Ground Stand: G56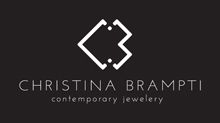 Christina Brampti Contemporary Jewelry is a peerless brand originated in Athens, Greece in 2004. Inspired by arts and science curiosity and breaking with tradition, Christina Brampti herself offers a new point of view on contemporary jewelry.
The designer launches many different collections, with the intention of merging art with the intimacy of jewelry.
With a thoughtful balance of tension and volume, Christina Brampti re-contextualizes jewelry into original arrangements, geometric shapes while she reimagines them with modern silhouettes.
All the designs deliver the experience of art through simple and valuable objects as they are remaining innovative, unexpected, and definitely one-of-a-kind.
Christina Brampti Contemporary Jewelry is ever experimenting with the boundaries of typical jewelry and therefore several pieces have also been displayed at Guggenheim Museum in Venice, at San Francisco Museum of Modern Art (SFOMA), at Picasso Museum in Barcelona, at Kunsthalle München, at Museum Barberini Potsdam, at Designshop bauhaus dessau and at Benaki Museum shop in Athens.
Moreover, Christina Brampti participates widely in international exhibitions and fairs and has clients all over the world.
Jewelry design for Christina Brampti is above all a form of personal expression. A way of expressing yourself in the present, an opportunity to communicate.
Most of her designs can be worn in several different ways, opening a sort of communication with the woman who chooses the pieces.
Christina Brampti likes building up a personal relationship with the materials trying to understand them, to listen to their special "needs" and to explore different potentials.
Wearing these jewelry pieces you feel conscious and unconscious ways influencing your acts. Colorful transparent nets, anodized aluminium elements, cords and pearls.      

Boho and hippie handmade jewelry pieces in many color combinations with aluminium anodized, plexiglass elements, details of beads. Extravagant jewelry pieces.  
Exceptional & lightweight pair of earrings made of colorful flat transparent and translucent plexiglass, multicolored geometric aluminium anodized cubes, rubber and details of PVC beads. Perfect acces ...

Lightweight handmade necklaces with silk and thick cotton ropes, multicolοr aluminium anodized tubes accents and elements of plexiglass. These jewelry designs meet the simplicity of a timeless charm.