Inga Valerie
Hall: Grand Ground Stand: H40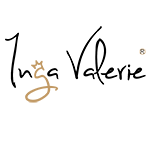 Inga Valerie is a nonconformist brand which may be worn either sport, either elegant, depending on the event.
We are proud to use unique pieces for unique collections with premium quality, rock chic trend, sport and gothic.
Fall /Winter Collection 2023 includes Jumpsuits and Dresses, Trousers and Blouses, Long and Short Jackets, Cape Coats, Coats and Hats, Velour and Velvet Tracksuits.
Fabrics we use are ecologic leather, satin, velour and velvet, faux fur and knit.
Our colour options are beige, pink, yellow, orange, blue, kaki, purple, navy blue and of course white and black.
The star of Fall/Winter collection 2023 are Jumpsuits, which we recommend for all types of events: casual, office or evening. Can be combined with Vests or Jackets.
Easy to dress up or down. Made of fine satin or eco leather, our fabrics have a comfortable hand feeling, safe and harmless to skin.
The ones who love minimalist style, we'll be able to wear electric blue, orange, gray, pink and khaki.
This collection has Faux - fur slim fit dresses, joyful and casual, but also elegant and very feminine and can be easily combined with our Faux-fur bucket hats. They feel so soft and warm that become immediately a must have for the season.
Fit and flare maxi coats are everything you could possibly want for fall occasions, while Long sleeve jumpsuits with zipper closure at front are on your everyday wish because of its style inspired by classic utilitarian uniforms.
Tracksuits are comfortable and stylish, made from high-quality velour fabric being just perfect for everyday styling.
Fashion is changing, but style is eternal. Invest in attitude! Love yourself, Respect yourself! You know you can succeed in everything you want to do! You have the power to choose, so choose what is the best for you! Wear what you like and make you feel confident, without any regrets ... Dress your feelings today and always!
Address
Afumati Village
Romania