Crease Protect
Hall: Grand Ground Stand: G62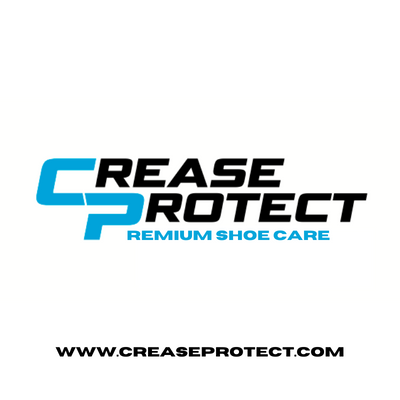 Crease Protect: Your Trusted Source for Shoe Care Solutions
Crease Protect, the premier destination for shoe care products. Our journey began with a singular focus on sneaker shields, innovative accessories designed to prevent toe box creasing. However, we didn't stop there. Today, we offer an extensive range of premium shoe cleaning products, powerful shoe protection sprays, shoe polishes & much more.
We take immense pride in the quality of our products. Each product undergoes rigorous testing against its intended purpose, ensuring that you receive only the best. Our commitment to excellence has earned us the loyalty and admiration of the majority of our customers.
Our Product Range:
1. Sneaker Shields: Protect your sneakers from creases. Our sneaker shields are designed and engineered for maximum durability & comfort, they provide a comfortable fit and prevent creases.
2. Premium Shoe Cleaning Range: From gentle foaming cleansers to specialised brushes to microfibre cloths & individually wrapped wipes, our range is carefully curated to restore and maintain the condition of your footwear.
3. Shoe Protection & Treatment Sprays : Our advanced rain and stain protector spray creates an invisible barrier, to repels water, dirt, and stains, ensuring your shoes stay clean and fresh. Our Suede & Nubuck Sprays are formulated to restore colour of suede & nubuck materials. The colour pigments in our formula intensify the original colour and create a long lasting effect. Our shoe stretch spray is a leather conditioner that is formulated to soften and stretch the material of tight fitting shoes or boots.
4. Shoe Deodrant: Our shoe deodorant spray has a delightful fragrance and powerful formula, it eliminates unpleasant odors, prevents new odours, and ensures hygienic freshness. This deodorant leaves behind a light, airy scent and dries without leaving any residue. Our Odour Buster Balls are equally impressive, effectively combatting bad odors. Their special formula reaches and absorbs odors in confined, dim areas where other deodorizers can't reach. These balls not only absorb moisture but also actively combat the bacteria responsible for unpleasant smells.
5. Shoe Whitener - A unique whitening polish that will make your white trainers look like new again. It has a long lasting sponge which can penetrate deep into the leather for maximum rejuvenation.
6. Shoe Polishes & Shine Treatments : Available in Black, Neutral & Brown. Our premium shoe polish contains a unique blend of premium wax and carnauba wax and special oils from across the world. Perfect for a high gloss finish and perfect shine. Our Shoe Cream moisturises, nourishes, polishes & restores the colour of leather products. Our shoe shine sponge sponge will provide a quick & easy shine. It has built in polish & shine potion. No mess & no buffing needed.
Customer Satisfaction Guaranteed:
We strive for customer satisfaction and are delighted that the majority of our customers love our products. Your positive experience is our top priority, and we continually innovate to meet your evolving needs.
Join our growing community of shoe enthusiasts who trust Crease Protect for their shoe care essentials.
Address
Bolton
United Kingdom
Squeaky Clean is a premium shoe cleaning kit for shoes, trainers and sneakers. This is a unique foam cleaner, and provides the ultimate clean without the need for water. A brush is provided to remove ...

Introducing our powerful shoe whitener, the ultimate solution for restoring the colour of your white or light-coloured shoes. Whether your shoes have yellowed over time or become stained from everyday ...