Rebel Skin
Hall: Hall 1 Stand: H78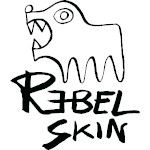 BEGINGING.
WE PROUDLY PRESENT YOU WITH THE RESULT OF OUR WORK. LET OUR CLOTHES
WEAR WELL AND REMIND YOU OF YOUR INNER REBEL EVERY SINGLE DAY.
OF THE STRENGTH WHICH MAKES YOU PUSH FORWARD,
FIGHT FOR WHAT'S YOURS, AND OVERCOME LIMITS.
AT THE CORE OF THE IDEA LIES THE NEED TO DO SOMETHING M O R E.
TO CREATE SOMETHING UNIQUE AND EXTRAORDINARY.
TO GO FURTHER.
WE ARE SPORTSPEOPLE AND WE CREATE PRODUCTS FOR PEOPLE LIKE US.
OUR LEGGINGS ARE A PROCESS.
WE TEST FABRICS FOR DENSITY, FLEXIBILITY AND THICKNESS
– SO AS TO REACH THE OPTIMUM IN EVERY ASPECT.
WE TEST VARIOUS CUTS – THE GOOD ONES AND THE BETTER ONES
– TO FINALLY COME UP WITH THE PERFECT MODEL.
TATTOO ARTISTS' DESIGNS.
THE NEXT STEP IS A THOUGHT - AN I D E A! LET'S BLEND FUNCTIONALITY
WITH ESTHETICS! LET'S MAKE OUR LEGGINGS A PIECE OF ART. LET'S INTRODUCE
REAL ART TO THE GYMS AND FITNESS ROOMS.
OUR PATTERNS ARE DESIGNED BY THE BEST TATTOO ARTISTS. EVERYONE HAS
SOMETHING TO SAY AND TO SHOW. BIZARRE, SOMETIMES PSYCHEDELIC PROJECTS,
UNCONVENTIONAL ESTHETICS, A LOT OF ASYMMETRY.
WE TELL THEM: "DO SOMETHING YOU'VE ALWAYS WANTED TO TATTOO!".
"DON'T IMPOSE ANY LIMITS ON YOURSELVES!"
WE DON'T INTERFERE, WE INSPIRE.
THIS CREATES A PERFECT SYNERGY BETWEEN TATTOO ARTISTS AND FANS,
WHO LOVE THE REBEL SKIN DESIGNS.
WE HAVE A MISSION!
REBEL SKIN IS SO MUCH MORE THAN JUST CLOTHES! IT'S A WHOLE LIFESTYLE!
A LIFESTYLE OF BEING 'BEYOND STANDARDS', BEING BRAVE, BEING YOURSELF.
YOUR BEST, TRUE SELF.
WE ARE FASCINATED BY WOMEN'S POWER AND STRENGHT,
THEIR ABILITY TO MAKE SIGNIFICANT CHANGES,TO FOLLOW THEIR HEARTS,
AND TO TURN DREAMS INTO GOALS AND... INTO REALITY.
WOMEN ARE THE REBELS,
WE HAVE A #REBELINSIDE US. SET IT FREE!
PSYCHO-FANS
WE HAVE A SIZABLE GROUP OF SUPER-REGULAR CUSTOMERS, WHO COME BACK AGAIN AND AGAIN, AND HAVE PLENTY OF OUR CLOTHES, AND STILL ASK FOR MORE (!).
THEY CALL THEMSELVES PSYCHO-FANS.
THEY STRONGLY IDENTIFY WITH THE BRAND'S MISSION AND TRULY LOVE THE QUALITY AND DESIGN OF REBEL SKIN.
QUALITY & ETHICS
ALL OF OUR PRODUCTS ARE SEWN IN POLAND.
THEY'RE HANDMADE WITH GREAT CARE FOR BOTH THE PRODUCT ITSELF AND THE EMPLOYEES (WHO ARE MOSTLY WOMEN).
WE USE THE HIGHEST QUALITY FABRICS, THERE IS NO PLACE FOR COMPROMISE!