Socksmith Design Inc.
Hall: Grand Ground Stand: C62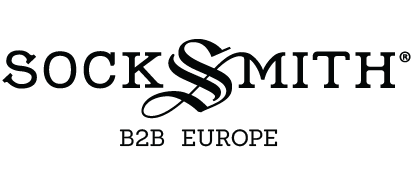 Socksmith was founded in Santa Cruz, CA in 2007
after the owners couldn't get any novelty sock products
during the holidays. It seemed their suppliers could
fulfill large department store orders, but not the smaller
retailers on Main Street America. They decided to do
something about it, so Socksmith Design was born!
A few benefits buying from Socksmith:
Over 500.000 units in over 500 fun novelty
sock designs in stock at all times. Multiple
collections are available - novelty cotton, novelty bamboo,
athletic novelty knit, kids socks and more!
Socksmith Partners have access to our state of the art, secure B2B
software, which allows you to see our available inventory, order at
your convenience.
All this is at your fingertips 24 hours a day!
How do you become a Socksmith Partner?
You can do this by completing an online application
at www.socksmithb2b.eu and simply fill out
the form. Someone will get back to you within 24
hours. Finally, you can email info@socksmithbeb.eu and we will be happy to help.
More benefits of becoming a Socksmith Partner:
We're very proud of our industry leading margins,
replenishment capabilities, and vast collection of novelty socks,
but we also introduce new products all the time and have exceptional Customer
Service! We're dedicated to you 100%.
Address
Santa Cruz
United States
https://issuu.com/katiefoster2/docs/europe_catalog_2023-feb?fr=sYmQ2NjU2Njg2NzE

https://issuu.com/katiefoster2/docs/europe_catalog_2023-feb?fr=sYmQ2NjU2Njg2NzE