09 Jan 2019
2018 in Fashion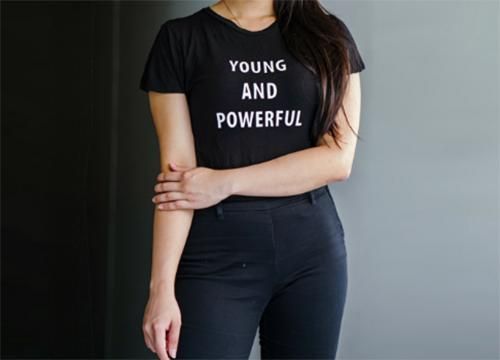 Like any creative industry, fashion invariably takes its cues from the world around it. In a year that has been eventful, to say the least, we take a look at what's happened in the world of fashion as we head into 2019.
"Statement piece" takes on a new meaning as fashion gets political
Slogans, statements and activism found their way onto catwalks and into stores this year. In what has been a heated year for global politics, it's unsurprising that these two worlds have collided. From the First Lady's wardrobe choices throughout the year, which have attracted notable attention and more than a little controversy, to the Golden Globes' black out, which saw A-list stars battle sexism, sexual harassment and gender inequality in Hollywood, there's been more than one instance of fashion being used to make a statement.
And it's not just the red carpet that's been privy to this trend. 2018 saw high street chains and catwalk labels get behind one message in particular: no matter who you are, or what your views, your vote matters. The Rock the Vote movement was championed by Levi's, American Eagle and Moda Operandi with statement slogan t-shirts to excite and encourage a nation of young potential voters.
We're delighted to welcome the iconic Katharine Hamnett CBE to Pure AW19/20 as our keynote speaker. The fashion activist and inventor of the slogan tee, Katharine will be sharing her story as a pioneering designer and the reemergence of campaigning in the industry today. Join us 10th – 12th February to hear from Katharine and discover what 2019 has in store for the industry.
Meghan Markle redefines the phrase "fashion royalty"
With all eyes on the Royal Wedding this year, the Meghan Markle effect has truly taken hold in the world of fashion retail. From the ring she wore at her wedding reception to the trench coat she wore on her official tour of Australia and everything in between, they all have one thing in common: sales spiked after the Duchess of Sussex was seen wearing them. Meghan Markle's fashion influencer status saw soaring sales for Givenchy and Stella McCartney on the day of her wedding, not to mention a spike in social media engagement.
A new generation of creative leaders take centre stage
A whole host of big name brands welcomed fresh faces in their creative ranks this year. Burberry's newly appointed chief creative officer, Riccardo Tisci wasted no time in giving the brand a fresh new look. The new CCO paid homage to the brand's founder, Thomas Burberry with a brand new "TB" monogram print which is as modern as it is nostalgic.
Elsewhere in the industry, Kate Spade New York's new creative director, British designer Nicola Glass, ushered in a new chapter for the brand after the founder's tragic death. Staying true to the brand's core DNA, her first collection with the company stays true to the femininity and playfulness that Kate Spade stands for.
Hedi Slimane, newly appointed creative director at Celine, made waves for fans of the brand, taking it in a new direction in both branding and design. In a move that has sparked controversy, Slimane discarded with the signature tailored trousers, silk blouses and understated pieces championed by the brand's previous creative director, taking Celine's Paris Fashion Week presence in a new direction, filled with polished decadence and more androgynous design. Of his appointment, Slimane was quoted saying "You don't enter a fashion house to imitate the work of your predecessor", and it seems he has lived up to his words.
And the rest…
Legacy brands, like Chanel, Burberry, Versace and many more declared they would be going fur-free as many US cities voted to ban the sale of fur products.
Fashion has continued to push truly inclusive sizing as retailers expand their ranges and plus-size-specific labels become more mainstream.
Sportwear became a controversial topic with Serena Williams' catsuit being banned from the French Open and Nike's "Take a Knee" campaign both garnering attention.
The Victoria's Secret Fashion Show came under fire for a lack of body diversity and inclusivity.
Rihanna and Cardi B take their places in the fashion world, with Rihanna launching her inclusive Fenty lingerie line and Cardi B's red-carpet appearances in Moschino and Dolce & Gabbana.
2019 so far…
If there's one thing we can all agree on, it's that the fast-paced world of fashion never rests. We've already seen two of the biggest fashion events of the year as London Fashion Week Men's and the Golden Globes kicked off the New Year in true style.
Meanwhile, celebrities are already influencing the year in street style with metallic sportswear, wide-leg jeans and bold, bright colours taking the floor for 2019.
Be part of 2019's fashion legacy at Pure London AW19/20 to celebrate the influence of the year just gone and look forward to the year ahead. Join us for the next edition at Olympia London on 10th – 12th February 2019.
Source: News Article "Hedi Slimane rips up Celine's female design philosophy at Paris show" published by The Guardian