11 Jul 2019
A sneak peek into SS20 with speaker Alison Bringé, Launchmetrics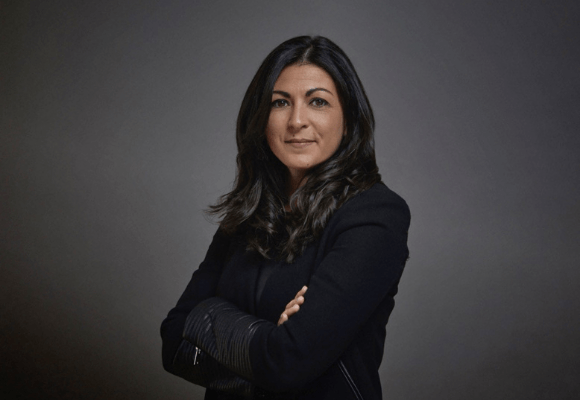 Ahead of her appearance on Pure London's Future Stage in just a few days' time, Alison Bringé from Launchmetrics gave me a sneak peek into what she'll be speaking about this season...
Can you tell me a little more about your career story so far?
I am the Chief Marketing Officer at Launchmetrics, a marketing platform and data analytics company specialising in fashion, luxury and cosmetics sectors, where I lead a team of marketing unicorns. It's been a long journey to get here but I've always followed my heart to pursue those opportunities that I was most passionate about.
Previously to joining Launchmetrics I was the Director of Marketing & Communications at IMG Fashion, where I lead the digitalisation of New York Fashion Week, introducing the Launchmetrics (previously Fashion GPS) technology, which has now become the standard for Fashion Shows worldwide today.
Prior to that, I supported the US expansion for e-commerce giant, NET-A-PORTER, working under the inspiring Natalie Massenet and Alison Loehnis.
Aside from my corporate responsibilities, I have enjoyed being a part of the fashion education system as an adjunct professor at Parsons The New School as well as a continued guest lecturer for programmes at Condé Nast College and Il Sole 24Ore Business School. I have a Masters from SDA Bocconi's School of Management in Italy as well as a Bachelor's of Arts degree in Advertising & Communications from the University of Central Florida in the United States.
Of all the experiences I've faced, I've realised that you excel most when you focus on what the world will look like tomorrow and let that mantra shape your career. People put tons of pressure on themselves as they face the fate of keeping up with the Joneses; the most successful people in this world are those who can think beyond today. So, I always advise others to find out what you're good at, how you can bring that passion to the needs of that industry and go for it!
Why do you think influencer marketing is so powerful, especially in the fashion industry?
To understand why influencer marketing has become so powerful in the fashion industry, I think you need to understand what fueled its inception to begin with. In the last 5-10 years, we've seen a shift from a baby boomer customer to a younger, more digitally savvy customer.
As this buyer has a different way of discovering products and in essence, a new customer journey, the voices that influence consumers have completely started to shift and things like word of mouth marketing have reigned supreme. With this evolution, we see the influencers have become the voices for peer-to-peer marketing and have become the "middlemen and women" between the designer and the consumer.
The role of these digital taste-makers is helping designers and brands more accurately understand what their audience wants and on the other side, they are also inspiring their audiences to discover new ideas, react to collections and provide a new perspective about luxury and fashion.
The power, in the end, lies in the fact that it's actually easier for designers today to collaborate with influencers to drive sales instead of trying to engage their entire community to push products that perhaps are irrelevant to those audiences. The success of these activations makes it a key tactic for brand marketing today.
What are you most looking forward to at Pure London this season?
Pure London is a key event in the UK market which highlights new local designers as well as brings together different industry professionals from the entire fashion supply chain. As an industry partner, I look forward to hearing from designers, buyers, and other key functional areas of the business, to learn how our data shapes their respective roles in the industry. I'm especially excited to see the catwalk shows and the young designers who will be showcasing collections which embrace new fibres and ethical standards that will move the industry forward.
What's the best piece of advice you've ever been given?
The relationships you make early in your career can lead you to your next job or your biggest opportunity. It's important to remember that people like to do business with people they know and like, so I always advise people to never forget that "manners matter". You never know who the next Anna Wintour might be or if that ex-colleague you snubbed in your first job could someday be your boss. It's a small world out there.
What can we expect from you at Pure London this season?
The digitisation of our world today has brought with it many new challenges and opportunities which have redefined the customer journey and have pushed us to rethink the marketing channels through which we connect to our consumers. In our State of Influencer Marketing presentation, we will share the shifts in which the industry is moving and key strategies brands should be incorporating to activate those who influence their customers.
Finally, why do you think London is such an important fashion destination?
I love that London is a melting pot of different cultures, backgrounds, people, style and more. This international sensibility, coupled with the years of know-how and craft that the fashion educational system holds, has made London the fashion capital it is today. London-cool will always be something you can't find in other cities and quite frankly, it is what has and will drive international attention here for years to come.
Don't miss Alison on the Pure London Future Stage on Monday 22nd July at 3:15. See the full seminar programme here.
---
About Pure London and Pure Origin
We are the UK's number one leading fashion trade event that brings together the entire fashion supply chain, right the way from fibre through to finished ready to wear garments.
No other UK show offers sourcing and brands together, making Pure London and Pure Origin the only event to cater to all your fashion buying needs under one central London roof.
Location & Opening times:
Olympia London,
Hammersmith Road,
Kensington,
London W14 8UX
Sunday 21 July 2019, 09.30 - 18.00
Monday 22 July 2019, 09.30 - 18.00
Tuesday 23 July 2019, 09.30 - 16.00