14 Jan 2019
Brands to watch: Conscious edition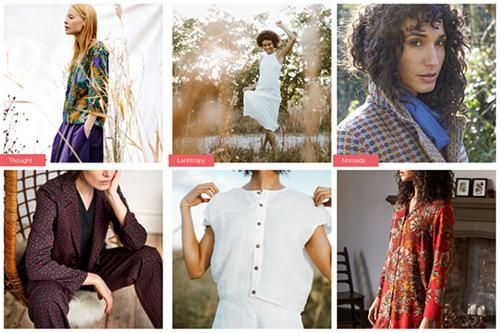 There's no doubt about it: conscious is cool right now. With issues of environmental friendliness, ethical working conditions and animal rights fresh on the lips of many in the industry right now, there's a lot of buzz around conscious fashion. In the run up to the much-anticipated Pure London AW19/20 edition, we wanted to introduce some of our favourite conscious brands who'll be exhibiting this season:
Lanhtropy
US brand Lanhtropy believe in the importance of sustainable fashion, using only eco-friendly treatments and colours for a unique and washed colour palette that makes every piece truly individual.
You can find them at stand Y24.
Thought
Australian brand Thought draws inspiration from nature. An award-winning sustainable brand, Thought garments are created from organic cotton, hemp and bamboo and all are exclusively designed in-house to create a seamless transition from seed to stitch. This season's collection looks to bring a sense of space and calm, allowing for moments of contemplation and inspiration.
See the season come to life with Thought at stand H83.
Komodo
Established in 1988, British brand Komodo is all about fairness and sustainability for people and planet. Above all else, Komodo believes, "It's a privilege of our society to dress in comfort and style. It is the responsibility of designers to make that style fairly and sustainable for those who work on it." Sourcing choice organic materials, working with eco-friendly fibres and striking the balance between timeless styles and contemporary designs, Komodo provides a tangible alternative to the fast fashion phenomenon.
Discover a new approach to fashion at stands Y40 and S55.
Soruka
Spanish brand Soruka work closely with India's talented artisans. Striving to create a better world for producers who have been marginalised by the conventional system, Soruka works in partnership with its creators to preserve traditional craftsmanship and ensure fair wages and working conditions. The recycled and reclaimed materials used by Soruka means that no two designs are the same, so each bag is totally unique.
Discover Soruka at stand Y37.
Nomads

Nomads is dedicated to creating beautiful clothing with ethical values. Born from a shared love of India, Nomads founders Duncan and Vicky created the brand in 1989 with strong ethical guidelines at the heart of the business. Contemporary design coupled with quality ensure that each Nomads garment is set to be a wardrobe favourite from day 1.
Find Nomads at stand C150.
Register for a free ticket and discover more conscious and sustainable brands at Pure London AW19 on 10th – 12th February 2019.