11 Feb 2020
Business as usual at Pure London demonstrating true resilience in the market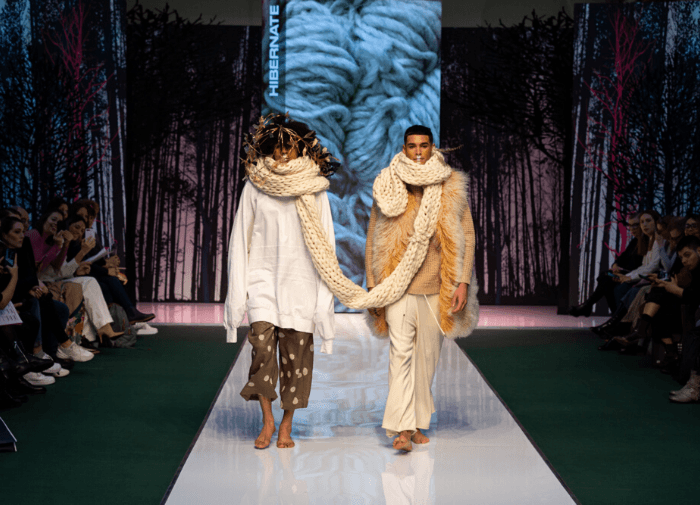 Festival of Fashion, Pure London closed its doors today after a successful three days of business and inspiration welcoming visitors from over 80 countries. Despite hurricane Ciara, buyers from stores including Selfridges, Debenhams, Next, Galeries Lafayette, Pamela Shiffer, Sunday Best, Asos, New Look, The Dressing Room, and Jules B flocked to Olympia for the AW20/21 presentation of over 1,300 inspirational and trend-led collections along with a three-day programme of insightful, challenging and stimulating content. While sourcing and manufacturing show Pure Origin attracted sourcing managers from brands including Prada, Burberry, Ann Summers, Gibbons, Next, Karen Millen, Maniere De Voir, Long Tall Sally, James Lakeland, Lipsy, Radley & Co, Monsoon, The Sourcing Team, YMC, Gloverall, Centro Sourcing, Amazon and TK Maxx.
Martin Arnold, Fashion Portfolio Director of Hyve Group plc said: "Buyers really made the effort this season highlighting the importance and relevance that Pure London has in the buying calendar. Even with trains and flights cancelled due to the weather they showed the true grit of UK fashion to keep it business as usual, demonstrating the resilience of the market."
The show maintained a high level of visitors throughout the three days, with exhibitors commenting on the quality of the buyers and a continued interest in buying ahead for the new season.
Matthew O'Brien, first time exhibitor was delighted by the response to his collection: "Pure London is a great show, it's our first season here and there's a real buzz. We've seen some great customers from all over the world including South America, Israel, Ireland, Scotland and England. The international buyers seem to love that we are designed and made in the UK, it excites them and they love the quality. We're excited to come back for next season."
The appetite for information and trends content saw no signs of abating. The AW20/21 catwalk shows and Unique Style Platform trend presentations were standing room only, whilst talks on the Nomad and Origin Stages were delivered to packed audiences with record numbers attending. Over 2500 people digested topics focused on sustainability, authenticity, visual merchandising, textile production and fabric life-cycles, garment marking, sourcing advice, industry standards, fashion-tech innovation, forecasting, inclusivity and empowerment, as well as a daily morning briefing outlining the unexpected benefits of Brexit and a workshop session on building business strategy to be Brexit resilient.
Trend partner Unique Style Platform outlined the macro trends for the AW20/21 season, highlighting a younger generational divide of Greta Thunberg vs Love Island groups – those fighting fast fashion opposed to those over-consuming it. Jane Kellock, Founder and Creative Director of USP said; "We are entering an era of extremes and conflict in society. AW20/21 is about finding balance." The four key trends, Hibernate, Attune, Opulence and Nu-Tech were brought to life on the catwalk with a showcase of exhibiting brand collections.
Show organisers, Hyve Group plc, announced a number of changes for the July 2020 show. As it powers forward with its commitment to sustainable fashion in partnership with the Conscious Fashion Campaign and the Sustainable Development Goals, Pure Conscious will move from the National Hall to the front of the Main Hall, making it the first stop for buyers as they enter the show. Pure Jewels launches for 2020 providing an area for fine jewellery and watches as well as jewellery components and gems.
As Pure Origin outgrows its current space, next season sees it take over the entire National Hall and introduce manufacturing machinery. A dedicated space for machinery and manufacturing providers will showcase the latest and most innovative solutions for pattern cutting, trimming, sewing, printing and more. The new Speed Networking area matching and connecting buyers and sourcing managers with exhibitors was hugely successful with over 500 meetings and will return for July 2020.
The next show takes place on the 19th – 21st July 2020 at Olympia London.