What do fashion buyers look for?
The retail industry keeps changing and so does the role of the fashion buyer. Helen Pritchard is one of the directors and co-owners of Elizabeth Rose, and the sole buyer for the shop, dedicating a large amount of her time visiting showrooms and going to the seasonal fashion fairs in the UK and Europe.
She talks to our Content Editor, Lina Vaz, about how she prepares for Pure London and her key purchases for the upcoming season.
What changes have you noticed in customer demand post-Covid and how is that affecting your buying decisions?
Straight after COVID we had an extremely positive 'bounce back' and Summer 22 was fabulous for us. I think the fact we were all 'confined' to our homes and not able to spend money gave us all an insatiable desire for some retail therapy.
There was an element of 'feelgood' factor that we saw the back end of Covid with pubs, restaurants all opening up again along with a glorious summer!
Unfortunately, with the Ukraine war, cost of living crisis, interest rates rising and a wobble with the UK government, in September, AW22 was extremely challenging. Since Covid I have noticed that customers are more reactionary shoppers and if it is too hot for jumpers for example they won't buy them!
I have also noticed that Instagram plays a huge part in customers' decisions - they are extremely 'trend led' and pre-loved has grabbed customer's attention. This has made forward ordering an extremely difficult 'science' - years ago buying seasonally was predictable and budgets remained pretty fixed or increased year on year.
I am extremely cautious with forward ordering now and hold back a larger proportion of my budget for in-season buying. It is extremely important to me that brands offer a B2B site.
Do you already have a plan in place when visiting Pure London, or just have some products in mind and decide on the spot where to place your orders?
I always have a plan when visiting Pure - I make sure there are the brands I wish to see, and also depending on the trends I am seeing, I like to look for a 'look' and edit for my shop for the season.
What are the best fashion buys for next season? What's in high demand right now?
The best fashion buys for the next AW22 for me is the 'trouser suit' and the silhouette is definitely moving towards clean lines. I like the fact the smarter look is back - and there is a high demand for this look; I really believe that women want to dress up again! Customers are also loving the wide leg trousers and jeans, and I particularly love the shorter knitwear.
Customers are somewhat weary of the very oversized look and plain classic dresses are what we are being asked for. However, I am pleased to say (as I love it) Boho is still a big player - my inspiration is taken from Isabel Marant, which I love, and the cowboy boot I am happy to say is here to stay for the moment!
Do you have particular colours that you're focusing on?
Bright colours, particularly in the winter, are very important for me. I am delighted that green still plays an important role this season. There are 2 new colours I am excited about this AW22 and that is purple and turquoise, and I know my customers will love the introduction of these fabulous colours.
I love the fact that camel is making a comeback to give these new colours a fresh look, instead of black, and I am focusing on navy for winter this season as well. I also love buying leopard print; for me it always gives a contemporary twist to an outfit.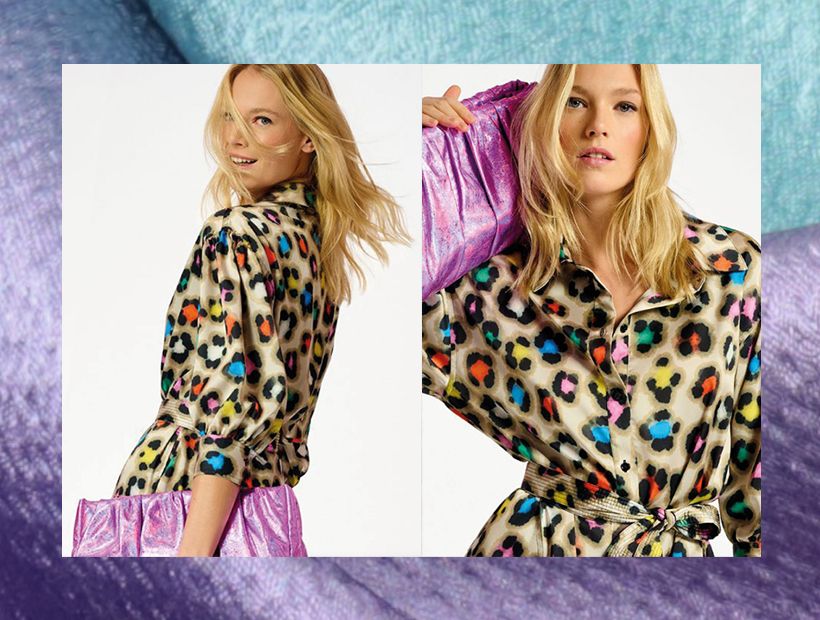 Considering how so many micro-trends emerge from social media, do you think the role of the fashion buyer is changing? How attentive are you to what's happening on social media?
I think the role of the Fashion Buyer is changing, and going back to my answer to question 2 in which I mention that forward ordering is challenging, due to the fact these micro trends grip the social media world and women like to follow these trends. That is why it is important to hold back budget to react to these trends.
However, I say this with caution as I do not want to get trapped with 'cash and carry' and unknown brands where quality may become an issue. If established brands were able to provide B2B or satellite groups, that buyers were able to buy into during the season, our life would be a lot easier!
Of course I follow social media and watch out for the latest trends, but if I followed every movement and trend I think I would tear my hair out with exhaustion, so I take on board as much as I feel is feasible and 'doable'.
As an independent, my customers hopefully trust my style and edit for the season. Many fashion indies are run by incredible women who have their own style and look, and that is what we should cherish - otherwise we would all look the same!
Gen Z is quite climate-conscious and favours brands that align with their values. Are you making a deliberate effort to add sustainable products to your range?
Absolutely, I am making a deliberate effort to add sustainability products to my range - however, most of the brands I stock are already on board! There is also an argument as well to buy less and buy quality - enjoy your clothes for longer than a season, which automatically reduces an already 'throw away society'.
We offer key pieces and essentials each season and positively encourage our customers to bring in clothes from previous seasons so that we can update with say a new top or jacket.
Many businesses are changing, Jigsaw has just launched a repair service, and John Lewis launched a fashion rental service in October 2022. What do you think about circular fashion?
My thoughts of repairing and rental are a good way forward. However, I feel that many large stores are getting on the bandwagon, and most towns have a repair shop or I would hope so (we certainly do in Tenterden), and why would I wish to take away their business. To me this is a different business model which I am not saying is wrong but it is not something as a small business I would be able to offer.
The idea of circular fashion is of course important but something I do automatically with my daughters and friends - we all share our clothes!
Other Digital Content
Much has been written about brand building, from creating a marketing strategy to grow your business to forming an emotional connection with your customers. But for many it's still puzzling. How to bu ...

When it comes to recruitment, employee wellbeing is a key trend for this year. People not only look for a job, but a purpose, and it's important to attract those who are the right fit for your busines ...