27 Aug 2020
Fashion Together meets Kirsty McGregor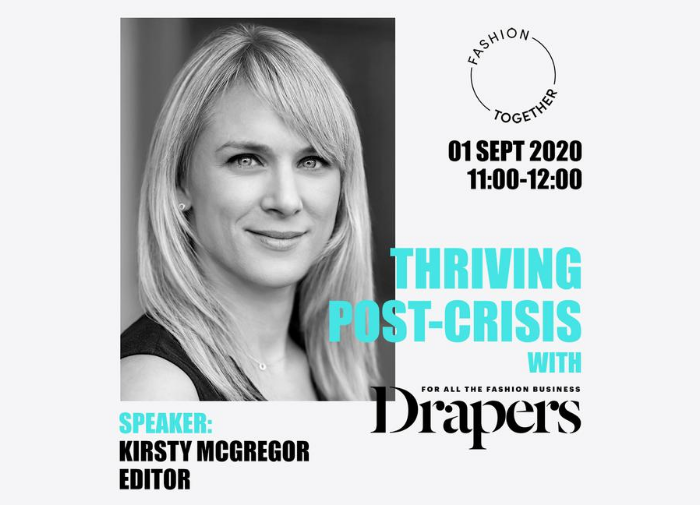 With Fashion Together just days away, we sat down with Drapers editor Kirsty McGregor to find out a little more about the panel she'll be chairing on 1st September 2020.
We're excited to hear from you at Fashion Together this September! Can you give us a preview of what you will be discussing during your session?
From stripping out costs to mastering social media and introducing personal appointments, independents retailers have had to adapt and upskill at pace during the coronavirus crisis. In this session, I will be joined by three successful independents from across the UK to discuss how they got through lockdown, what life has been like since they reopened, and the future challenges and opportunities presented by this sudden and large-scale shift in shopping habits.
Do you think the pandemic will have a lasting effect on the fashion industry and what does the future look like for fashion?
There is no doubt that some of the changes brought about by coronavirus are long-lasting and even permanent. Many of our high streets already look very different, haunted by empty units once occupied by some of the UK's best-known fashion chains. Some of this excess retail space will be repurposed for residential or office use, or as community spaces.
Done properly, this could create smaller, but more vibrant retail hubs at the centre of local communities – allowing independents to shine. Our new survey seeks to explore these issues further, and will help us to lobby government for the support fashion retail needs to thrive: surveymonkey.co.uk/ResetFashionRetail
The pandemic has also forced people to slow down their spending and make more considered fashion purchases. There is a feeling that now is the time to make big changes to the way things are done, so we will see a renewed and growing focus on sustainability.
What are some of your favourite examples of retailers that have transformed their offering or adapted during lockdown?
It has been inspiring to watch the independent sector use technology to foster closer relationships with customers. For example, Roo's Beach in Cornwall made a concerted effort to connect with customers via social media during lockdown by launching styling videos on Instagram.
Lingerie indie The Pantry Underwear is another good example of a business that pivoted quickly. Unable to offer in-store fitting, it improved its product pages with better imagery, specific fit advice for every style, and clearer links to associated items and care information. It also launched a FaceTime fitting service for customers.
While not necessarily customer-facing, I was impressed by the number of brands and manufacturers that turned their hands to creating face masks and other personal protective equipment at the height of the crisis, donating the profits to charity.
Also notable is the way retailers have adapted their stores since lockdown ended. For example, Selfridges offered personal after-hours shopping trips, online beauty appointments and live entertainment for those queuing outside.
What has been the most important lesson you've taken from the lockdown?
The value of face-to-face interaction with other people. It is amazing what can be achieved remotely with today's technology – but so much of how we communicate is non-verbal, and those nuances can be lost on screens.
And finally, do you have any words of positivity to share with our readers?
With the right leadership and support, the fashion industry will come out of the pandemic changed for the better. The consolidation we are seeing on the high street is difficult to watch, but long overdue. Brands with a clear understanding of what their customers want and need, in terms of values, product and service, will continue to thrive.
Fashion Together's exclusive content programme will kick off on 1st September 2020. Register for Kirsty's panel and see what else is on here.