15 Sep 2017
From proms and parties through to weddings and races...
Ascot for All
Henry David Thoreau, the 19th-century counterculture hero who left his world to live in a hut, said to beware of any enterprise that requires new clothes. By his account, we must be very wary of Ascot and other events where a newly bought wardrobe of coruscating novelty and shimmering offensiveness is the price of entry.
One of the great successes of contemporary life is the democratisation of luxury: exclusive goods and experiences are widely available across the price spectrum. Once, travellers took a lot of baggage — Louis Vuitton trunks and liveried bearers. Now, the more sophisticated you are, the more likely you are to get on a plane carrying no more than a smartphone and a carry-on bag.
Just as Ascot eventually opened up its Royal enclosure to Joe Public, so too has occasion wear experienced something of a democratisation in recent years. We all want to attend and/or participate in London Fashion Week; see the runway shows; to wear something designed by an international fashion house (even if it's a capsule collection commissioned for H&M or Debenhams) and to connect with our style idols on Instagram, and this desire has grown to embrace occasion wear. Versatility and value for money have become watchwords for those shopping for formal events. For the womenswear retail industry, I am talking specifically weddings, formal events, parties and the races, the sartorial needs of which have hitherto been dominated by household names with price tags exceeding the £1000 ballpark. A few years ago, affordability was rarely a factor and the MOTB's outfit was often budgeted for under the overall wedding cost. For decades, the co-ordinated dress, jacket and hat had represented the iconic image of the traditional and conventionally accepted wedding outfit, only occasionally usurped by the 3 piece combination. This was the silhouette, structure, style and indeed the safety which the majority of women aspired to, in advance of their son or daughter's wedding or an invitation to the Royal Enclosure. While this formula still works in many cases, it is no longer the standard convention.
Versatility & Affordability
In recent years, the demand on the shop floor has seen the rails adapting to reflect changes in lifestyle, priorities, attitude and a new willingness among customers to invest in a formal multi-use outfit. "I'd like something which I can wear again", became the popular refrain often followed by "I don't want something structured. I'd like to get away from the typical MOTB look".
As with all these shifts in consumer behaviour, the occasion wear designers and retailers had no option other than adapt while the high street took note of a gap in the market.
Topshop, Lipsy and Little Mistress have all launched bridal collections this spring, becoming the latest in a long line of brands and retailers expanding into occasion wear and following in the footsteps of Whistles, Missguided, Asos and Ted Baker. There's also been an influx of new occasion wear brands offering pretty, trend-driven dresses at competitive price points. As the category for party wear triumphs, so too has the price architecture for ready to wear been broadened.
When a brand more commonly known for producing traditional kilts enters the occasion wear market, it's very clear that this category is in demand. Tarak Ramzan's owned Quiz - that started out making kilts 70 years ago – has disclosed plans to float on the London Stock Exchange as soon as this year. The Glasgow-based clothing business is reportedly exploring all viable options for a £200 million stock market listing of their fast-fashion.
"Quiz is a fast growing brand with a number of very exciting growth opportunities," a Quiz spokesman recently told the Press, when asked about this news. "We will always consider all options."
Hitting the Sweet Spot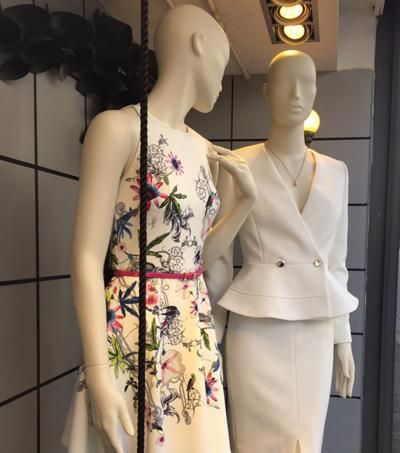 Ted Baker is a good example of a commercial, high street success which has found a sweet spot in pricing and nurtures a strong identity and style. Reported last month, sales soared 16.4% in constant currency to £531m for the year to 28 January, as profits before tax were up 4.4% to £61.3m.
Retail sales at the business were up 15% year on year to £400.7million. Online sales were up 35.1%. Wholesale sales were up 20.9%, while license income rose by 26.8%.
Ted Baker chief executive Ray Kelvin said the business traded well despite a backdrop of "ongoing challenges across global markets".
He added: "Our spring collections have been well received and we have a clear strategy for continued growth across both established and newer markets. This is underpinned by controlled distribution across channels as well as the design; quality and attention to detail that are at the core of everything we do."
So, what does this mean in the independent retailers and those brands not listed on the London Stock Exchange?
"Ted Baker is our key brand for occasion wear," says Jeremy Clayton, owner of the award winning fashion boutique Javelin, in Bury St Edmunds. "The range is large enough so that we can buy to suit your own store and not look like the typical Ted Baker shop on the high street. We're careful about not buying too much print and the tailoring is usually well made and relatively affordable".
Price matters. Especially since younger customers are showing strong interest in dressing-up. "The average age of our Ted Baker customer is mid-30s," says Claire Southgate, womenswear and accessories buyer for Javelin. "The Ted customer is getting younger and the shorter; skater shape dresses really appeal to them as they can be re-purposed for other occasions […] We also have local races, so the brand is perfect for such events too".
So, what are these customers paying on a Ted Baker swing label? The average price for a Ted Baker dress ranges from £140-170. Javelin confirmed that the entry price point for a camisole sits at £39, while the bestselling printed fitted tee comes in at £49. "The highest priced items are the really special 'wow' dresses, which peak at £249."
The Hemline Index
It's not hard to see why we are reacquainting ourselves with the extravagance, power and feminine formality of occasion wear right now. Fashion and clothes are mood-enhancing. We wear what we want to 'feel'; we enjoy wearing a 'costume' that reflects how we want to be perceived; we use fashion to challenge how we might feel, enhance our mood and ultimately to look our best. This is a concept first espoused by the economist George Taylor in 1926 and noted by celebrities and stylists alike. The theory suggests that hemlines on women's dresses rise along with stock prices. In strong economies, we get such results as miniskirts (as seen in the 1920s and the 1960s), or in poor economic times, as shown by the 1929 Wall Street crash, hems can drop almost overnight.
Few categories have the ability to flatter a woman and raise her spirits more than elegant dresses; floor-skimming femininity; thigh-grazing full skirts and body-con outfits, so it's no wonder that, with economic uncertainty and a host of other political and financial challenges on the horizon, the fashion industry is expanding the remit of the 'occasion' and making this niche more inclusive.
Youth & Individuality
I also spoke to British designer and retailer James Lakeland, of the eponymous brand, who reiterated this pattern, from the position of a designer.
"From the high street through to the specialised boutique, it's becoming clear that women want to look younger and more modern for weddings and all occasions. This is the most challenging and complex market in which to trade", says Lakeland. "The women who grew up with Wham, Boy George and the original Supermodels, are now getting ready for their sons' and daughters' weddings and they don't want the matching dress and coat, together with co-ordinated shoes and bags".
Sure, many of us might still seek an outfit which "covers the arms", but the condition remains the same: "I don't want to look frumpy".
Indicative of this shift in priorities and the search for value and versatility is James Lakeland's bestseller for SS17. "We are focusing on new outfits, brighter colours and bold prints. The stripy all in one trouser jumpsuit has really taken off, as has the zip jacket from the same collection. This really surprised me and made me realize that I should never be scared to move on".
Responsive Retailers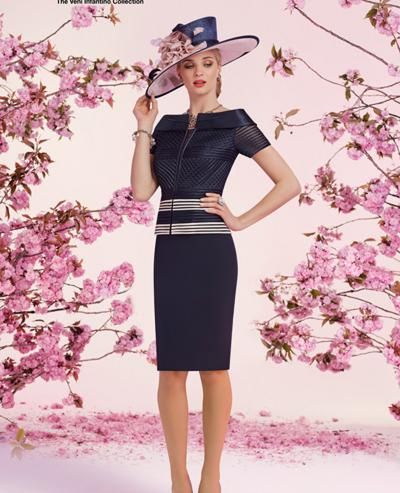 From the retailer's perspective, an authority on this sector is Martha Fraser. The owner of Martha V, an independent boutique located in Newmarket, located 5 minutes from the racecourse, the boutique presents a strong example of this rise in versatile, affordable occasion wear.
Martha Fraser, who founded Martha V in 2009, has recently seen this category exceed growth expectations. "The weddings part of my business has increased over 30% during the last two years. Most of this turnover takes place during the first 3 months of the year, in preparation for all the summer weddings and horse races," says Fraser. While the boutique owner has introduced a broader range of accessible price points, the average spend on one of their wedding outfits is £500.
"We have found that ladies are steering away from the traditional Mother of the Bride look and opting for something a bit different". This is something I well recall from experience in my mother's boutique, Ambiance of Colchester, which met the wardrobe needs of many women across East Anglia for over 30 years.
In terms of the Mother of the Bride or Groom, Martha Fraser cites their most successful style this season as an example: "For example, a very popular outfit for us for SS17 has been a Veni Infantino pink and navy dress with wide pleats and a Jackie Onassis style jacket. Veni Infantino also had a striking dress, which has proven to be a popular look for mothers looking for an alternative to the classic dress and jacket".
Meeting demand from the younger age-groups and young mothers is Dress Code. "It's a more contemporary look popular with the influx of younger mums that we've seen. They're starting to look for their outfit much earlier, often visiting us a year in advance," says the boutique owner.
Multi-Occasion Wear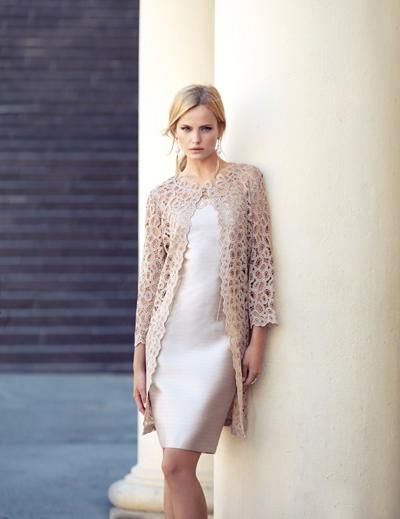 Someone else who knows a thing or two about this market is Joanna Edwards. Having initially been immersed in her mother's independent occasion wear boutique, La Belle Femme - which closed after 50 years last month - Edwards now runs a successful fashion agency under her own name; the Joanna Edwards Agency. The democratisation of occasionwear fashion is something which she too has noted over the past few years.
"We still see the professional Mother of the Bride who will book her appointment 6 months in advance, try everything, gain the approval of the entire wedding party and then buy the shoes, handbag and hat to match, but these days there is a new breed of MOB, Mother of the Groom, guest, bridesmaid and even bride", says Edwards.
Despite the demand to project luxury and glamour on our backs, affordability and versatility remain crucial.
"Gone are the days that the month wage outfit would sit in the back of the wardrobe gathering dust. That outfit now must be able to be separated. The jacket must be worn with trousers for the golf club lunch or palazzo pants for cruising", continues the agent for leading brands including Xenia Design, Carla Ruiz and Paola Collection. The dress must take the wearer to "a friend's wedding, the races or on holiday with a mere swap of footwear or wrap". Edwards gives the example of her SS17 bestseller: "One of our on-trend Spanish outfits would set you back a mere £300 pounds, which is pennies in comparison to the beads and glamour of a high end occasion wear brand".
The question for retailers and designers competing in this growing market is, as ever, this: What do women want?
"Our occasion wear buyer wants the fabric, trimming and quality for a reasonable, affordable price and they can now find it on the high street with the likes of Whistles, Ted Baker and even ASOS. The growth of our Spanish and Polish brands is testament to this development". In comparison to the high street, many independent brands serving the Ready to Wear womenswear market offer customers a more exclusive, equally affordable and superior design and fit and these USPs will become increasingly important as the sector becomes more populated.
It's not all about frocks
Fashion has never been about just the clothes. (Stay with me on this…). It's about so much more than that. It's a communication tool, the semiotics of which is well understood by celebrity fashion stylists. These A-list frock brokers have become indispensable to the likes of Gigi Hadid, Karlie Kloss and Tom Hiddleston, who says Ilaria Urbinati (his stylist), is "one of the best things ever to happen to me" (imagine!) Perhaps the most famous stylist is Rachel Zoe, who made her name styling Nicole Richie, had her own reality TV series and is now a designer. One of the reasons why occasion wear and – more specifically 'dressing up' – is flourishing is precisely because of the way it makes us feel. In the words of Rachel Zoe, "Style is a way to say who you are without having to speak" and thus it has immense power. Fashion can also be a mood-enhancer to alter the way we feel, rather than reflect it. As one of Britain's most iconic and expertly styled musical artists Paloma Faith, has said, "Dressing up is like therapy; I feel better in myself when I've made an effort". So, fashion is not all about frocks. Brands and retailers who understand this will have a ball this season.