12 Nov 2020
Hyve Group announce changes to the Pure London and Scoop calendars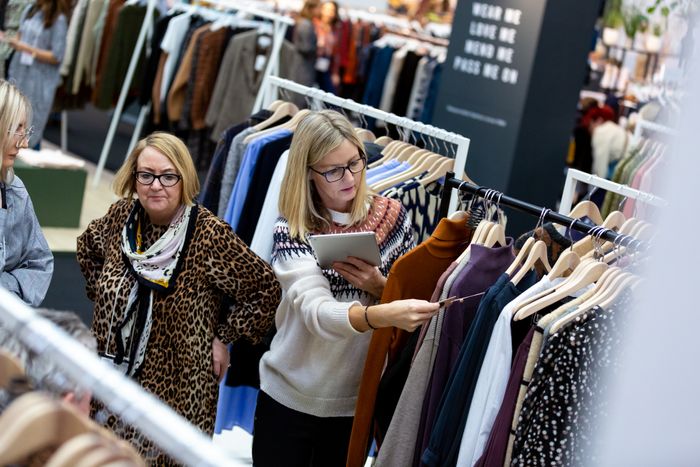 Pure London and Scoop to run as a virtual forum
Fashion Together virtual forum will return on 23rd February 2021
Pure London and Scoop will return to London in September 2021
Due to ongoing government restrictions arising from the coronavirus pandemic regarding the hosting of exhibitions and events, Hyve Group has announced today a change in the datelines of its London fashion shows, Pure London and Scoop. Pure London and Scoop will now take place as a virtual forum, Fashion Together.
Due to the latest UK Government restrictions on the re-opening of business conferences and exhibition halls, Hyve Group has been forced to cancel events scheduled to take place in February 2021, including Pure London and Scoop. The next planned fashion events will take place on 12th- 14th September 2021 with very exciting plans to be announced soon.
Following the cancellation of Jacket Required's July edition, moving forwards the menswear portfolio will be curated by Karen Radley Founder and MD of Scoop. This new edit of menswear collections will mirror the premium line-up of Scoop's women's fashion labels and will be part of the show's exciting September 2021 edition.
Hyve Group and the Scoop and Pure London teams are now working to deliver an enhanced virtual forum with product features and exclusive seminar content designed to educate and inform participants. More information on Fashion Together will be available in due course.
Founder and Managing Director of Scoop, Karen Radley says "Over the past few weeks, the Scoop team have been determining the best path forward for our next show in February 2021.
Our priority at Scoop is the wellbeing and safety of all our exhibitors and visitors. In the face of ongoing UK government restrictions for trade shows, we have had to make the difficult decision to cancel the upcoming February edition of Scoop and reschedule the show to 12th-14th September 2021.
In the meantime, we will be sending out exciting details about the September show at the Saatchi Gallery very soon, so please stay tuned for future communications regarding updates and developments going forward."
Pure London Event Director, Gloria Sandrucci continues, "Whilst we take pride in the curation, content and organisation of our shows, it is the people who attend them that make both Scoop and Pure London so special, whether they are buyers or brands. Whilst it is regrettable that we won't be able to meet in person next February, we hope that Fashion Together will provide a great opportunity for our community to connect in a virtual forum. We hope that Fashion Together will provide our clients and customers with the opportunity to stay connected and inspired by providing a platform to showcase their businesses, as well as essential industry insights. Following the success of our first edition of Fashion Together, we are excited to develop the concept and deliver another inspirational virtual forum this February.
We are very much looking forward to returning to the physical event with a new dateline: Pure London's next edition will run 12th - 14th September 2021."
Fashion Together, Hyve Group's virtual forum, will take place on 23rd February 2021 and will be open to both brands and buyers. Designed to unite the Hyve Group Fashion Portfolio, which includes Moda, Pure London, and Scoop, Fashion Together will provide expert content, brand and product showcases, essential trend insights and more.
Scoop and Pure London's next editions will now take place on 12th-14th September 2021 with more details to be announced soon.
For further press information or images contact:
Sarah Waterfall
Head of Marketing – UK retail portfolio
About Pure London
Pure London is the UK's leading trade fashion buying event, representing womenswear, menswear, footwear, accessories and young fashion. The show offers buyers from UK and international independents, multiples, department stores, e-tailers and mail order, the opportunity to discover collections launching for the season ahead, attend catwalk shows and hear from their peers and other industry experts in valuable seminars and workshops. Pure London is a Hyve Group plc event. www.purelondon.com
About Scoop
Scoop is a contemporary designer womenswear trade show launched in 2011. Karen Radley, Founder and Managing Director of Scoop, has had an extensive and multi-faceted career in the fashion industry spanning the manufacturing, retail and design sectors, and personally curates the show to ensure exclusivity remains at its heart. Recognised by designers, fashion buyers and industry experts as the UK's leading fashion trade show, Scoop is an exclusive edit of sought-after fashion collections and emerging international designers, many of whom select Scoop as their only trade platform. Scoop is a Hyve Group plc event.
About Hyve Group plc
Hyve Group plc is a next generation global events business whose purpose is to create unmissable events, where customers from all corners of the globe share extraordinary moments and shape industry innovation. Hyve Group plc was announced as the new brand name of ITE Group plc in September 2019, following its significant transformation under the Transformation and Growth (TAG) programme. Our vision is to create the world's leading portfolio of content-driven, must-attend events delivering an outstanding experience and ROI for our customers. Where business is personal, where meetings move markets and where today's leaders inspire tomorrow's.