22 Jun 2017
In conversation with Collezioni Donna
Sonia Perfetti, editor in charge of Collezioni Donna and Collezioni Haute Couture and co-editor of Collezioni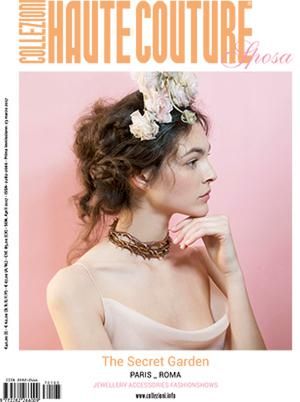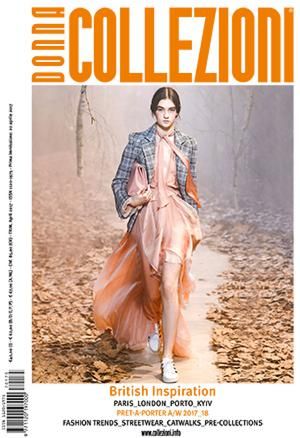 New(s)tyle Donna/Accessor/Trends, talks about the main womenswear trends of the Autumn/Winter 2017 season with Peppe Orrù, London Contributing Editor at Collezioni.
The Autumn/Winter 2017 season is filled with interesting contagious and fascinating suggestions and emotions. How would you define the main moods of the season?
Although it is true that the winter season is usually less glamorous than the summer season, it must be admit that this Autumn/Winter is very special in many ways. Because, just in conjunction with Brexit, international designers chose materials that are part of the glorious British and Scottish textile traditions. We have not seen tartan, houndstooth, herringbone and tweed used in such remarkable way and with so different interpretations. A message, I think, very beautiful, that goes beyond borders, or so I would like to imagine.
Another interesting mood is the return of logos placed in key position on garments and the revival of the iconic iconography belonging to a brand DNA that, if the case of an internationally renowned brand, works very well commercially and that, in the case of new emerging brands, sends very strong messages.
Equally interesting is the creative wind coming from the East, tuned to a chic conceptual minimalism in perfect contrast to the euphoria of the decorative details which, we must admit, have been the protagonists of so many fashion shows and collections.
The real challenge is the need to re-affirm our own individualism on the one hand and on the other to meet the inevitable need to always be part of a group. Fashion as a mirror reflects an image that sometimes does not seem to belong to us and for this reason many fashion shows arouse wonder. Isn't that amazing?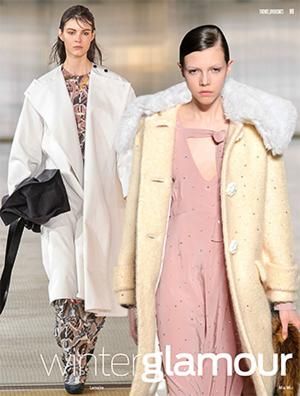 In your opinion, what are the main global trends for the upcoming cold season?
Opening our wardrobe in autumn and winter will mean feeling a heat wave. We will dive into a knitwear mountain of big, elaborate, fun and even nostalgic pieces, because the vintage vein continues to flow like a tranquil river. Jacquard motifs, macro plaits, pictorial effects, maxi coats and maxi sweaters, to be worn on top of anything and everything. Suggestive maxi volumes, important shoulders that exude authority, the desire for warmth managed in an autonomous, original, absolutely personal way. Like sitting in front of a burning fire with a cup of tea or of our favourite herbal tea. Ginger and cinnamon, anyone?
Are there colours, materials, fantasies, silhouettes, garments, decorative details that are more important than others in Autumn/Winter 2017?
The colour palette is the starting point from which to start to imagine the imaginable. I love the colours of this new season, starting from the different shades of beige, like oat, flesh, American tan. And then the absolute crescendo of burnt, auburn, rusted tones, all the browns, the reds of certain autumn leaves, the yellow of ginkgo biloba trees. Flashes of green and, inevitably, of red with its contagious energy.
Among the materials in addition to tweeds and tartans, velvet with its innate seductive softness. You see, in this case we have another contradiction: the ductile softness of velvet and the sift rigidity of some wools. Interesting, no?
Among the decorative details, in addition to classic crystals and sequins, take a good look at buttons that really make the difference because they give garments that little touch of extra sophistication. Still on details, I would like to point out to fringes turned into long threads to give an idea of ??unfinished hems. I think they are a lot of fun.
A unmissable product category on the shop floor and in the autumn/winter wardrobes of today's women?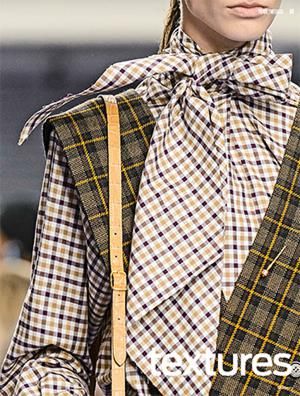 Outerwear, of course. Primarily biker jackets, not exclusively made of leather, and bomber jackets. I have seen so many brilliant variations on these two styles they might even been a fading trend in the upcoming seasons but for now they are a phenomenal global success. London some time ago was pivotal in relaunching the bomber jacket: it might have taken a bit of time to become a must have item in everyone's wardrobe but now it most certainly is. London-based fashion designers often cause, often even without being aware of it, global fashion phenomena. The perfect example? Leggings, launched decades ago in impossible colours like pastel tones and acid hues, and then in black when they became, as they still are, bestsellers across the planet.
We should also bet on oversized enveloping coats, always sexy, especially if made of soft materials and, if the budget allows, why not made of precious fabrics such as cashmere? Let's not forget sheepskin coats and jackets, always very special, edgy, let's even say somewhat irreverent. As far as down jackets are concerned, go for very light, easy, oversize styles but with couture cuts, better if reminiscent of capes.
Which international brands have best expressed the Autumn/Winter 2017 moods and feelings?
Big brands operate accordingly to very specific targets: only a few dare and even when do they do they follow very specific internal rules. Every brand expression should be evaluated according to its own style that goes well beyond seasonal trends.
Would you like to mention someone in particular whose work is really influential?
I have to mention Alessandro Michele, Gucci creative director, because he is showing us a very important path, where the aesthetics of the beautiful and of the ugly meet on the catwalk creating very strong almost piercing suggestions and emotions. Alexander is a cornucopia, a symbol of abundance. For his approach based on contrasts, which are in fact a flow of nuances, I have to mention Demna Gvasalia at Balenciaga and Vetements whose games of stereotypes remind me of Martin Margiela. Demna is an artist and artists often takes us on incredible flights of fancy.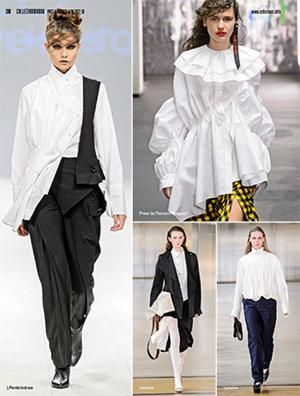 Would you care to name any collection from London Fashion Week that synthesises in an original innovative way the main trends for the upcoming cold season?
What I would like to say about the London designers and brands is that their focus on research and innovation and their always being on the edge of the impossible are their strengths, both very useful, if not indispensable for the fashion industry.
Which Autumn/Winter 2107 trends will continue to have prevalence and importance in Spring/Summer 2018?
Shirts and blouses: there are so many beautiful, so unedited versions that they are bound to be the stars of both winter and summer. Designers have done such amazing things: very menswear inspired styles, but also extremely feminine, geometric, minimal, maximal, all collectable pieces in my opinion. I find also very beautiful the Victorian theme mixed into the Coachella style with that extra touch of grace expressed trough lace, ruches, sweetness and a touch of timidity. But, as you know better than me, fashion is fickle and that's why we like it. It might all change tomorrow, isn't that true?
The Collezioni magazines are synonymous all over the world with the best overview of the most important International Fashion Weeks. Yet we are devoting more and more space to emerging Fashion Weeks and to the pre-collections of leading international brands.
This year Collezioni is 30 years old. I assure you that I often look back to the path of the fantastic job I have been doing for so many years. The catwalks have never disappointed me, indeed they have taught me many things, season after season, year after year. And yes, to answer your question, we try to give space to emerging brands because the new generations have a lot to say, they know how to process the past, with nostalgia at first maybe, but then managing to express their own very personal interpretation of fashion for now and for the future.
Instagram Collezionifashion
Facebook Collezioni fashion magazines
Twitter CollezioniMagazine
Pinterest collezioniissue