25 Nov 2019
Making the most of your space at Pure Origin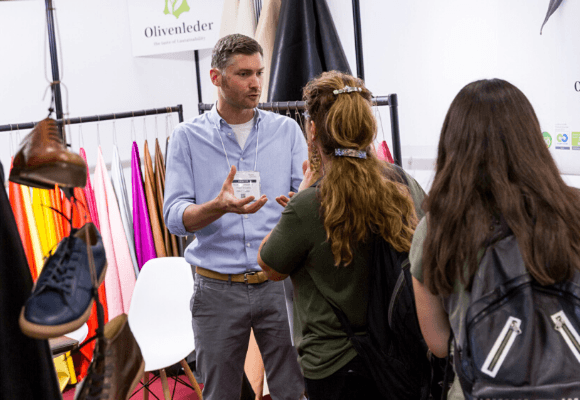 The fashion industry is well-known for its focus on visuals. When it comes to selling a product or service, it's not just about what you offer, but also about how you present it. There's no denying that, under the iconic roof of Olympia London, Pure Origin, and sister show Pure London, make for a beautiful display of fashion businesses and brands. But how do you make your space stand out to visitors each season? I've pulled together some top tips to help you visually merchandise your stand and get noticed at Pure Origin this season.
Signage is key
Of course, each stand will be signposted with Pure Origin branding as part of your package, but that doesn't mean you can't add your own signage and branding to your space as well. Exhibiting at a trade show is as much about brand awareness as it is about order writing, so consider placing your logo and business name around your stand in strategic positions. Consider different heights, where visitors are likely to approach your stand from, and how your signage will sit around your products on display.
Don't overdo it
It's true what they say; less really is more. It might be the case that you have lots of exciting innovations or beautiful fabrics to display, but this can be overwhelming to potential buyers and you may end up missing out on business. Really think about bringing the very best of your products and investing in really strong marketing collateral that will keep your product offering in the minds of your buyers for longer. This is also an important one to remember if you're travelling internationally.
Your people are part of your stand too
The people you bring to work on your stand are part of the stand itself, and will make a big difference to your success rate on site. Make sure your on site team are dressed appropriately, knowledgable on your product or service and are well-briefed on how to interact with potential customers. If you're travelling from abroad, make sure you have at least one team member who speaks English well, whether this is someone on your team, or part time help for the show.
Pure Origin will return to Olympia London from 9th – 11th February 2020. Apply for a stand at the only UK fashion trade show to offer the full fashion supply chain under one roof.
This post was created by Pure London editor Emma Wilder
---
About Pure London and Pure Origin
We are the UK's number one leading fashion trade event that brings together the entire fashion supply chain, right the way from fibre through to finished ready to wear garments.
No other UK show offers sourcing and brands together, making Pure London and Pure Origin the only event to cater to all your fashion buying needs under one central London roof.
Location & Opening times:
Olympia London,
Hammersmith Road,
Kensington,
London W14 8UX
-
Sunday 9th February 2020, 09.30 - 18.00
Monday 10th February 2020, 09.30 - 18.00
Tuesday 11th February 2020, 09.30 - 16.00