18 Apr 2019
Meet the indies... Mahmut Coban, Coban London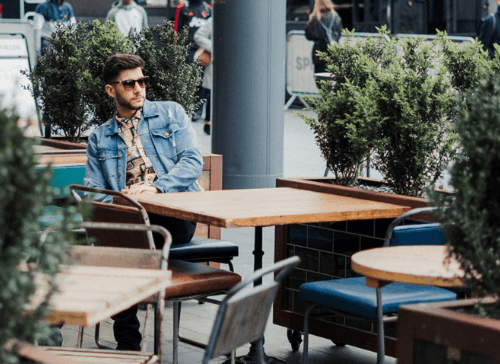 The Pure London buzz attracts buyers from companies big and small to the halls of Olympia London each and every season. It's always exciting to hear from the big names, like Selfridges, John Lewis and ASOS, who, among many others attend the show. But this season, I wanted to take some time to sit down with some of the UK's smaller businesses, to get the indie take on what makes the fashion world go round. In the next few weeks, I'll be bringing you insights from independent buyers up and down the country on all things retail.
Today, it's the turn of menswear expert Mahmut Coban from independent store Coban London. Hear from Mahmut as he breaks down the story of Coban, his experience of running an independent shop and more…
Tell me a bit about your store and the story of how you started
Coban London is a family business established in 1990 originally as a photography and videography company. As kids, me and my brother, Yalcin were highly inquisitive about the world around us. Both of us feel blessed and lucky to have grown up in a family and community that nurtured our wild curiosity and thirst for knowledge as children. It was this environment which encouraged us both to graduate as designers; Yalcin as a product designer and myself as an automotive designer. Our interest, love and passion for learning have been the platform in which we've been able to source, design and build the products that we are now proud to sell.
After experiencing frustration with the lack of variety and attention paid to men by mainstream retailers, we decided to embark on a new adventure into the world of men's fashion and apparel. 2013 saw the birth of our own independent clothing label Life in Paradigm.
29 years on and Coban has continued to grow as both a photography studio, product design company and successful retail destination. We believe it's our love for creativity, design and people that drive us to continue chasing our dreams and pushing boundaries. Our goal is to become better and to leave this world better than we found it. That's all this really comes down to. Our boutique is here to help customers take the first step towards that feeling of freedom, accomplishment and success.
What do you tend to look for in your collections?
When looking for a collection we like to keep an open mind. We look for brands that are smaller and can't be found everywhere. We started in London and love what it stands for; it's an important part of our story so we look for the same in the other brands we carry. We live with a purpose of innovation, loyalty and creativity and expect the same from the brands we stock. We look for the highest quality in our garments; our customers know us for quality and look for timeless and classic pieces to create a lasting wardrobe, not just a season-by-season closet. Style is a personal thing and we try to cater to each customer as an individual through our brands.
Are there any menswear trends this season or coming up that you're particularly excited to see more of?
Of course, we love the classic garments like a good white oxford shirt and a clean pair of chinos but we are super excited to see that men are venturing out a bit with colour this season. Pastels seem to up and coming and we couldn't be more thrilled. It's a great way of straying away from the classic navy and black without getting to wild. We are also excited to see a bit of the 90's coming back into style. Even though it makes me feel a bit old seeing the trends I grew up in, it still brings back great memories of band T's and graphic T's and just enjoying summer to the fullest. We set out to have a mixture of work wear and weekend wear in the shop because we truly believe in the work-life balance and we want to reflect that with our clothing and brands we carry.
How do you get into the mind of your customers to understand what it is they want to buy?
Because we are a smaller boutique we strongly believe in being part of the community and being transparent with our customers. We find the best way to meet our customers' needs is to just ask. We are constantly talking with our customers about what product options they'd like to see, brands they love and things they feel are missing from their wardrobe and can't seem to find. We are here to do the hard work for them; all they have to do is come into Coban and pick out the piece that they like! We are a one stop shop and make sure to have everything from work wear, vacation wear and weekend wear. We build strong relationships with each customer and create a custom experience for them.
What advice would you give to emerging brands and designers looking to get in front of buyers and store owners like you?
Do your research before you approach a potential new stockist! One of my biggest pet peeves is when a brand approaches a shop owner and hasn't done their research about the boutique and the brands we carry. Our story is important to us and the story of the brands we carry reflect that; if a new brand hasn't taken a look at what we do to see if they fit in with that then we won't give them a second look. We are always looking for new brands to carry and it just leaves a bad taste in your mouth when you receive an impersonal message and can tell they haven't done their research. We also look for constancy in a brand and don't want to see it in every store we pass by. We understand you want to get a brand out there but have faith in your boutiques that we will promote your brand and help you grow your name in our community!
In your experience, what are the biggest challenges facing independent store owners at the moment?
With the internet bringing the world closer together every day, it's hard to stand out from the crowd. Nowadays, instead of competing with just the stores on your street or even your country the competition has gone global. Bringing footfall into our store is more important than ever for us as it gives us the chance to explain the brands, why we picked them and the story behind them. Because of this, we're also pushing to create unique in-store experiences. We've set up some really fun activities and scenes around the store this summer to help communicate the messages of our brands, our store and our community.
Another big struggle in such a crowded and competitive market is cash flow; with such a large offering on and offline it really is a consumer's market. We work really hard to ensure that new products are always coming into the boutique and our looks are still fresh but in slow months or when the seasons change their mind every minute, it's not always possible to have consistent sales to depend on. Managing a store budget and always having multiple plans for any situation can get tiring but it important to keep the store functioning for those "just in case" moments. We pride ourselves on being a business that understands that things can change at any moment and knowing that we are ready to change with them if and when they do.
And what are the benefits of owning a boutique-style store?
There are so many benefits to owning your own boutique. I am an extremely creative person and so are my staff, and I love that we can create and control the image of the store. It's something that is so personal and close to my heart, so the fact that I can use that creativity to bring something great to my community, create lifelong friendships with customers and be a mentor to my employees is so empowering. Unsurprisingly, I'm very hands-on and I'm in the shop six days a week; I never get tired of it! I'm constantly switching between my business brain and my creative brain which is so exciting. I feel very lucky to be my own boss and really put something into the world that is truly mine. It's been such positive experience being a boutique owner and I love that every day is truly different. I've turned my passions into my career and that's something I'm so grateful for. The business is forever changing and never limited and that's what gets me out of bed every day and motivates me to be my best self.
Were there any brands or content sessions you saw at Pure London this season that you were particularly excited by?
Trade show are a great way to get see what's up and coming in the industry, as well as to meet brands we may have missed out on if events like Pure didn't exist. Like I said, we look for brand with purpose and a story which is something we can get at Pure; we fell in love with Monkey Genes at Pure a few years ago and they have been a staple in our store ever since! We feel that what they stand for really works with our mission and goals as a boutique. They are such a wonderful brand to work with and the product speaks for itself.
Another brand that we met at Pure was Komodo. This brand caught our attention right away and has done extremely well for us this past season. Their high-quality product and great back story is the reason it flew out of our doors. We were really excited to bring them into the mix and they proved themselves to be a strong seller.
Pure is something we look forward to every season and has built a great group of brands to meet. We hope to keep finding more brands, meeting like-minded people and exploring what the future of fashion has to offer. We hope to grow our in-store brand to the point that it can one day be featured at Pure as well. We've seen how great of a source it can be for new brands and the impact it can have.
Meet the buyers for yourself and enjoy London's Festival of Fashion this summer. Pure London will return to Olympia London for the SS20 edition on 21st – 23rd July 2019.
Find out more about Coban London here.