19 Aug 2019
Meet the tailor… Zoe Anne Jones, Harrods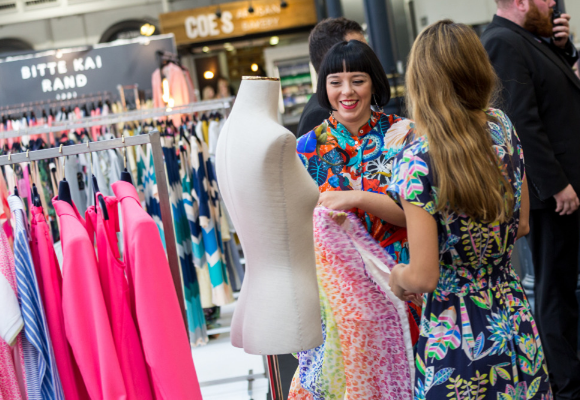 It's always a privilege to welcome some of fashion's biggest names through the doors of Pure London and Pure Origin. I was lucky enough to meet with Harrods Express Tailor Zoe Anne Jones, to find out a little more about what she does and why Pure London and Pure Origin are such must-attend shows.
Tell me a bit more about what you do
I'm an express tailor at Harrods, which basically means I do alterations. Harrods offers a quick service, based on the idea that you can get a trouser hem altered in three hours or a shirt cuff can be fixed in four hours. My role depends on me ensuring both quality and speed in my work. I studied tailoring at uni.
Why are you attending Pure this season?
Harrods send us on a college course with Fashion-Enter one day a week to help us to develop our skills and understanding of the industry as a whole, so I've really come through them. I'm here today really to learn about how trends are made and that kind of thing, as well as what goes into the construction process and fabric sourcing.
What are you most excited about at Pure this season? Has anything caught your eye?
The catwalks are just so inspirational, and you always learn so much from them.
What are the upcoming trends that you're excited about?
Well I'm seeing a lot of prints around at the moment, but I'm also really interested in the more eco or sustainable side of things. I've seen a few really interesting brands here in Pure Conscious already.
Why do you think London is so important to the fashion industry?
There's just so many people and it's so varied in terms of people's cultures, backgrounds and nationalities. It means that there are always so many new ideas coming out of the city and there's so much inspiration as well.
Describe Pure London in three words
Crazy (in a good way!), inspiring and eye-opening.
Missed out on meeting the big names this season? Be sure to clear your diary for the next Festival of Fashion on 9th-11th February 2020 and take your place at the UK's leading fashion trade show.
---
About Pure London and Pure Origin
We are the UK's number one leading fashion trade event that brings together the entire fashion supply chain, right the way from fibre through to finished ready to wear garments.
No other UK show offers sourcing and brands together, making Pure London and Pure Origin the only event to cater to all your fashion buying needs under one central London roof.
Location & Opening times:
Olympia London,
Hammersmith Road,
Kensington,
London W14 8UX
Sunday 9th February 2020, 09.30 - 18.00
Monday 10th February 2020, 09.30 - 18.00
Tuesday 11th February 2020, 09.30 - 16.00