18 Jun 2019
Pure London announces keynote speaker line-up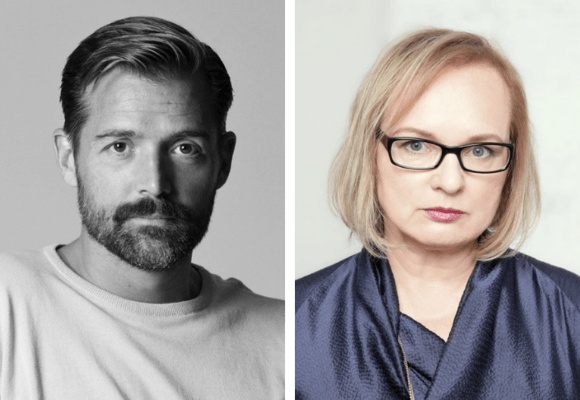 Patrick Grant and Brigitte Stepputtis will take to the Main Stage
Leading fashion trade show and Festival of Fashion, Pure London is pleased to announce fashion designer, social entrepreneur and TV commentator Patrick Grant as keynote speaker on Sunday 21st July at 3.20pm. On Monday at the same time, Brigitte Stepputtis, Global Head of Couture at Vivienne Westwood will be 'In Conversation With' Tamsin Lejeune, CEO of Common Objective.
Taking place from the 21st – 23rd July at Olympia London, Pure London continues to offer an inspiring and educational content programme alongside hundreds of global fashion brands and designers creating London's leading Festival of Fashion.
In a bid to promote lost skillsets such as sewing and the benefits of British manufacturing, Pure London is delighted to welcome Patrick Grant to the Main Stage. He will reveal his journey from materials science engineering student to saviour of tailoring business Norton & Sons and ready-to-wear brand E. Tautz. Patrick has also helped to re-ignite British textile manufacturing with the launch of social enterprise Community Clothing and is Co-Chair of HRH The Prince of Wales's charity 'Future Textiles', an organisation working to sustain skills and create jobs in the UK's garment making industry. He is also well known for being a judge on BBC2's The Great British Sewing Bee.
As a continuation of Pure London's Power of One campaign to drive powerful changes in the fashion industry, on Monday 22nd July Brigitte Stepputtis will be discussing sustainability, the path and progress of the Vivienne Westwood brand, new developments in the wider industry, how to tackle the challenges and where to take the chances.
About Brigitte Stepputtis
Brigitte Stepputtis is the Global Head of Couture at Vivienne Westwood with over twenty-five years of experience in the fashion industry. She joined the label in 1990 and has since contributed to the success and growth of the brand, particularly the Gold Label collections. The Vivienne Westwood Couture service was launched at the Davies Street Boutique in Mayfair and she is currently implementing Green Carpet projects and initiating, supporting and coordinating various commitments of the brand's sustainability strategy.
Brigitte is a Director at the Ethical Fashion Forum and on the advisory board of Common Objective, a platform for sustainability in fashion. She is member of the Medinge Group, a think tank of brand experts and co-author of 'Brands with a Conscience' published by Cogan Page in 2016. Since the beginning of 2019 Brigitte Stepputtis is member of DeFINE (Developing a Fashion –Tech Innovation Network for Europe).
About Patrick Grant
Patrick's career in fashion has spanned over a decade. In 2005, after leaving a career in Engineering, he took over as Director at Savile Row tailor Norton & Sons. He won much praise for his work there including being named Retailer of the Year at the 2008 Scottish Fashion Awards. In December 2010 he won the Menswear Designer of the Year award at the British Fashion Awards and in May 2015 he was awarded the BFC/ GQ Designer Menswear Fund both for his work on menswear brand E. Tautz which he re-launched in 2009.
In 2012 he began working in collaboration with Debenhams on the brand Hammond & Co which launched in 2013. It has gone on to be the most successful designer collaboration in the department store's history, now selling in over 150 stores across 6 countries.
In 2015 Patrick purchased the ailing Blackburn clothing manufacturer Cookson & Clegg, saving the factory from closure. This was followed in 2016 with the launch of social enterprise Community Clothing in response to the extreme challenges facing the British clothing and textile manufacturing industry earning him support and praise from across the political spectrum.
Frequently appearing in best dressed lists in the UK, he has been a regular fixture in GQ's 50 Best Dressed Men and was also named in Esquire Magazine's Most Stylish Men in the World. In 2016 he made the Business of Fashion 500 index of the most influential people in global fashion.
Patrick is a regular on television and radio as a commentator on the British fashion, clothing and textile industries. He has been a contributor to several major television documentaries including Savile Row, Harris Tweed, and The Perfect Suit, but is best known for his role in the BBC2 Series The Great British Sewing Bee, for which he was nominated for the 2017 National Television Awards.
In 2013 Patrick was made Honorary Professor at Glasgow Caledonian University's School of Business and Society, in 2016 he was elected a Fellow of the Royal Society of Arts, and in 2017 he was awarded an Honorary Doctorate by Heriot Watt University's School of Textiles and Design. In 2018 Patrick was named Co-Chair of HRH The Prince of Wales's charity 'Future Textiles', an organisation working to sustain skills and create jobs in the UK's garment making industry.
Pure London takes place at Olympia London from the 21st – 23rd July 2019. Discover our full session line-up for Pure London SS20.
Register today APPLY FOR A STAND
---
About Pure London and Pure Origin
We are the UK's number one leading fashion trade event that brings together the entire fashion supply chain, right the way from fibre through to finished ready to wear garments.
No other UK show offers sourcing and brands together, making Pure London and Pure Origin the only events to cater to all your fashion buying needs under one central London roof.
Location & Opening times:
Olympia London
Hammersmith Road,
Kensington,
London W14 8UX
Sunday 21 July 2019, 09.30 - 18.00
Monday 22 July 2019, 09.30 - 18.00
Tuesday 23 July 2019, 09.30 - 16.00