03 Feb 2020
Pure London continues Power of One commitment to United Nations' SDGs with partnerships for goals and exhibitor programme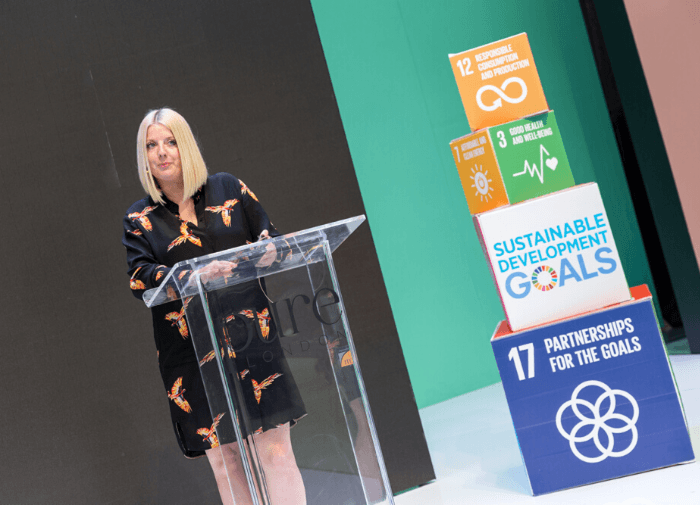 Pure London's sustainability awareness campaign, the Power of One, continues its commitment to disrupt the fashion industry this season with the launch of its Power of One Exhibitor Programme and partnership with the Conscious Fashion Campaign, dedicated to uniting individuals and offering guidance to empower each and every one to take action to make a positive mark on our planet.
Partnering with Conscious Fashion Campaign in collaboration with United Nations Office for Partnerships, the Power of One aligns to sustainable consumption and production, goal number 12 of the United Nations' 17 Sustainable Development Goals. This season the show is also aligning with goal 17: partnerships for goals. Allied with Conscious Fashion Campaign's strategy to integrate the Sustainable Development Goals into trade shows globally, the campaign is dedicated to driving change through advocacy, education and engagement of industry stakeholders to create a sustainable future for all.
Pure London's Power of One Exhibitor Programme provides Pure Conscious exhibitors with the opportunity to highlight and identify which of the 17 SDG's they align with via stickers on their stand during the show, designed to make it simple and visible for visitors to see which brands are aligned to which goals.
Gloria Sandrucci, Event Director at Pure London says: "Defined as the year of implementation, 2020 needs to see some big actions taking place from the fashion industry if we're to meet the 2030 deadline for the SDGs. We're really encouraged by the growth in our Pure Conscious section and the interest from our visitors to clearly see which brand are aligned to them, so we are excited to continue our partnership with Conscious Fashion Campaign and the development of our Power of One campaign to guide exhibitors and champion those really making a difference."
Kerry Bannigan, Founder of Conscious Fashion Campaign comments on the partnership; "The Conscious Fashion Campaign partnering with Pure London for the Power of One was a natural fit to align the fashion industry to drive the achievement of the Sustainable Development Goals. Pure London's focus on celebrating conscious fashion brands as well as connecting them with retailers to grow their business is just another key example of the UK leading tradeshow exceling within the sector. The partnership has strengthened and evolved per show to expand our advocacy, education and engagement of industry decision makers, leaders and influencers. We are thrilled that Pure London share our vision to continue this partnership to unite the fashion industry to create positive change."
Pure London has also collaborated with intelligent business network, Common Objective, to create a dedicated Business Toolkit. Building a 3D Business outlines 5 steps to a successful sustainable business. The fashion businesses of the future will be the ones that operate successfully in three dimensions; the commercial, the environmental and the social. The Business Toolkit sets out the five steps businesses can take to move from 0 to 1 on sustainability strategy through prioritising, setting achievable goals, and developing tools for action.
Also part of its continued commitment to reducing show waste, Pure London works closely with Olympia London to ensure approximately 98% of onsite waste is recycled and anything that cannot be recycled is used as waste for energy meaning 100% of waste output produced onsite is diverted from landfill. The show's no plastic pledge continues with all visitors given 15% off the price of their hot drinks when bringing a reusable cup. All unused food is donated to local charity Harvest City London. The show also works with exhibition suppliers GES to ensure all shell schemes are reusable, the electrical systems installed are all reusable, lighting is low wattage LED, and all carpets are fully recyclable.
Offering over 1,300 of the latest collections across the entire industry, visitors to Pure London and Pure Origin from the 9th – 11th February 2020 can explore the full fashion supply chain under one roof – creating the only fashion trade show in the UK offering this unique experience.
---
About Pure London and Pure Origin
We are the UK's number one leading fashion trade event that brings together the entire fashion supply chain, right the way from fibre through to finished ready to wear garments.
No other UK show offers sourcing and brands together, making Pure London and Pure Origin the only event to cater to all your fashion buying needs under one central London roof.
Location & Opening times:
Olympia London,
Hammersmith Road,
Kensington,
London W14 8UX
-
Sunday 9th February 2020, 09.30 - 18.00
Monday 10th February 2020, 09.30 - 18.00
Tuesday 11th February 2020, 09.30 - 16.00