31 Jul 2019
Pure London delivers the bold and brave, celebrity collections and fascinating insights from keynote speakers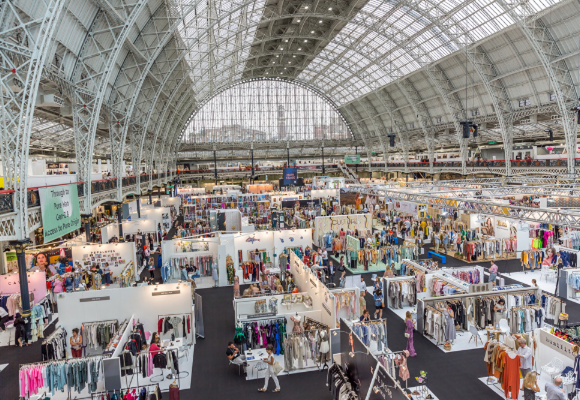 London's leading festival of fashion, Pure London at Olympia London has showcased the bold and the brave new collections from fashion's favourite brands and celebrity designers, alongside thoughtful and insightful talks, inspirational catwalk shows and trend presentations.
Kicking off on the Main Stage on Sunday, visitors were treated to a vibrant and inspiring catwalk show presenting a line-up of the key trends for the SS20 season, in collaboration with Unique Style Platform (USP). USP's in-depth Future Forecast followed, highlighting the consumer attitudes and big picture cultural drivers that will impact the fashion markets for SS20. Honest celebrates imperfection and the Japanese concept of Wabi Sabi, an aesthetic that centres around the acceptance and glorification of imperfection. A blend of raw untreated neutrals combine with vibrant colours of the ocean with yellow tinted bamboo.
Limitless is a brave and rebellious attitude, breaking boundaries and exemplified by activists such as Greta Thunberg and Alexandria Ocasio-Cortez as the new icons for a new generation. A brave palette of neon's, pink and lilac mix with bitter chocolate and monochrome feature on elevated sportswear mixed with 80s and 90s style tailoring.
A return to handmade crafts drives Ritual, seeking serenity in meaningful experiences. Modern mysticism has led to an otherworldly mood of soft tailoring and floaty layers mixed with contemporary Western touches and boho prairie dresses in a sun kissed palette of peaches and orange.
Brave is about being maximalist, eccentric, bold and unexpected. It means hybrid combinations and unexpected collaborations, rethinking traditional retail and pushing advanced technology. Digital avatars will be the new breed of influencer. More is more with colour with clashing brights and electric combinations mixed with paler tones.
Pure London brought together a fascinating array of speakers including Nanya McIntosh from Hope Fashion who shared her 30years experience in fashion as well as building a business around empowering and inspiring the 50-plus female to feel confident dressing whatever size and shape. Ageism trailblazer Jacynth Bassett from the-bias-cut.com also discussed the significance of fashion and style for every age group in her talk 'Humans Not Consumers'.
A subject that featured heavily in both our keynote talks with Patrick Grant on Sunday, Brigitte Stepputtis from Vivienne Westwood, and the United Nations panel conversation with Kerry Bannigan from Conscious Fashion Campaign, Pauline Op de Beeck from Carbon Trust, Tamara Cincik from Fashion Roundtable and Melanie Traub of People Tree is that harnessing technology, innovation and science and collaborating and sharing that knowledge will provide the solutions to the most damaging and problematic issues facing the fashion industry.
Returning to traditional skillsets such as sewing and re-building the British manufacturing industry were also touted as crucial for future generations. While discussing his love for clothes, making stuff and nurturing British businesses and manufacturers, British fashion designer, owner of Savile Row tailor Norton & Sons, and keynote speaker Patrick Grant said: "We need to change the overall mindset of how we produce and consume. Our British factories help sustain the local economies, we know what is made, by who and when. We have super simple stable supply chains." Turning to the subject of school uniforms, Patrick added: "I did a quick back of an envelope calculation, and worked out that if you could get half the UK school kids back in a woollen jumper you could re-employ every knitter that had lost their job in Scotland in the past 50 years."
Commenting on the UK government's rejection of all recommendations made by the Environmental Audit Committee report into fast fashion Patrick felt there should be stricter regulations to clean up the industry including stricter labelling. He said: "I don't think the audit committee went nearly far enough; I think that everything we buy that's made of plastic should be labelled plastic. Because consumers don't know what polyester or acrylic or nylon are. Virgin plastics should be labelled. You have a picture of a diseased lung on the back of a cigarette packet. This stuff is as toxic as nicotine. Bad fashion is literally killing stuff. If at the point of purchase, you were presented with something that showed you it, some people just might think twice."
During the United Nations panel Pauline Op de Beeck from Carbon Trust highlighted the necessity for collaboration and the brands finding unique solutions to sourcing challenges and making them open source. "We want all brands to use these innovations, there shouldn't be a competitive advantage to it. There are great innovations in recycling, but it takes a lot of research and investment but now we can breakdown previously unrecyclable material and reuse it."
While so many brands are playing catch up, Brigitte Stepputtis from Vivienne Westwood showed how successful a brand can be by putting activism, recycling, upcycling, re-use, natural and sustainable materials at the heart of a business. She said; "We're not perfect, but we strive to make our clothes with great care, with heritage, to create a modern and efficient brand which has a relevance to our time. When some brands do something incredible it helps others to follow. Vivienne is the trailblazer."
Thousands of buyers have visited so far, drawn by the promise of newness, creativity and the excitement of seeing new collections. Brands including Selected by Kate Moss, 2018 Apprentice winner Sian Gabbidon launched her new swimwear range SianMarie, as did Little Mix's Leigh-Anne Pinnock who launched In'A'Seashell and dropped in on Monday to meet retailers.
The Festival of Fashion will return to Olympia London on 9th - 11th February 2020.
---
About Pure London and Pure Origin
We are the UK's number one leading fashion trade event that brings together the entire fashion supply chain, right the way from fibre through to finished ready to wear garments.
No other UK show offers sourcing and brands together, making Pure London and Pure Origin the only event to cater to all your fashion buying needs under one central London roof.
Location & Opening times:
Olympia London,
Hammersmith Road,
Kensington,
London W14 8UX
Sunday 9th February 2020, 09.30 - 18.00
Monday 10th February 2020, 09.30 - 18.00
Tuesday 11th February 2020, 09.30 - 16.00