06 Feb 2019
PURE LONDON MAKES POWER OF ONE PLEDGE TO GO SINGLE USE PLASTIC FREE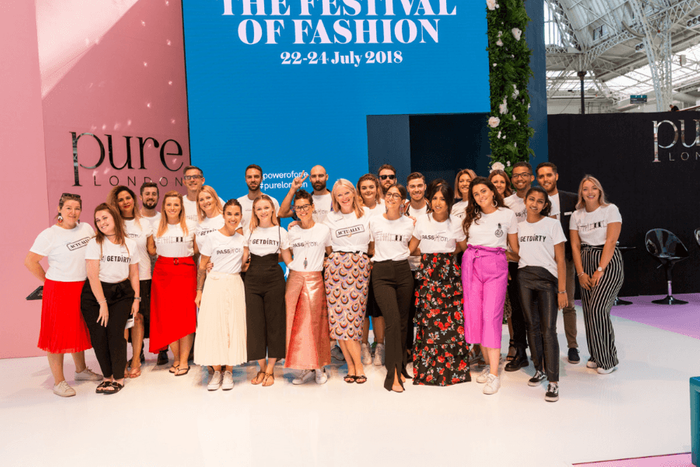 Power of One being adopted across ITE Group's portfolio of fashion and retail shows including the Spring and Autumn Fairs.
Last year, festival of fashion Pure London launched the hallmark Power of One campaign, designed to unite the fashion industry to take steps towards a sustainable future. Pure London continues its mission to make changes for the better and this season, at the February show taking place at London Olympia, Pure London and Pure Origin pledge to make the show single-use-plastic-free.
Working with London Olympia, Pure London will be replacing speakers' plastic water bottles with sustainable glass ones, getting rid of plastic cutlery in all catering areas and installing easy-to-use recycling points conveniently around the site.
Julie Driscoll, UK Regional Director at ITE Group says: Of course, we know we can't ban plastics altogether, but we're confident that with the help of our exhibitors and visitors, we can cut down on the amount we use. We'd like to urge everyone coming to Pure London to support our pledge and work towards being single use plastic free too. I'm also delighted to announce that the Power of One is now being adopted across the ITE Group's portfolio of fashion and retail shows including the Spring and Autumn Fairs aiming to spark conversations and help advise buyers and brands on issues around sustainability. By creating a forward-thinking supply chain and taking positive action towards change, our shows will offer a platform for greener and healthier fashion and retail industries. Ethical fashion is no longer a buzzword. Sustainability is not a trend. Manufacturing and retailing with a conscience is an essential not just a niche concern for retailers, brands, manufacturers, growers, and everyone else across the supply chain.
Working with Pure London to further the Sustainable Development Goals, The United Nations Office for Partnerships presents The Conscious Fashion Campaign at Pure London. The Conscious Fashion Campaign was launched in 2018 and showcased at Coterie New York, Re-Mode LA, and recently Neonyt Berlin. The aim is to promote the Sustainable Development Goals within the fashion industry by showcasing sustainable brands through installations promoted across their platforms. There is also a key focus to further educate retailers on why they should be investing in and stocking sustainable brands, how to move forward with best practice and implement sustainability policies as part of their business structure.
With its own dedicated installation within the Pure Conscious section, Conscious Fashion Campaign will highlight fashion brands at Pure London that are working to end poverty, protect the planet, practice sustainability and raise awareness through meaningful philanthropic and customer engagement initiatives. This UN initiative is designed to celebrate changemakers and innovators championing conscious fashion. Representatives from United Nations and Pure London's Conscious partner, Common Objective, will also be taking part in seminars throughout the three-day event, as will a host of other inspirational creatives, innovators and change-makers all united by the same agenda.
The next Pure London takes place at London Olympia from the 10th - 12th February 2019. Register for your free ticket today.