01 Jul 2019
Pure Presents... East and Silk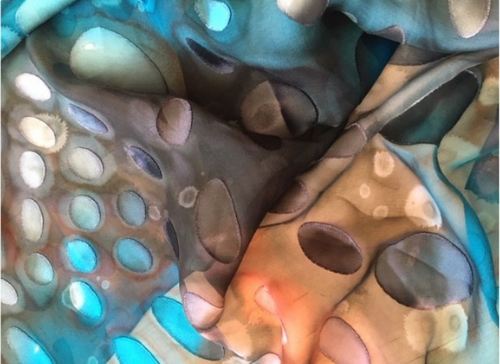 Making their debut appearance at Pure Origin, it's a pleasure to bring you a look into the world of fabric supplier East and Silk. I spoke to Director, Li Yin to get a glimpse into what they'll be showing at Pure Origin this July.
Tell me a bit more about East and Silk – what's your story and what do you do?
East and Silk has been supplying silks for nearly 20 years. We have London and Shanghai offices. We specialize in supplying silk burnouts and have expanded to also offer pure silks and digital printing on silks and silk velvet stock service. We also stock selected laces to complement the silks. Recently we start working with a cashmere knitwear factory and we offer a full service for making complete cashmere garments. Our minimum orders for silks, lace and cashmere is very low and we always help smaller brands in their growth of business.
What can Pure Origin visitors expect from East and Silk?
Visitors will find all kinds of pure silks at different weights and textures from us. As this is the AW edition, I am expecting our silk velvet to be popular with visitors too. We'll also be exhibiting our digital printing capabilities, so customers can discuss that with us at the show as well. We also make lots of digital printing on pure silk. Customers who want to develop digital printing on our silk qualities we can discuss together at the show. Finally, we'll be bringing the cashmere knitwear collection which, again, is perfect for this season and we hope visitors love it!
What is the most exciting trend or new development in the fashion industry right now, and why?
We're seeing a lot of luxury online boutiques gaining popularity at the moment. A lot of my customers will buy our silks to create garments to sell online. Because of the growth in ecommerce, most of these customers started off with very small orders, which have increased drastically over time. I think modern technology, the internet, mobile phones and social media are defining the trends in the industry, and fashion consumers are looking to express their individuality through clothing that complements the busy, modern lifestyle.
Can you share any trend predictions for the AW20/21 season?
I think the AW20/21 season will see a rise in the popularity of rich, sift fabrics. This is why we're bringing our silk velvet, embroidered velvet and cashmere collections to Pure Origin this year
Why are you exhibiting at Pure Origin this season?
This is my first time exhibiting at Pure Origin and I am really looking forward to networking and meeting new potential customers. I have exhibited at a lot of other textile trade shows, but I've found that Pure Origin has a very strong marketing team who are really helpful in assisting exhibitors, especially new ones like us.
Where is your favourite fashion destination?
I love London, New York and Shanghai as each of them have their own unique characters and it's always exciting to see what the latest styles are in each.
Discover East and Silk at Pure Origin this season. Our exciting Fabrics and Materials sector hosts exhibitors from around the world, offering a full range of fabrics to inspire your next designs. Join us from 21st – 23rd July at the iconic Olympia London to meet the suppliers and find out more.
---
About Pure London and Pure Origin
We are the UK's number one leading fashion trade event that brings together the entire fashion supply chain, right the way from fibre through to finished ready to wear garments.
No other UK show offers sourcing and brands together, making Pure London and Pure Origin the only event to cater to all your fashion buying needs under one central London roof.
Location & Opening times:
Olympia London,
Hammersmith Road,
Kensington,
London W14 8UX
Sunday 21 July 2019, 09.30 - 18.00
Monday 22 July 2019, 09.30 - 18.00
Tuesday 23 July 2019, 09.30 - 16.00