04 Feb 2019
Purely Pure Lookbook – AW19/20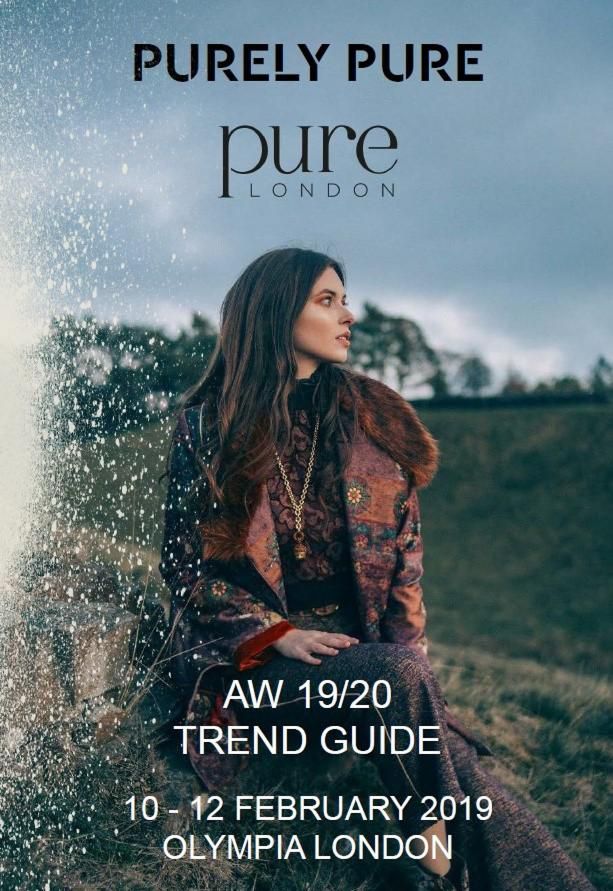 Welcome to the AW19/20 edition of the Pure London Purely Pure lookbook.
We're so excited to show you some of the most exciting designs you'll be seeing at Pure this season, as well as introduce you to the creative brains behind the brands.
Join us at Pure London, the nation's ultimate festival of fashion, to celebrate the future trends, get an exclusive look at the latest collections and learn how you can make a difference where sustainable fashion is concerned.
This season, we've pulled out some of our favourite trends to give you an idea of what to expect at the upcoming edition of Pure London:
Focused Colours
Pantone's 2019 Colour of the Year, Living Coral, has set the tone for colour trends this season. The vibrant and positive hue brings us in touch with a sense of optimism and humanity, allowing for self-expression. 2019's trends are full of colour and creativity with vibrant designs combining dissonant colours in harmonious ways to express multiple facets of mood and personality. Meanwhile, rich and earthy tones remind us of our journey towards sustainable and Earth-friendly fashion.
New Textures
From mix and match materials to fluid, flowing lines, textures this season are all about tactility. As fashion goes from aesthetic to experiential, we'll be seeing soft shapes, smooth surfaces and natural materials defining garments with hand-crafted becoming the new contemporary – ruching will be a must for designers to create a ripple effect. All of this will lend a sense of retro comfort and playfulness to catwalk collections in 2019.
Prints
Florals will get a kaleidoscopic update for 2019; repeated botanical patterns with a slightly geometric feel are popular this season and will ensure this season's summer collections are bold, bright and full of sunshine. As fashion takes inspiration from nature, animal prints will continue to be popular with an additional pop of colour for a bright take on classic patterns.
Menswear
From modern street style, to classic tailoring with a twist, now is an exciting time for menswear. As the market expands and the possibilities grow, the sector is enjoying more diversity than ever in terms of design and aesthetic. Soft textures, like felts and wools are holding their own in terms of this season's styles with traditional tweeds and checks making a comeback where patterns are concerned.
Romanian Style
With more and more talent coming out of Romania, we're excited to welcome a number of the country's most exciting designers to Pure London AW19/20. The diverse array of mens and womenswear is eclectic and exciting, with a decidedly retro edge to many of the designs. Full of life and creativity, these are collections to watch for the coming seasons.
Get your Free Ticket to Pure London Today
Your free ticket gives you access to:
850+ inspirational brands including designers, suppliers and manufacturers
Leading colour and trend forecasting for AW19/20 and beyond
Extensive educational seminar programme, including kenynote appearance by Katharine Hamnett MBE