15 Feb 2019
SPOTLIGHT ON SUSTAINABILITY AND RECORD NUMBERS OF VISITORS AT LONDON'S FESTIVAL OF FASHION, PURE LONDON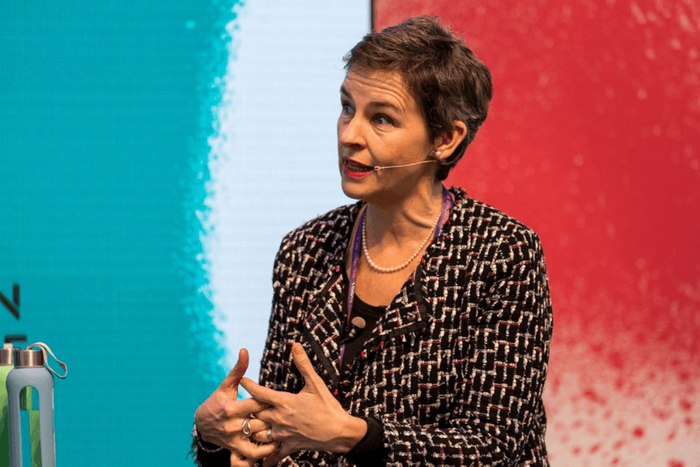 Mary Creagh MP – "Fashion has been marking its own homework for too long
Pure London, the UK's leading festival of fashion, enjoyed record numbers of visitors during the three-day event at London Olympia and continued its programme of disruption aimed at making people accountable for their purchasing decisions and educating on sustainability.
High-profile speakers including Katharine Hamnett and Mary Creagh MP featured in a content schedule that spotlighted sustainability and continued to drive the show's Power of One movement for change across the industry.
Julie Driscoll, UK Regional Director at ITE Group says; "This is the best show in many years, we've welcomed more visitors than ever before, there is a palpable energy and excitement here that so many of the exhibitors and visitors have commented on. A fantastic mix of brands including our Pure Conscious area and the hugely successful and growing Pure Origin manufacturing and sourcing expo, supplemented with high quality content from leading industry experts and change-makers including the United Nations, Pantone, Katharine Hamnett, Professor Caryn Franklin, Tamsin Lejeune from Common Objective, Felicity Hayward, as well as DEFRA and Mary Creagh MP. It has been inspiring, creative, and educational, as well as a serious trading event."
During her interview with environmental expert and writer Lucy Siegle, Mary Creagh MP and Chair of the Environmental Audit Committee revealed that she came to realise the true cost of fast fashion from a human perspective after the Rana Plaza disaster. She has since discovered that in the age of crypto currencies and blockchain, the industry can audit all the way down the supply chain if it wants to.
"I said to M&S that I know more about the lives of the pigs that makes your sausages, but you can't tell me about the lives of the women who make your clothes." She added "The audit into fashion has been a real eye-opener for my colleagues, they can't believe the carbon and chemical footprint and the stories they've heard. We've mainstreamed something that wasn't mainstream.
We're relying on future technology that hasn't been invented yet and the clock is ticking – we need to bend the curve of consumption. We've had the slow food movement and I'm trying to get together the slow fashion movement."
Echoing Katherine Hamnett's views on Sunday asking businesses to be more transparent and to engage consumer power she said: "What is your licence to operate to make fashion? We don't ask enough questions about who makes our clothes. Sustainability Managers need to be as important as the Purchasing Managers, and actually they should be the Managing Director!"
Julie Driscoll, commenting on the show's commitment to sustainability and the Power of One, said: "We aren't preaching, but if we all do one small thing, then we will make a difference, we want brands to tell their story, let us know their small steps, build communities to enter into this dialogue together."
The next Pure London and Pure Origin takes place at London Olympia from the 21st – 23rd July 2019.