24 May 2019
The best of Bubble at Pure London SS20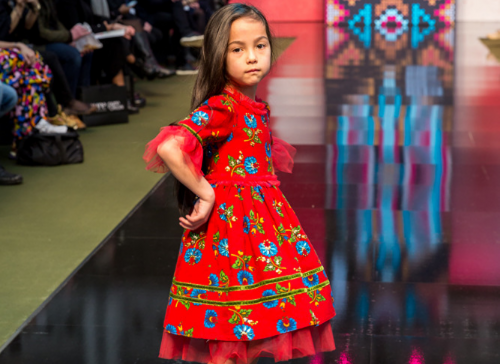 Pure London's vision for its Festival of Fashion continues with the growth of kidswear section Bubble at Pure London. Catering for the style-conscious parents, this growing category includes everything from mini-me dressing to innovative designs. A curated selection of kid's fashion, accessories and maternity collections await from brands and designers including Playcloud, Kidsbury, Lola Starr, Old Soles, You 'N Me, Yumster, Alitsa, Avito, and Annafie, as worn by The Duchess of Cambridge's eldest son George. The now aptly named Prince George romper is the collection's best seller!
Here's a snapshot from a few of the brands that visitors can expect to see at Bubble at Pure London from the 21st – 23rd July at Olympia London.
Kidsbury create premium children's clothing with a conscience. Understanding what kids need from their clothes, as well as a responsibility to the planet, are at the heart of each of their garment designs. Crafted from the finest European materials and 100% Egyptian cotton, Kidsbury clothing is lightweight, breathable and supremely soft, keeping kids comfy all day long without restricting their movement.
The Kidsbury SS20 collection main theme is "Marine Navigator" with corresponding colours, prints and fabric patterns. SS20 will consist from predominately unisex styles for every child aged from 0-3m to 12 years. Due to its core belief in sustainability all styles are made from GOTS Organic Cotton in addition to GOTS Egyptian Organic Cotton fabric that are used for next-to-skin products in their Baby range. All Kidsbury products are ethically made in Europe.
YOU N' ME! presents original clothing with hand-printed authorial graphics, which highlights the themes of nature, the world and its secrets. YOU N' ME! clothing displays originality, a strong connection with nature, and the easy-going vibes of street fashion.
The clothing gives children and tweens the possibility to play with fashion and create their own styles for different occasions. The ideology of the brand is to create a few new collections per year, which each have a unique series of clothing. YOU N' ME! clothes allow kids to make a mark among the crowd, stay unique and display their selfhood. All clothes are designed and made in Poland. The clothes are made from organic and eco-friendly textiles from Polish manufacturers and the fabrics are all GOTS certified and Oeko Tex Standard 100.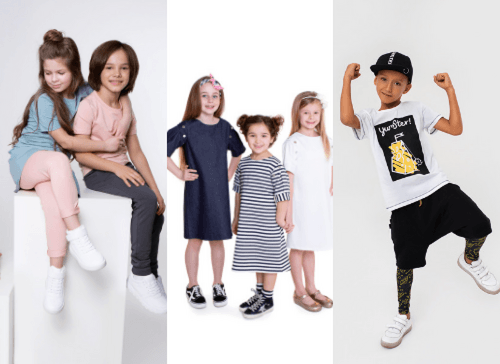 Lola Starr is a unique children's clothing brand designed and manufactured in the UK. With detachable and interchangeable sleeves, children can make independent fashion choices and be as creative as they want. Children can mix and match with a range of long, short, and flouncy sleeves in a whole range of colours, textures and fabrics. With Lola Starr, the looks are endless, making clothes last even longer offering seasonal versatility and longevity.
Yumster is a line of cool-kid clothing for children aged 6 to 14 years offering collections featuring printed T-shirts, adorable dresses and shorts, comfy pants and hoodies. Blurring the line between girls and boys, Yumster encourage kids to blossom outside the outdated social pressure. There are no instructions, just a wide variety of fun and easy mix and match options to express their personal style and charisma.
Annafie's latest collection puts a contemporary twist on some of their classic styles and bestsellers. New florals and brighter colours combine with the cutest new picture-style embroideries and traditional smocking. Dedicated to making exquisite, beautifully crafted future heirloom pieces, Annafie's attention to detail remains second to none - all dresses are lined, and each tiny button covered with fabric.
This season Annafie looks forward to introducing their new sun and cloud embroidered dresses, along with flamingo smocking, ballet-slipper smocking and cute ballet mice. They will also be introducing a new classic style dress, with a ruffled collar, 3/4 length sleeves and a full skirt, perfect for any special occasion, as well as lots of new pyjamas for both girls and boys. Their new range includes dresses and rompers, nightwear, bibs and christening gowns.
With the ongoing reports about throw-away fashion and the detrimental affect it has on our environment, Annafie's collection is designed to appeal to a conscientious market keen to purchase quality clothing from a responsible source.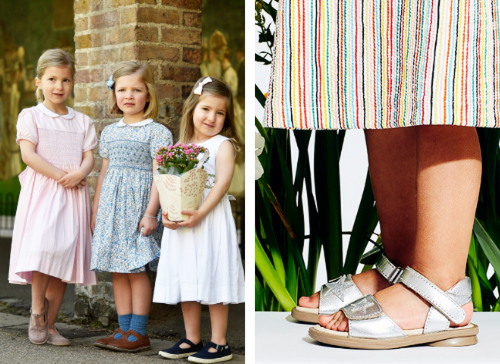 When Old Soles launched in 2008, its philosophy was simple: style, comfort and protection for growing little feet and to let the children of the world play in style. Old Soles are designed in Australia, and its team's extensive fashion industry experience draws from the best of adult catwalks around the globe, then translate these ideas into fashion for little feet.
Alitsa offers collections for 2 to 16 years olds, focusing on tiny details to create comfort and uniqueness in each piece. Operating for over 35 years, the philosophy of Alitsa, is characterised by a profound sense of craftsmanship and an all-inclusive offering, allowing multiple combinations for diverse, elegant, tasteful and imaginative outfits that fully suit the needs of contemporary children.
Pure London and Bubble at Pure London take place at Olympia London from the 21st – 23rd July 2019.