05 Feb 2020
Trend Update: the seasonal overview from Unique Style Platform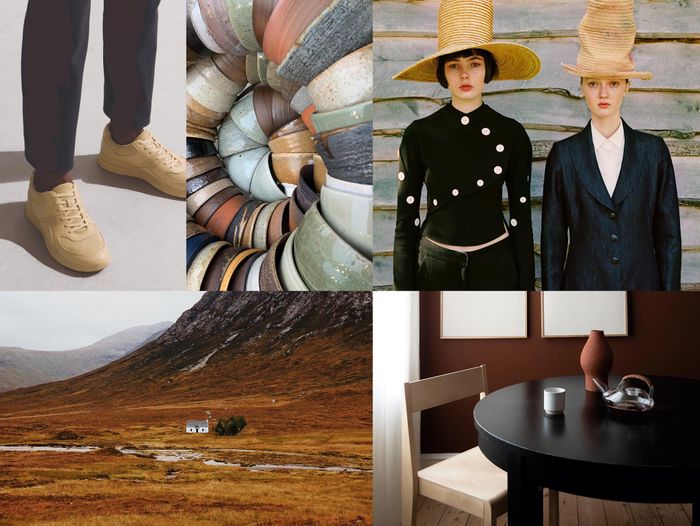 Jane Kellock, the creative director of Unique Style Platform will talk through the four key macro trends that define Autumn/Winter 20/21. Taking inspiration from culture, technology, retail, interiors, food & hospitality and fashion, these trends provide an overview of the key influence, consumer attitudes and product directions for the season.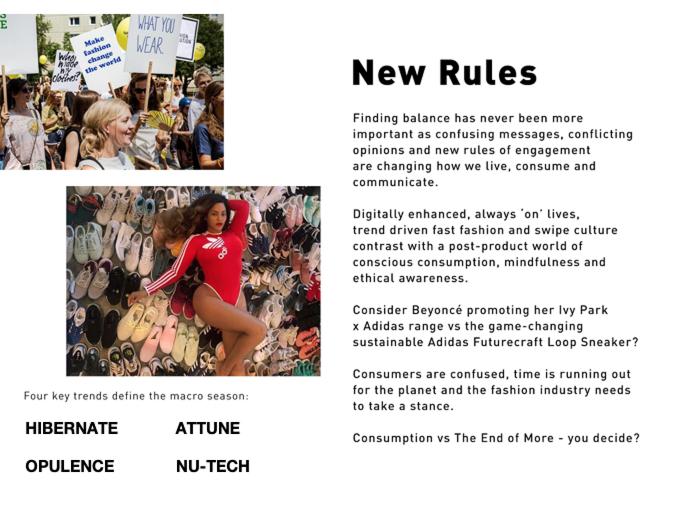 As we live in a time of uncertainty, fake news and extreme opinions, focusing on the space in between and sitting on the fence become all important. We seek balance and truth as confusing messages and new rules of engagement are changing how we live, consume and communicate.
Kindness and empathy are valued, as we move into a new era of modesty that is liberating and inclusive. Traditions are appreciated and re-considered, as ritual and ceremony become important markers of our contemporary lives.
Digital personas, 24/7 living, fast fashion and swipe culture contrast with a post-product world of conscious consumption, mindfulness and ethical awareness.
Considerate design sees sustainability inform everything we do. Consumers are unsure how to act, trapped between capitalist culture and climate activism. They seek direction and honesty, calling to the fashion industry to be part of the solution, not the problem.
HIBERNATE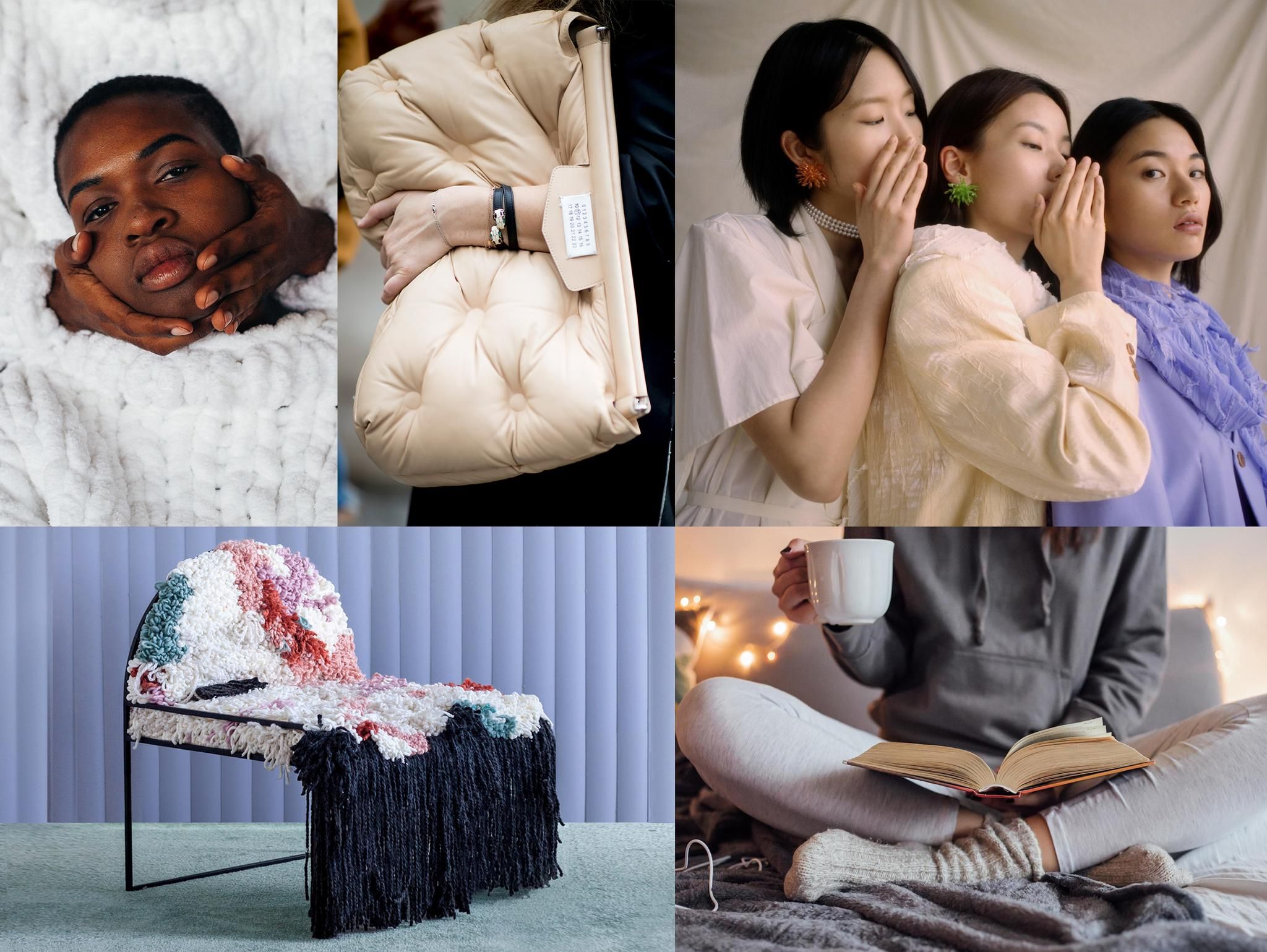 As our daily lives become affected by internet phenomena, viral trends and online bullying, protecting our privacy and managing our identities becomes more important.
Idleness and boredom become luxuries, as we reject the cult of busyness, embrace kindness and adopt a less opinionated approach to life. Rather than seeing this as laziness, we harness the benefits that doing nothing offers to our mental health and creativity.
We look to slow down, take time to be considerate, and concentrate on wellbeing, seeking refuge from modern life. Staying in becomes the new going out, as our homes become sanctuaries of cosiness and calm. We embed comfort to add emotion and create a sense of belonging.
ATTUNE

As decision exhaustion and over consumption take their toll, we endeavour to reduce our choices and re-think what is really needed.
Honesty and authenticity become all important as ingredients, materials and products are re-considered in order to create change.
Reducing consumption and making conscious choices continues to be key for those who both care about the planet and feel overwhelmed with modern life. Narrowing options, buying less and paring back to the bare minimum sees a new breed of consumer choose to live a simpler, less stressful life.
Torn between the allure of cheap, fast fashion and increased awareness surrounding its impact on the planet, consumers look to brands to lead the way. Transparency and honesty, rather than ethical perfection encourages a more realistic approach to sustainability.
The 'buy nothing' movement sees consumers document their journeys of no purchasing on social media and celebrate what they already have. Meanwhile the fashion industry looks beyond point of sale to consider alternative ways to create a circular economy, with a a move towards renting and borrowing growing in popularity.
Innovative and progressive designers and researchers are turning to natural alternatives to create plant positive products, bio materials and renewable architecture.
OPULENCE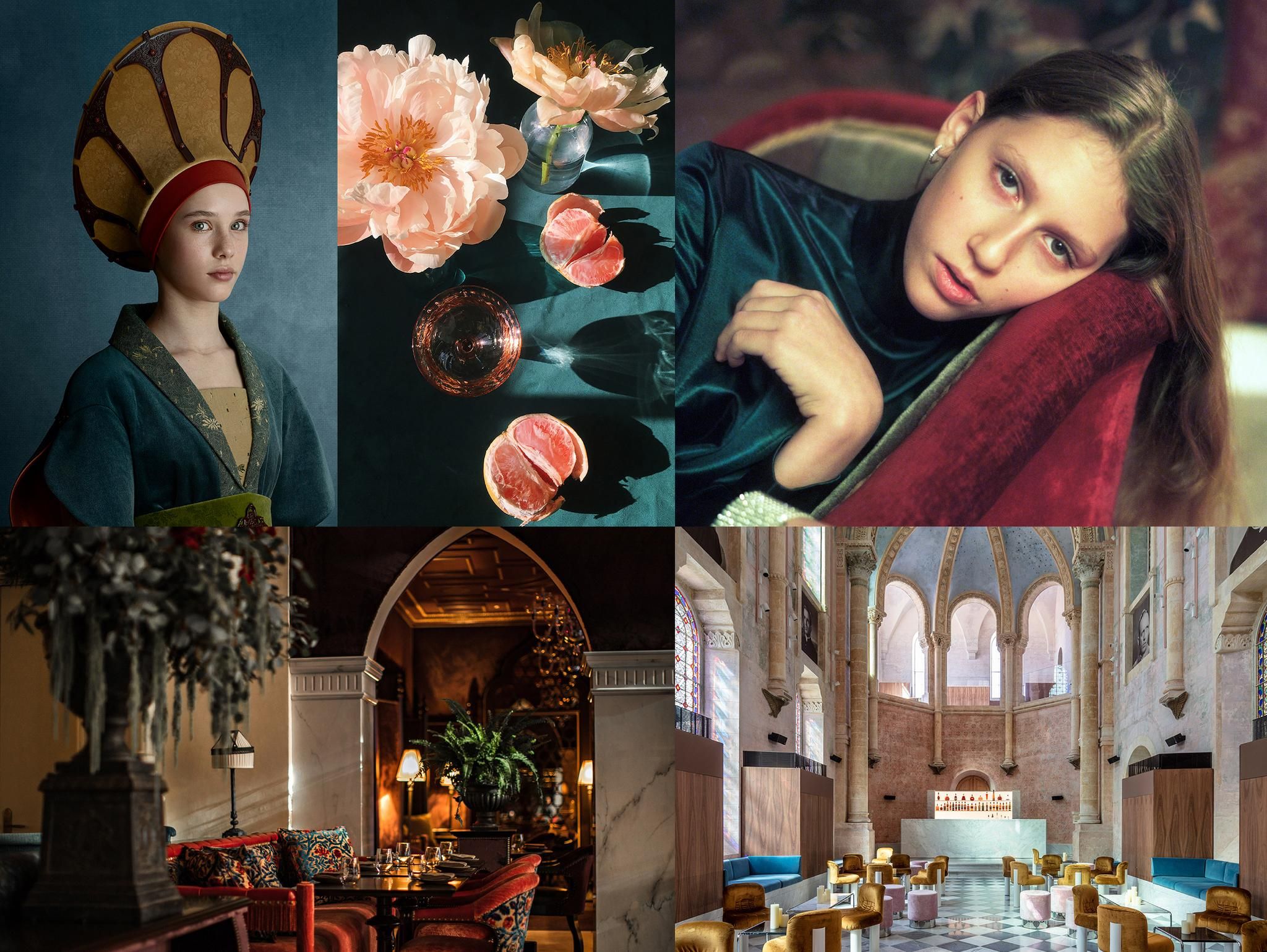 Inspiration is drawn from the Aristocracy, as opulence, individuality and a little bit of bad behaviour influences a hedonistic mood rooted in tradition. Luxury is re-defined for a contemporary consumer, as technology blurs eras and style boundaries creating a desire for a 'more is more' approach.
Disruptive thinking and creativity are inspired by hybrid lifestyles and cross cultural references. Luxury is redefined, enabling a contemporary consumer to create modern day fantasies, as Insta-worthy experiences inspire unexpected aesthetics.
As well as living ever increasingly decadent lives, we simultaneously seek meaning in an uncertain world, looking to ancient rituals and the power of collective communities to learn and grow. Listening, reflecting and embracing the melancholic side of life enables contemplation as well as moments of joy.
As societies become ever more divisive, and bigotry, intolerance and technology overwhelm, we see an increasing number of young people turn to religion and forms of worship in order to find deeper meaning.
NU-TECH

As friction between the digital and physical worlds continues, experts encourage us to think about extended intelligence – rather than artificial intelligence – and designing responsible systems that integrate humans and machines.
Thinking beyond tech vs. humans, extended intelligence blends the best of both worlds to create a new hyper reality. Harnessing digital power to create the unexpected, future focused aesthetics and environments are both disturbing and fantastical.
As digital personas become a regular part of everyday life, what's considered human becomes less defined. Blending what's real and virtual by augmenting and enhancing their social media personas, a new breed of influencer re-defines how we think about fashion and beauty.
VR and sensory experiences are combined, creating immersive worlds that are ever more entertaining, changing the retail, entertainment and hospitality landscapes.
Consumers desire to be their best self continues, as they seek optimum health, fitness, nutrition and intelligence, enabled by technology and enhanced by nature. Physical spaces become entertainment and wellness hubs, as digital interaction is combined with real products to create human focused outcomes.