01 Aug 2019
True sustainability will take three years, predict UK retailers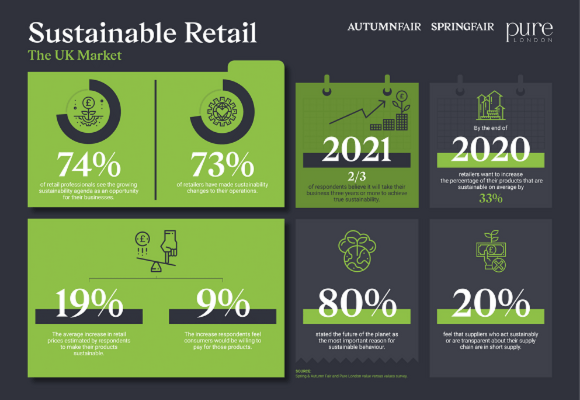 ITE Group study shows 66% of retail industry believes it will take three years or more to become truly sustainable
73% of retailers have made sustainability changes to their operations
Retailers want to increase their sustainable products by a third by the end of 2020
Two thirds (66%) of UK retailers believe it will take their business three years or more to achieve true sustainability, a major study of retailers' views on sustainability has revealed.
Of 1,896 national and independent retailers that took part in the study, 73% said they had made changes to their operations to become more sustainable, but they were realistic that total sustainability was still out of reach.
In the study, conducted by Pure London, and Spring and Autumn Fair – three of the largest events in the retail industry's calendar – UK retailers hoped to increase the percentage of their products that are sustainable by 33% on average by the end of next year. For fashion retailers this goes up to 40%, a seven percent increase on the wider retail industry.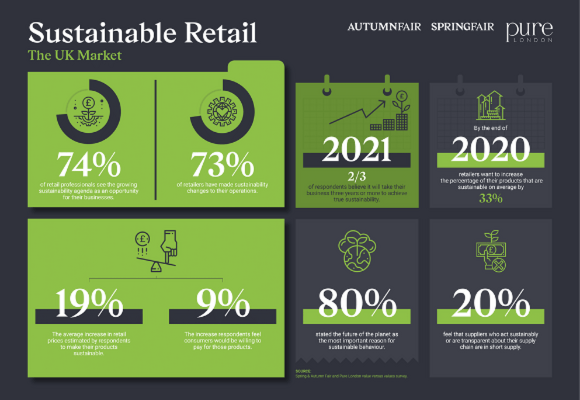 Sustainability has rocketed up the retail agenda in recent years, as brands and retailers come under mounting pressure to reduce their impact on the environment.
Julie Driscoll, UK Regional Director for ITE Group, organisers of Pure London and Spring & Autumn Fair, said: "Our study confirms that the UK retail industry is passionate about taking action on sustainability. However, there are significant barriers to overcome. To achieve true sustainability takes significant resource, time and investment, arguably, it's a continuous process for improvement, rather than a destination. Retailers aren't shying away from that responsibility, but
they are being realistic when it comes to how quickly the change can happen.
"Through the launch of the Power of One campaign at both Pure London and Spring Fair last year, ITE Group has committed to driving small, individual yet powerful, steps towards a sustainable future, by giving others the power to speak up and to focus on long term changes in the retail and fashion industries. It's clear that retailers are changing. Our study found 73% have improved their recycling or reuse efforts, and that 54% have reduced the use of environmentally damaging materials in products."
In the study, respondents estimated that to make their products sustainable they would have to increase retail prices by 19% on average. In contrast, they estimate consumers would only be willing to pay 9% more for those sustainable products. 20% believed the failure of suppliers to act sustainably or transparently was the biggest challenge.
Julie continued: "The greatest challenge to sustainability for the retail industry often comes from their supply chains. This is where Spring and Autumn Fair and Pure London can help by bridging the gap between suppliers and retailers. As well as continuing our Power of One campaign, all our future shows will be focusing on educating and upskilling both retailers and suppliers on sustainability issues, so that real change becomes easier."
The latest edition of Pure London took place from the 21st – 23rd July, filling Olympia London with over 700 international brands and designers showcasing SS20 womenswear, menswear, youth and kid's collections, and a host of new trends. With an enduring focus on supporting and championing responsible fashion and sustainable brands, the Pure Conscious section continued to offer the best in ethical fashion while global sourcing and manufacturing area, Pure Origin, united over 200 manufacturers and suppliers with buyers and has evolved into the UK's number one destination in fashion for sourcing and manufacturing, knowledge and solutions.
During the three-day show, Pure London presented the key SS20 trends, inspirational catwalk shows, tech and retail innovations, thought-provoking, educational content from industry leaders and change makers, and keynote speakers including TV personality and owner of Savile Row tailor Norton & Sons Patrick Grant, and Vivienne Westwood's Head of Couture Brigitte Stepputtis.
A topic that featured heavily in both keynote talks and during a United Nations panel conversation with Kerry Bannigan from Conscious Fashion Campaign, Pauline Op de Beeck from Carbon Trust, Tamara Cincik from Fashion Roundtable and Melanie Traub of ethical trailblazers People Tree, is that harnessing technology, innovation and science will provide the solutions to the most damaging and problematic issues facing the fashion industry.
Returning to traditional skillsets such as sewing and re-building the British manufacturing industry were also touted as critical for achieving genuine sustainability and safeguarding future generations. While discussing his love for clothes, "making stuff" and nurturing British businesses and manufacturers Patrick Grant said: "We need to change the overall mindset of how we produce and consume. Our British factories help sustain the local economies, we know what is made, by who and when. We have super simple stable supply chains."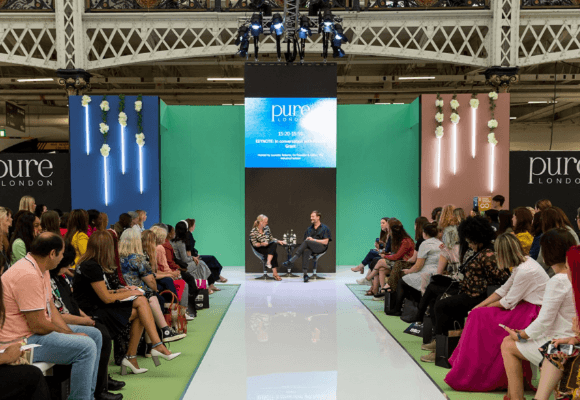 Commenting on the UK government's rejection of all recommendations made by the Environmental Audit Committee report into fast fashion, Patrick added that there needed to be stringent regulations to clean up the industry including stricter labelling. He said: "I don't think the audit committee went nearly far enough; I think that everything we buy that's made of plastic should be labelled plastic. Because consumers don't know what polyester or acrylic or nylon are. Virgin plastics should be labelled. You have a picture of a diseased lung on the back of a cigarette packet. This stuff is as toxic as nicotine. Bad fashion is literally killing stuff. If at the point of purchase, you were presented with something that showed you it, some people just might think twice."
During the United Nations panel discussion Pauline Op de Beeck from Carbon Trust highlighted the necessity for collaboration while championing businesses who are finding unique solutions to sourcing challenges and making them open source. "We want all brands to use these innovations, there shouldn't be a competitive advantage to it. There are great innovations in recycling, it takes a lot of research and investment but now we can breakdown previously unrecyclable material and reuse it."
While many brands are playing catch up, Brigitte Stepputtis from Vivienne Westwood showed how successful a brand can be by putting activism, recycling, upcycling, re-use, natural and sustainable materials at the heart of business. She said; "We're not perfect, but we strive to make our clothes with great care, with heritage, to create a modern and efficient brand which has a relevance to our time. When some brands do something incredible it helps others to follow."
Autumn Fair 2019 in September will host talks and workshops from leaders in sustainability. James George, Business Engagement Manager, Ellen Macarthur Foundation will talk on the Inspiring Retail Stage on the evolving nature of the circular economy and what true sustainability looks like. Agnès Gendry, Head of Buying, Lush Cosmetics will walk visitors through how they work with suppliers to understand their ethical and sustainable credentials in order to drive visibility in their supply chain. And David Meller, Responsible Sourcing Director, NSF International will be running a
session called 'Plastic Isn't The Problem' that will educate buyers on the bigger plastics picture – whilst single use plastics is a critical issue for consumers, there are other considerations on the path of achieving true sustainability.
A new international Sourcing zone is also being launched at Autumn Fair this year. Retailers looking to benefit from markets outside of the UK will be able to build essential relationships with leading international exporters and manufacturers at this year's show. In turn, manufacturers from key sourcing regions around the world will have the opportunity to exhibit new products and showcase techniques to the forward-looking retail market. From a sustainability perspective, this access to international brands can provide opportunities to assess how transparent a company's supply chains are.
When asked about the most important reason for sustainable behaviour, 80% of retail businesses stated it was the future of the planet, above brand image (6%), economic prosperity (6%), increased business productivity, reduced costs and greater regulatory compliance.
The UK's leading Festival of Fashion, Pure London takes place at Olympia London, and the AW20/21 edition will run from 9th - 11th February 2020.