Visit our sustainable fashion destination!
With the increasing demand for sustainable fashion among consumers, retailers play a crucial role in curating conscious offerings for their clientele.
In this article, we look into the sustainable fashion destination at Pure London and name some of the brands available at the show.
Curated Sustainable Fashion
Pure London has acknowledged the increasing importance of sustainable fashion. We created a specialised area within the trade show to display eco-friendly and ethical brands.
Our curated sustainable fashion destination within the larger event, is attracting forward-thinking brands who are keen to incorporate sustainability into their product offerings.
Togetherband raises funds for projects aligned with the 17 Sustainable Development Goals created by the United Nations. Customers are invited to select a goal to support by purchasing a band with a correspondent colour. Celebrities love this project and are endorsing this brand, from David Beckham to Naomi Campbell.
This brand shares information on the composition of products and the use of natural materials. They also have a partnership with Redonner, which allows them to collect and recycle unused textiles. For their packaging they use polybags that are recycled and recyclable. Customers can buy previous collections at low prices in their Archives section.
The vision of Line Planet is to revive and redefine craftsmanship in Greece. They use certified GOTS and OEKO fabrics from Greek companies such as cotton, linen, Tencel, rayon and poplin. This brand has a zero-waste policy. It applies to fabric orders and packaging. The packaging is organic and made from natural materials.
Mirla Beane's co-founders Lauren and Melanie created an ethical and beautiful brand, with inclusive prices and sizing. This brand is British designed and made because they believe "nothing should be made more than a truck-ride away." Their factories are accredited to guarantee a fair living wage for their makers. Their fabrics are natural, organic, or recycled. Packaging is biodegradable and FSC approved.
Their exclusive prints are designed in Paris and made in India. They respect good working conditions and fair remuneration for the craftsmen who manufacture their products. Zen Ethic proudly features those who make their collections in Rajasthan on their website, where you can watch a video of their skilled workers. They use organic cotton, and all packaging is also recyclable and compostable.
Uri was launched in 2020 by Mrunalini Rao, who is also committed to support those who produce her collections. Her brand's ethos is zero-waste production, biodegradability, and ethical employment. Her muses are women of all ages, and she creates timeless garments. They are handmade giving them a personal story, a human touch.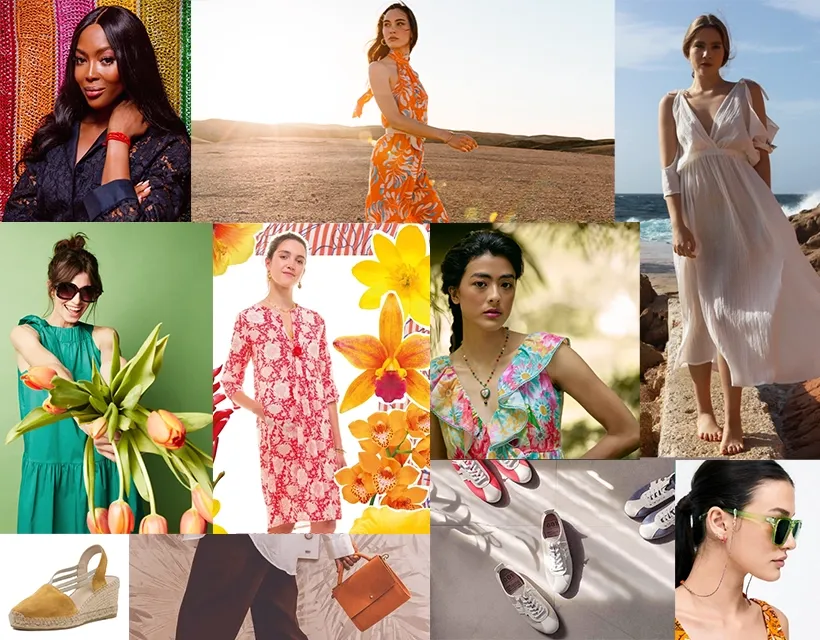 This brand uses only organic raw materials and is entirely manufactured in Spain. This brand produces ecological footwear for men, women and children. Their production process is respectful of the environment. It is based on heat and pressure with a specific machinery called the 'vulcanisation system'. Natural World aims to guarantee a better world for the new generations.
Meron Seid is the Founder and Creative Director of Meron Addis Ababa. She's passionate about design and uses only locally sourced materials to produce bespoke handbags and accessories. The brand empowers women with training on leather craftsmanship and job opportunities, and women make up 80% of staff. All products are handmade at the brand's workshop in Addis Ababa.
Hispanitas has produced the first sustainable trainer made in Spain with ecological materials, model 001. It uses recycled cotton that has been used in clothes, sugar cane, corn, recycled and recyclable cellulose and recycled rubber. This limited edition is a lightweight bowling style design with a vintage 70s feel. Its dry manufacturing process guarantees minimum water consumption.
This brand is committed to the environment. They use natural and recycled fabrics such as organic cotton and bamboo viscose. These fabrics are obtained from certified renewable sources. Sustainable production processes are also employed. Sunglasses are made from recycled plastic bottles, reducing CO2 emissions, reducing water consumption and saving energy. Surkana uses recycled and recyclable materials to protect garments during shipping. Shopping bags made from recycled and ecological paper certified with FSC sustainable forest management are used in their shops.
These are just some of the brands that are exhibiting at our upcoming show. Consumer preferences have changed significantly. People now prefer sustainable and conscious consumption. Retailers must adjust their offerings to match these values.
Pure London's Sustainable destination provides retailers with an opportunity to explore a wide selection of fashion brands. These brands prioritise environmental responsibility and ethical production.
If you haven't registered yet, get your free ticket now and join us in discovering and supporting sustainable fashion brands.
Other digital Content
In an industry characterised by fierce competition and ever-changing consumer preferences, it is crucial for fashion brands to constantly innovate and adapt. Koral Ibrahim, Founder and Managing Direct ...

Traditional brick-and-mortar shops are facing challenging times. The retail landscape has undergone a remarkable transformation due to the pervasive influence of digital technology and shifting consum ...