28 Feb 2019
What motivates fashion consumers of today?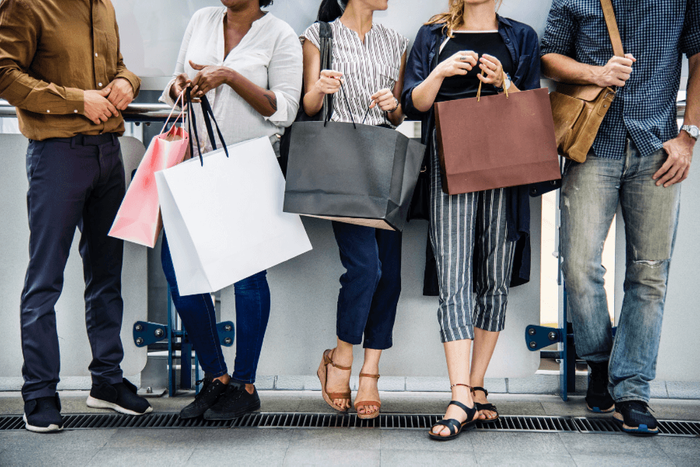 Retailers the world over will have heard the following old chestnut: "the customer is always right". But how can the customer always be right when it's becoming increasingly apparent that the customer, at least on an individual level doesn't even know what they want? It might be because they're presented with so much choice, it might be because they have everything they want at their fingertips, it might just be because with all the uncertainty in the air, they simply don't want to make any more decisions. Whatever the reason, it's understandably tricky for retailers and designers to know what their customers want, when the customers themselves aren't really sure.
But, whilst it might seem that way, on a case by case basis, there's plenty of research out there to suggest that, as a collective, fashion consumers have a few motivations in common.
Back to the future?
As millennials and Gen Z'ers take the floor as fashion's core consumer group, there's a paradigm shift happening in terms of what purchasers hold important. With retro styles making a definite comeback right now, it seems ironic that younger generations are looking to take a firm step away from their fashion predecessors, at least where values are concerned. As individuality, sustainability and sociological issues all take a front seat in the minds and motivations of today's young consumers - in a way that they hadn't done in the minds of older generations - these values should be driving business strategies forward just as much.
What's more, now more than ever, young fashion consumers are looking for transparency from companies, big and small. According to Deloitte's 2018 Millennial Survey, only 48% of this crucial age group believe that corporations behave ethically and sustainably, whilst 80% of the same group consider social and environmental practices to be on equal footing with a company's financial results. The numbers speak for themselves.
Fashion's getting social
Love it or hate it, social media's not going anywhere – especially if future consumers have anything to do with it. As social media platforms get more and more visual, so are consumers. Platforms like Instagram, Pinterest, Snapchat and Youtube now act as touchpoints to the latest trends, and, unsurprisingly, the new digital generations are using these as online window shopping outlets.
The rise of the blogger and social media influencer also has its part to play in the digitalisation of fashion. Influencer accounts showcase the latest trends and upcoming looks in a way that magazines and catwalks used to do, providing instant and around-the-clock buying inspiration for the new consumer. Following on from this, as more and more young social media users aspire to become fashion influencers in their own right, trends are at once adopted, shaped and evolved overnight.
And as social media and influencers have grown, the mobile and social commerce world has grown with them. At a time when smartphones reign supreme, consumers expect brands to not only have a selling functionality for mobile, but expect this to be as streamlined, fast and reliable as purchasing on a computer as well.
Feel good fashion
With so much uncertainty, negativity and general doom and gloom in the air, it's only natural that consumers are looking for something to feel good about. Comfort, colour and a "glass-half-full" brand story are what consumers are all about and it's showing in current trends.
Bright colours and neon pops are making their way into winter wardrobes, somewhere they wouldn't traditionally be seen. Meanwhile, the ever-present popularity of athleisure signals a focus on wellness with trainers being the (much more comfortable) footwear option of choice amongst younger consumers in particular.
Going hand-in-hand with a bid for transparency from companies, today's consumers want to know the story behind the store/ designer/ garment. Why? They want to know that they can trust a business to meet their criteria and they also want to be sure their clothing is an extension of themselves, their values and their identity. Naturally, this is much easier to establish with an authentic brand story.
To sum it all up, whilst consumers might not know exactly what they want when they shop, we're pretty safe to assume that most of them are looking for ethical, sustainable collections, transparency and authenticity behind the brands and above all else, something to feel good about.
Want to know more about what drives consumers to purchase? Pure London SS20 will take place 21st – 23rd July featuring three days of content on retail, consumer behaviours, trends and so much more!