18 Mar 2019
What's going on in the world of fashion retail?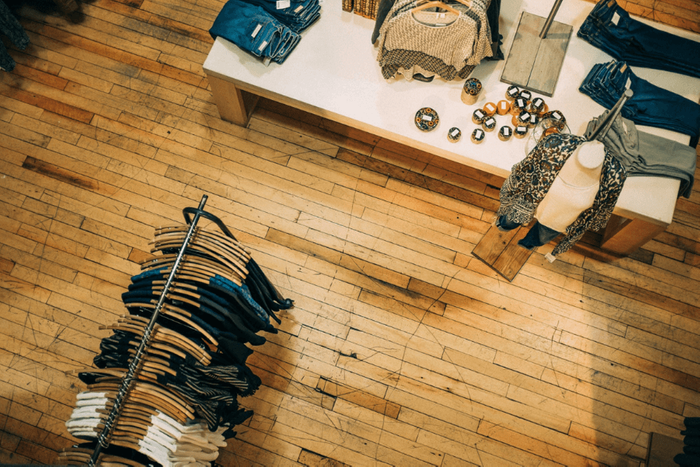 Bricks and mortar or ecommerce? Virtual reality or real-life experiences? The future of fashion retail has so many possibilities. Like so many facets of the fashion industry, retail is an ever-evolving entity. That's why I decided to take a look at what's going on in the world of fashion retail as we know it today…
Online or offline, there seems to have been one word that's summed up the past few years in fashion retail: challenging. With Brexit uncertainty defining the tone of business across the nation in since 2016's Leave vote, the fashion retail sector has been encumbered with more than its fair share of anxiety.
But, it's not all doom and gloom. As longstanding retailers will know, change is a constant and there's always an element of uncertainty in the air. So where is the industry at right now?
Retail's going digital
It won't come as a surprise to hear that fashion retail will continue on its upwards digital trajectory. However, contrary to widespread belief, this doesn't spell the end for bricks and mortar stores, in favour of ecommerce.
Whilst there's definitely a place for online shopping in today's convenience-driven, data-first society, digitalisation could start to redefine shopping IRL too. Just as cookies are gathering preferential and demographic data online, new innovation could start to see similar data collection happening in-store as well. Retail solutions companies are working on new facial recognition software that could provide retailers with the same sort of demographic and preferential information alongside shopping behaviours and individuals' path through a store.
Alongside this, tech's also paving the way for improved customer service solutions, mobile payment options for shoppers, product inventory procedures and much, much more.
Up close and personal
Personalisation is the buzzword on everyone's lips right now, arguably more so in fashion than in any other industry. Now more than ever, consumers are looking to fashion as a way to express their identities and, where social media is concerned, to build their own personal brand. Which is why retailers, online or offline, need to start looking to provide a personalised experience – something that many independent retailers are doing already.
Knowing the customer is now about more than knowing their basic demographics and price points. Retailers need to get to know them on a one-on-one level, asking questions like: how does the shopper like the product to fit? What materials do they like to wear? What are the wardrobe essentials they are likely to keep for a long time? Once those questions are answered, it's a case of curating a product selection that will appeal to the individual customer as well as the entire customer base.
Supply to meet demand
As customers become increasingly demanding, it's up to retailers to revolutionise their supply chains to keep pace. Cost and time efficient supply chains are all well and good, but the supply chain of the future should be first and foremost focused on the customer. In store stock room automation and shorter, more flexible sourcing and/ or manufacturing processes are just two of the options retailers are taking in order to streamline the customer-centric supply chains.
Meet with the suppliers themselves at Pure Origin and get the latest on retail trends at Pure London. The SS20 edition will be bringing you all the essential fashion retail news, and much more, at Olympia London on 21st-23rd July 2019.
Source: "Eurocis Düsseldorf: How and why brick and mortar retail must go digital" article by FashionUnited
Source: "2019 Retail Outlook: Transition Ahead" report by Deloitte