22 Mar 2018
Womenswear SS 2018 with Sonia Perfetti, editor-in-charge, Collezioni Donna
Sonia Perfetti, editor-in-charge of Collezioni Donna and Collezioni Haute Couture and co-editor of New(s)tyle Collezioni Donna/Accessori/Trends, summarises the womenswear trends for the Spring/Summer 2018 season by answering a number of questions by Peppe Orrù, London Contributing Editor, Collezioni.
WHAT ARE YOUR THOUGHTS ON THE SPRING/SUMMER 2018 SEASON?
Spring/Summer 2018 is going to be a really wonderful season for fashion. It is so full of new ideas and of new looks that are super interesting and that could easily persuade us to completely change, or at least update, our wardrobe with the aid of a few, or a lot of, innovative pieces and accessories. Which, I think, it's the best way to approach the forthcoming spring and summer months. Let's fall in love and follow the suggestions by those fashion designers whose creativity is not restrained by marketing tough rules and regulations.

IS THIS MAYBE A REFLECTION OF A MAJOR CHANGE IN FASHION IN GENERAL?
I strongly feel that, in certain specific cases, fashion is becoming more and more special, almost as it is following a continuous creative crescendo. How? By mixing different references and elements borrowed from the world of music and from sportswear and streetwear, by referencing the designers' own personal creative journeys and, above all, by drawing inspiration from the world of art, therefore creating a novel and exciting interpretation of prêt-à-porter. A whole new universe that demands to be explored and enjoyed in its entirety.

SHOULD WE MAYBE TALK OF A SPRING/SUMMER 2019 INFUSED WITH COLOUR AND FILLED WITH ART REFERENCES?
Exactly!!! It is not by chance that I chose Colouraholic and Art Gallery as the titles for the two issues of Collezioni Donna dedicated to the Spring/Summer 2018 season. I wanted to highlight the importance of all the different aspects connected to the colour choices of those globally connected fashion designers who have created surprising chromatic effects, surprisingly loaded with positive energy, which is something we most certainly need in a world that seems to be becoming darker and darker every day.
It is undeniable that fashion is a very strong and powerful communication tool. This season, fashion is, once again, expressing a grassroots desire to think and to act in a more positive way when tackling an increasingly challenging global situation.

IN YOUR OPINION, WHICH ARE THE MUST-HAVE ITEMS FOR THE SPRING/SUMMER 2018 SEASON?
Let's start with the basics. A lightweight trench coat in strong colours, a luxury leather blouson, a menswear-inspired oversize jacket with the right amount of no-gender overtones, a waistcoat worn directly on the skin, a double cuff masculine but sexy shirt, a chic jogging suit, a cool long singlet dress, a romantic dress with ruches, anything with sequins, anything decorated with logos and as much denim as possible.
Personally, I really liked the new interpretations of the iconic pac-a-mac, especially the transparent nylon version, as an alternative to the bomber jacket that is still going to be as relevant as it has been in the course of these last few years. I like the idea of the pac-a-mac because it isn't necessary a "fashion" item overloaded with lots of meaning. As it is very easy to match with other garments, from a see-through dress to a pair of jeans. It also follows the current trend of interpreting fashion in your own personal way and with your own personal touch. I find it as interesting as all the other cross-pollinations with sportswear and all the sportswear-inspired hybrids.
Last but not least, a small piece of advice in terms of styling. Do not miss the opportunity of freely mixing and matching your favourite pieces in order to express your own personal style.

HOW WOULD YOU SUMMARISE THE SEASON IN TERMS OF COLOUR?
Not one, but a thousand rainbows, each with a thousand joyful colours filled with energy. A wonderful cocktail of statement chromatic choices like the one by Dolce e Gabbana on the cover of issue 176 of Collezioni Donna as well as the truly intriguing unique colour tones like the green shade chosen by Rick Owens and featured on the cover of issue 177 of Collezioni Donna.
Alongside a truly invincible red, all the shades of blue, from cobalt all the way to turquoise, as well as lilac, orange and yellow, a colour that Collezioni Donna already selected as a key trend for Spring/Summer 2017. I would like to add that in my opinion pink is becoming increasingly less important. Last but certainly not least, all metallic hues with a focus on warm gold and cold silver.
Pantone chose ultraviolet as the 2018 most important colour but, surprisingly, this colour has not been prominent on the international catwalks as fashion designers were obviously focused on different colour choices. Maybe because fashion loves to go in the opposite direction of what's expected and loves to go further and beyond? It also must be reminded that Pantone follows a different logic from the fashion world. We must wait and see how things will progress and evolve during the course of the year. Maybe ultraviolet will be THE colour of the Autumn/Winter 2018 season.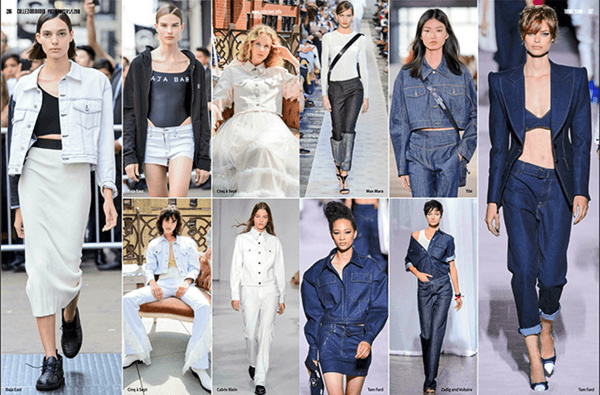 WHICH FABRICS, MATERIALS, DETAILS HAVE A MAIN ROLE WITHIN THE SPRING/SUMMER 2018 COLLECTIONS?
All those fabrics that are graceful, refined, stylish like those gently innocent lace decorated with dots like the plumetis, the micro broderie anglaise, the see-through voile but also the couture-like heavy satin and lightweight silks, which have been used even for outerwear. But also all the high performance materials borrowed from the world of sports because they are so eclectic and perfect, especially when used for garments that have no connection whatsoever with any sport discipline.
In terms of details, the spotlight is definitely on sequins, crystals and fringes. Also noteworthy, the multiple uses of ruffles in a great variety of versions, especially for hems and on the sleeves. Last but not least, gathered fabrics that create new silhouettes on dresses and blouses.

WOULD YOU CARE TO MENTION ANY DESIGNER WHO IS PARTICULARLY RELEVANT AT THE MOMENT?
I would like to begin by talking about Maria Grazia Chiuri, the creative director at Dior, and about one garment that is significantly important in my opinion. I am referring to the Breton stripe long sleeved top with the emblematic "Why Have There Been No Great Women Artists?" question. A direct reference to historian Linda Nochlin's work that follows the same path of the previous season "We Should All Be Feminists". A garment that highlights a very important fact, i.e. the undeniable widespread inequality between men and women. A garment that goes beyond fashion as it aims to deliver a very important social and political message. Maria Grazia Chiuri is very aware of the prominence of the podium she is speaking from and knows how to use her global platform. She is suggesting a sweet yet very strong interpretation of femininity that recalls in its archetypes Coco Chanel. An entire wold of flowing long tunics, of refined lightweight and impalpable materials, of controlled volumes for a much more structured and rich of details approach to fashion design than when she was at Valentino.

ANYONE ELSE?
Well, once again, Alessandro Michele at Gucci. What he is doing is, in my opinion, very important indeed. You see, both Alessandro and Maria Grazia are extremely experienced. Both are gifted with a significant background in terms of culture. Both are equipped with phenomenal intellectual curiosity and creative intelligence. Both are able to inject the respective brands with their extremely personal vision, achieving in both cases a truly incredible critical and commercial success. Both are capable to create an instantly recognisable style that has being and keeps on winning over customers belonging to very different customer groups.
Their work is, we must admit, at the opposite ends of the fashion scale: Alessandro is definitely maximalist while Chiara is unquestionably minimalist. And yet their objective is the same: to make sure that women, and men, who buy their collections become part of the Gucci or the Dior world.
www.collezioni.info
Instagram Collezionifashion
Facebook Collezioni fashion magazines
Twitter CollezioniMagazine
Pinterest collezioniissue