25 Oct 2022
LOLA CASADEMUNT BY MAITE presents its DREAMING AFRICA collection for the upcoming spring-summer 2023 season at 080 BARCELONA FASHION WEEK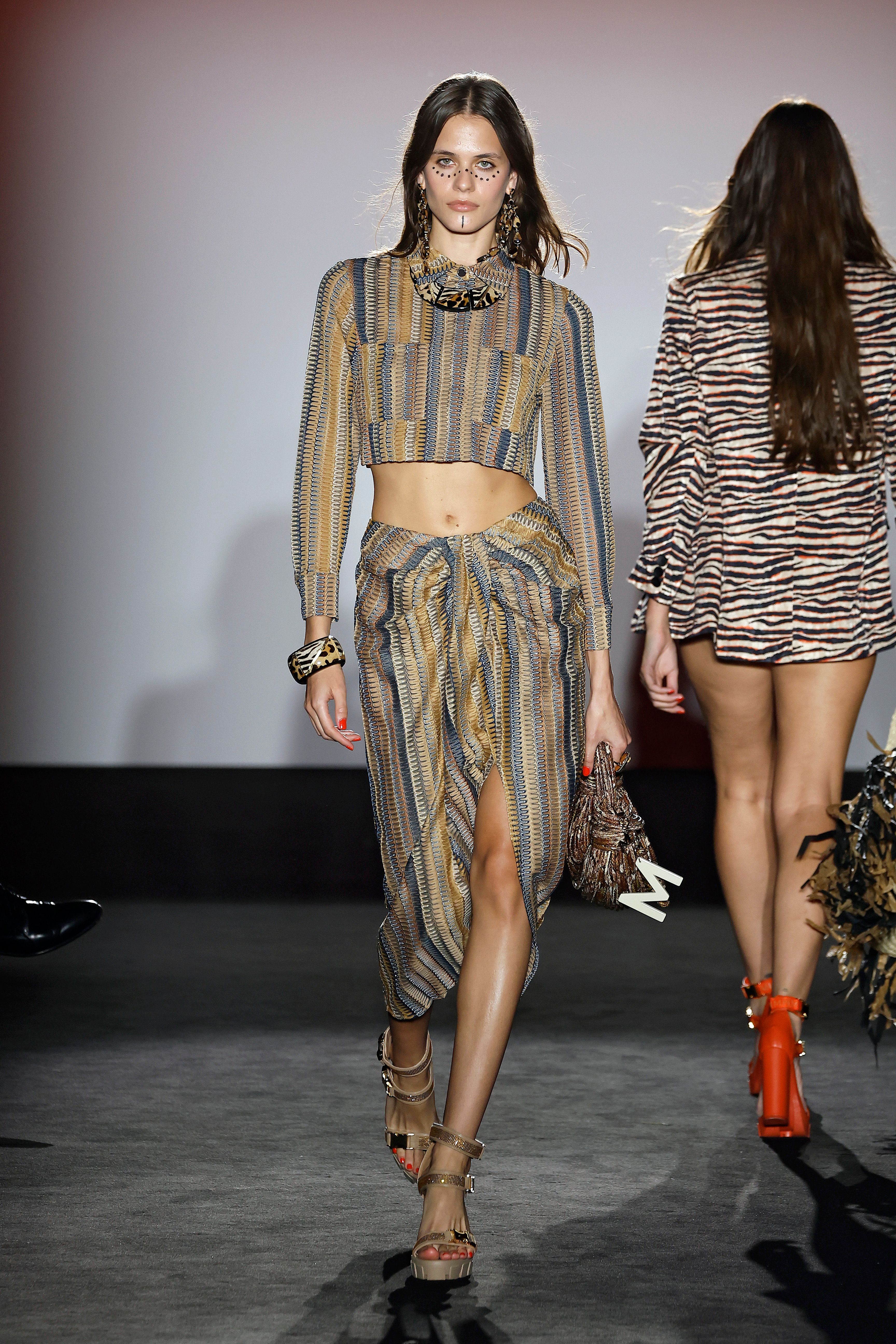 Intense colors and the speck of animals native to Africa permeate the new proposals by LOLA CASADEMUNT BY MAITE for the upcoming spring-summer 2023 season.
A trip through the African continent serves as inspiration with some references that stain the collection of animal prints, fluid and voluminous garments, and energetic tones.
"For this collection we have decided to embark on a journey through the African country and we have been inspired by its landscapes, colours, culture and, above all, its nature and fauna. It is an elegant and sophisticated collection where we revisit a characteristic and iconic element of LOLA CASADEMUNT such as animal print, this time in zebra and snake. Garments with beaded appliqués, transparencies, flowing dresses… All of this specially designed to dress the LOLA woman: an energetic and authentic woman who likes to dress differently", says Maite Casademunt, creative director of LOLA CASADEMUNT.
Mesh-type garments with beaded appliqués, jacquards with personalized prints, micropleats, guipure, printed gauze, patchwork, brocade and devoré give life to the garments in the collection. Also applications such as feathers, fringes and transparencies are protagonists of this proposal.
The color manifests itself in shades of brown, beige, black, and orange takes on special importance as it is a natural illuminator and the main common thread throughout the collection. The total looks completed with maxi and mini accessories. Raffia baskets, turbans with personalized prints, sandals with rhinestones and logos and a whole family of maxi jewelery with African-inspired animal print motifs.
For all these reasons, it is a collection in total harmony with the DNA of the brand: the animal print, the personalized prints, the color and the care for each and every detail.
With this new proposal by LOLA CASADEMUNT BY MAITE for the upcoming spring-summer 2023 season, the firm recovers ethnic reminiscences in shapes and materials mixed with the surprising colors of sunsets in the African savannah with personality and style.
About LOLA CASADEMUNT
LOLA CASADEMUNT is a family-owned women's fashion and accessories company founded in 1981 in Cardedeu (Barcelona). Currently and since 2018 it is directed by Maite Casademunt, creative director of the collections. It has two lines: LOLA CASADEMUNT and LOLA CASADEMUNT BY MAITE (premium), which reinvent current trends under the inimitable and identifying DNA of today's cosmopolitan woman: unstoppable, authentic and vital!
LOLA CASADEMUNT is much more than a fashion brand; it is a whole world destined and dedicated to the desires of a woman. The firm has 18 own stores, 4 franchises and 28 El Corte Inglés corners in the main cities of Spain; more than 850 multi-brand points of sale in the Spanish territory, and more than 500 multi-brand point of sales around Europe (Italy, France, Belgium, Portugal), Mexico and Puerto Rico.