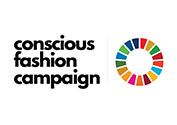 The Conscious Fashion Campaign, in collaboration with the United Nations Office for Partnerships, engages global industry events to commit to the achievement of the Sustainable Development Goals.
The initiative champions fashion as an influential sector to address the world's most pressing issues and lead a future that leaves no one behind.
The campaign is dedicated to driving change through advocacy, education and engagement of industry stakeholders to create a sustainable future for all.