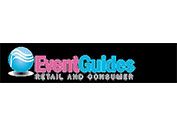 Introducing Event Guides Retail & Consumer Limited, our Official Show Publications partner.
The Official publications are vital for visitors and will be distributed free of charge to attendees at the show. These publications are specifically designed to connect every visitor with every exhibitor. If you want to make the most out of exhibiting at Pure London 2019 then look no further.
All exhibitors may be contacted directly by Event Guides, concerning their entry into the show publications.