KEEP OUT BRACELETS
Hall: Grand Ground Stand: E53a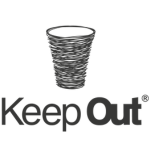 Keep out bracelets is an Italian brand born in 2014 from the inspiration of Stefania Gagliardone, an Italian entrepreneur who was fascinated by the ancient legend linked to the thimble, the object that for 4200 years has been used to sew, while protecting the fingers. An ambitious project of jewelry in gold, silver and precious stones, patented worldwide by one of the most prestigious Italian law firms.
Our story is so strong that it goes through the centuries, and makes our jewels unique and inimitable. Receiving a thimble as a gift, means that the giver wishes that the difficulties of life will not prick you. A wish of luck, protection and love.
A thimble is in every house, and this makes Keep out universal.
Address
CASALE MONFERRATO (AL)
Italy
We ourselves feel that what we are doing is just a drop in the ocean. But if that drop were not there, I think the ocean would be less by that missing drop. (Mother Teresa of Calcutta)

Keep Out jewels are created with love and represent an invitation to look at life with curious, open, confident eyes. You can do it too, and the world will look more beautiful to you.