MADE 4 U, SHOES FROM SPAIN BY VALENCIA REGION
Hall: Grand Ground Stand: E61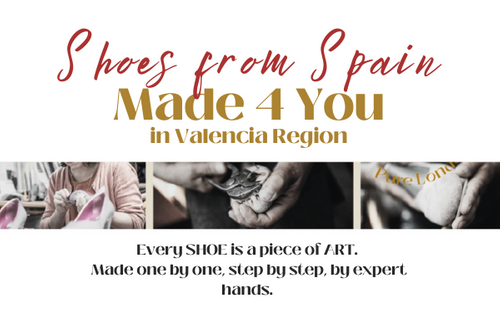 The Valencian Institute for Business Competitivaness, (IVACE) and AVECAL have summoned footwear firms from the association to participate within the framework of the fair beginning July 16th.
Footwear brands with presence in the UK as Chie Mihara, Hispanitas, Lodi, Lola Cruz, Magrit, Pedro Miralles and Wonders will participate in Pure London, exhibiting their shoes with special relevance to mother of the bride, designers and sustainability.
Spanish footwear brands from Valencia region are prestigious and worldwide recognized, a perfect combination to be presented in the most trendy and vibrant fashion capital of the world.
EVERY PAIR OF OUR BRANDS IS CAREFULLY DESIGN, ELABORATE by HAND FOR MORE THAN 60 CRAFTSMEN AND WOMEN.
The ART of shoemakers from our region is worldwide recognised thanks to excellent materials, femenin and comfortable designs.
Every SHOE is a piece of ART. Made one by one, step by step, by expert hands.
We are a land of footwear. We are surrounded by natural materials, generations of artisans who work for you and for make you feel excepcional, confident and unstoppable.