Only For U Designs Pvt. Ltd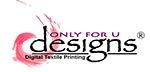 "Only For You Designs PVT. Ltd." was founded by Mr. Akshat Bubna and Parul Bubna, a husband wife duo; in the year 2009 in Mumbai, India. With family experience in textile of 100 years & continuous effort towards achieving success, today 'Only For You Designs' is a well-established company and have spread its wings in 11 countries. We specialize in graphic design studio, managed by fully qualified fashion designer, textile experts and graphic designer team, along with the modern technically advanced digital printing system setup which has substantial capacity.
Besides the many other printed fabrics and clothing we make, we design tropical island clothing, resort wear, cover up beach dresses, printed lifestyle women wear jackets and coats etc., which are digitally printed and styled on fabrics such as, cottons, silks, rayon, wools, polyesters, and any other fabrics of our clients' choice.
We have now extended our self and entered into home furnishing division. We offer a wide range of home furnishing products which includes cushion covers, pillow covers, window coverings (curtains-normal, sheer, semi-sheer), upholstery, etc. on different fabrics.
We have a design studio full with dedicated team of skilled textile and graphic designers and a modern, technically advanced digital printing system. We keep a tab on fast changing fashion trend every day and keep our designs up to date.
We blend ethnicity with modernity which is why our designs are appreciated by our clients in different countries. Time is the essence of any successful business and keeping this in view, we ensure that all our commitments are fulfilled within the deadline.
We have all facilities under one umbrella which is equipped with the efficient professionals and state-of-art technology to serve the need of fashion designers and garment manufacturers. Its a one stop for graphic designing, graphic printing, embellishment and apparel manufacturing.
Please do contact us and lets discuss possibilities.