16 Dec 2019
5 ways to drive footfall to your stand at Pure London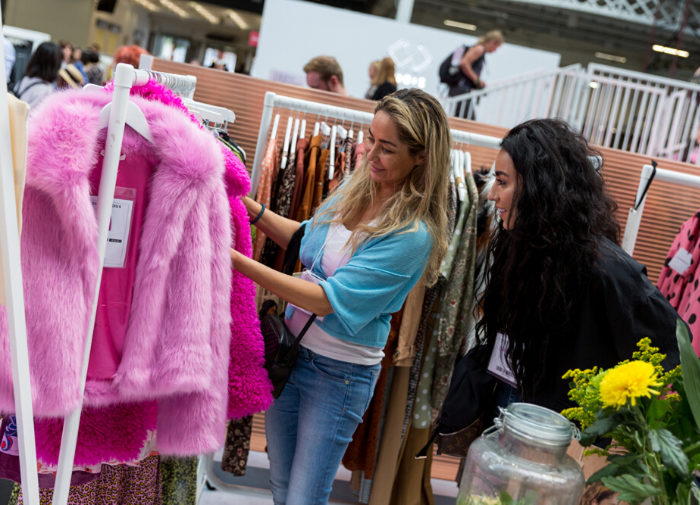 As one of the UK's largest fashion trade shows, Pure London naturally brings in an impressive number of visitors each and every season from some of the industry's most exciting retailers, big and small. But, whilst the Festival of Fashion enjoys some heavy footfall, that's no guarantee that your stand in particular will. Fear not – I've pulled together some top tips to help you drive that all-important traffic to your stand, no matter where you're positioned on the show floor.
Advertise pre-show
If I've said it once, I'll say it another thousand times: pre-show marketing is vital to success. Whether you're emailing your network to let them know you'll be at the show or using social media to run countdowns or share show news, it's key to start building awareness about your upcoming appearance, before the ink's even dry on the contract. Pure London work hard to make sure we help our exhibitors with this as well, with website profiles, social media posts and blog entries, so make sure you talk to your account manager to see what's possible in the lead up to the show.
Invite your VIPs
Along the same vein, it pays to invite your own VIPs. Make sure you use your own mailing list to its full potential, inviting your best customers and top prospects to come and view your new collection, plus take advantage of the Pure London VIP offering and exclusive content programmes. We've even created some digital invites to get you started, which you can find on the ezone when you log in.
Up the ante on your social media
When you're on site, it's all about immediacy. Make sure you have someone on your team dedicated to putting out the latest updates about your time at the show. This can be anything from telling people where your stand is, sharing a favourite insight from a talk or posting a picture with a new connection. Whatever it is, make sure you're using #PureLondon and mentioning us in your posts to ensure you're reaching a really targeted audience.
Get out on the floor
Don't be afraid to leave your stand and get stuck into the heart of the show. Buyers come to trade shows to network and do business and they're expecting you to do the same. Make sure you're out and about on the floor as much as possible, telling people about your stand, handing out collateral and generally spreading the word. If you're on your own and really can't leave the stand, speak to your account manager to find out about sponsorship and advertising opportunities; even a simple leaflet in a show bag can go a long way.
Make sure you stand out from the crowd
Your stand is the first thing prospective customers will see and associate with your brand, so you need to make sure it stands out from the crowd, whilst still representing your brand. Make sure you keep your stand clean and tidy, have your logo and brand name clearly visible and only display the very best of your collection; you can store other pieces away until you're having more specific conversations with buyers later on.
Get your name in front of the buyers that matter this February and take your business to the next level. Join the line-up at Pure London's AW20/21 edition from 9th – 11th February.
This post was created by Pure London editor Emma Wilder

---
About Pure London and Pure Origin
We are the UK's number one leading fashion trade event that brings together the entire fashion supply chain, right the way from fibre through to finished ready to wear garments.
No other UK show offers sourcing and brands together, making Pure London and Pure Origin the only event to cater to all your fashion buying needs under one central London roof.
Location & Opening times:
Olympia London,
Hammersmith Road,
Kensington,
London W14 8UX
-
Sunday 9th February 2020, 09.30 - 18.00
Monday 10th February 2020, 09.30 - 18.00
Tuesday 11th February 2020, 09.30 - 16.00