10 Mar 2021
Breaking binaries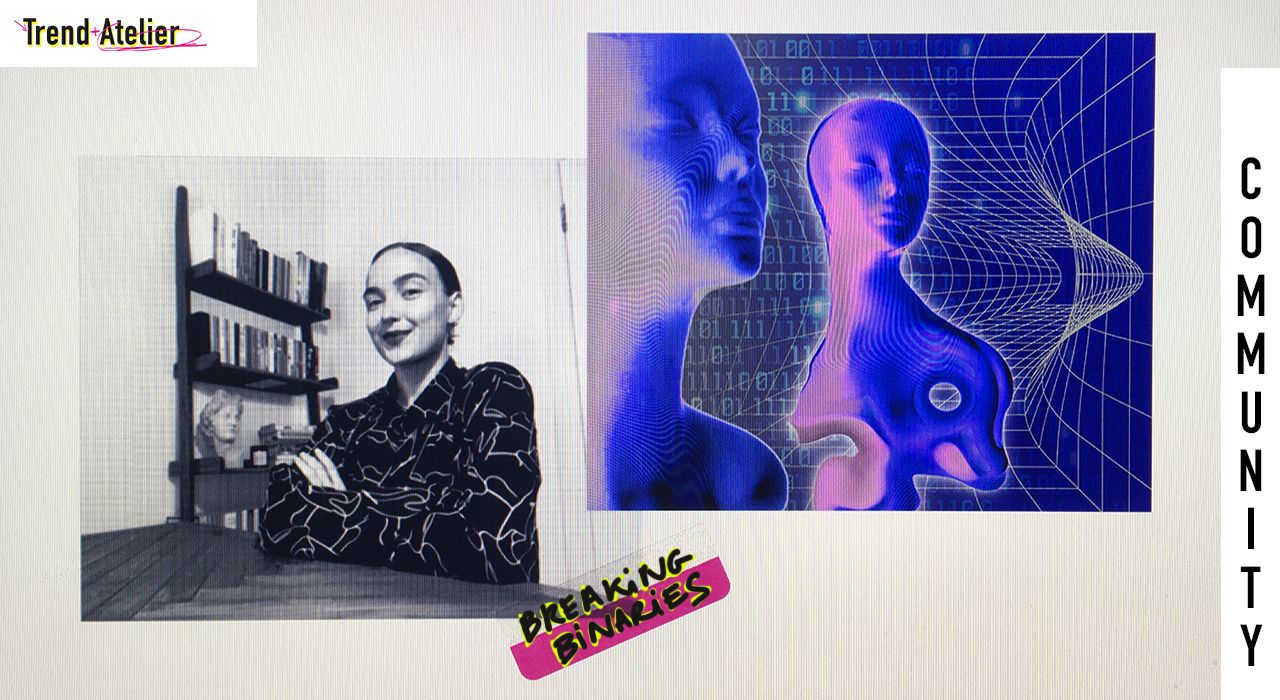 As part of our March 2021 newsletter takeover with the Trend Atelier community founded by Fashion Futurist Geraldine Wharry, we unpack their 2021 future trend theme "The Biggest Innovation is Philosophical". In this piece we invited Trend Atelier community member, Design Manager and co-founder of Limbo & Hatch Caitlin Monahan to discuss how she approaches this thought differently.
Throughout history, philosophers and innovators alike have relied upon an understanding of binary systems to move human progress forward. In the 17th century, for example, Gottfried Leibniz constructed research based on binary systems and correctly predicted their use for the future of computer science and AI (Thames & Hudson, 2019). Binary structures continue to be used today in most computer and AI technologies as the simplest solution to coding, only depending on two symbols; 0 and 1.
However, as we now know, the world is far from binary.
Ironically, it's technology itself that helped us, in many ways, to achieve this point of fluidity. Digital culture introduced our generation to infinite portals of expression where we discover who we are, enriched micro-communities where we find second homes, and expansive inspirations where we empathize with strangers and with the world. Celebrating identity and intersectionalities has been strengthened by digital communities in the arts and culture sector. This can be seen in digital platforms such as HERVISIONS, which celebrates the intersection of art, tech and culture with a femme-focused lens, Eyebeam, where artists engage with society's relationship with technology, and Virtual Care Lab, which harnesses remote togetherness.
Simultaneously, digital collections and virtual models have forged a profound shift in the fashion industry, with shows such as Balenciaga's FALL 21, GCDS's SS21and accidental cutting's aw 21/22. Coinciding platforms such as CRYPTO fashion WEEK indicate the monetization of CGI designers through NFT's and the future of block-chain fueled digital clothing. Such collaboration can be seen in digital fashion house, The Fabricant's recent CGI influencer campaign with transhuman influencer, Ruby Rose for Adidas x Karlie Kloss.
Where the issue arises is when systemic binary thinking infiltrates binary systems due to a lack of diverse representation. Through inaccurate presumptions of race, gender, and ability we, as a collective, are learning how the use of binaries can negatively impact the merging of digital into creative practices. There remain countless anecdotes of technology being unable to ascertain dark skin people or gender non-conforming people (Alok Vaid-Menon, 2020); from editing applications to facial recognition technologies that can misgender and misidentify users. Similarly, CGI artists face the challenge of creating a diverse range of bodies due to coded bias in 3D software. Digital clothing programs such as Marvelous Designer and rendering applications like Daz3D use base avatars set as either male or female, assuming there is no in-between on the spectrum. And digital agencies face criticism for performative inclusivity with coded characters such as Lil Miquela and Shudu (Dazed, 2018).
It is increasingly urgent, now more than ever, to assess the coded bias in technological innovations before they interact irreversibly with our industries and with our influences. The potential of digital in fashion has the power to revolutionise design, identity, function, and craft, not to mention sustainability efforts. Yet, this future is threatened by the same subconscious prejudices and amoral standards that we face IRL as it's carried into the digital space.
The style industries in many ways are synchronous to the possibilities of what technology can positively create; from digital models to sustainable cyber-brands to connecting authentically online. FANGIRL is a perfect example of this; a Black-owned, non-gendered brand that recently collaborated with Play Nice, DIGI-GXL and the Institute of Digital Fashion to create an avatar-based showcase titled 'Unified By Colour'.
Creative Director and Founder of FANGIRL, Rani Patel Williams explains: "Unified By Colour was necessary because I wanted to challenge digital fashion, AI and CGI narratives. All of the CGI influencers we see are created by white male studios. [And], typically, if you go for a certain type of Black individual there's always a palatable Black individual that will be picked out of a line-up of models. So, for me, it was about building an individual from the ground up, understanding their experiences and considering who isn't visible on these catwalks." - Rani Patel Williams
Digital realms and the coexisting commercialisation of emerging digital aesthetics have expanded our modes and methods of self-expression. The beauty of this lies in the fluidity of identity we can readily expect. The next big innovation will be breaking binaries that limit such inclusivity and questioning the philosophies that set these standards, to begin with. Before we move forward, we must unlearn, unpack and rewire.
For more on Coded Bias, Virtual Influence and Digital Beauty check out The E-MERGE Issue, a publication questioning identity and creation between the digital and physical by Limbo+Hatch
THE TREND ATELIER COMMUNITY FUTURE FORECASTING WORKSHOP
Read more from the Trend Atelier Takeover:
References:
Collage by Geraldine Wharry
Images used: Caitlin Monahan & Celine Luetolf