05 Jul 2018
CSM's Green Trail - a look into the future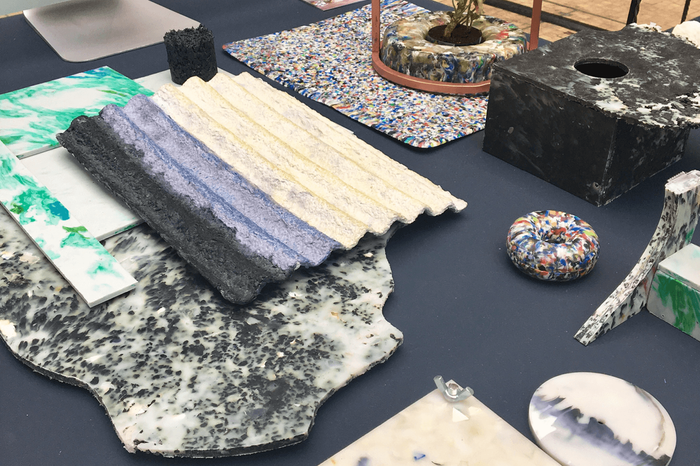 Two weeks ago, Central Saint Martins hosted their Design Degree show which showcased projects from an endless list of very talented students. Within that, they had an installation of sustainable and innovative projects backed by Maison/0 Green Trail.
Maison/0 was first set up in 2017 as a part of the CSM and LVMH partnership and focuses wholeheartedly on sustainable innovation, through workshop, lectures, material classes and different projects. In turn, few of the most creative students in the UK can freely experiment, research and create, in hope for a better future.
I got the opportunity to speak to a few of the students about their projects, from ways of recycling polystyrene to using microbes to weave a new generation of hybrid materials to repurposing plastic waste, these students had thought of it all.
First up is Green Trail winner Jen Keane and her project This is Grown. The project takes on an organism-driven approach to material design, where integrating future biotech principles with industrial textiles gives you an alternative to petrochemical based materials. It's all very technical, I know. She explains in in layman terms saying, "it's basically an entirely grown trainer".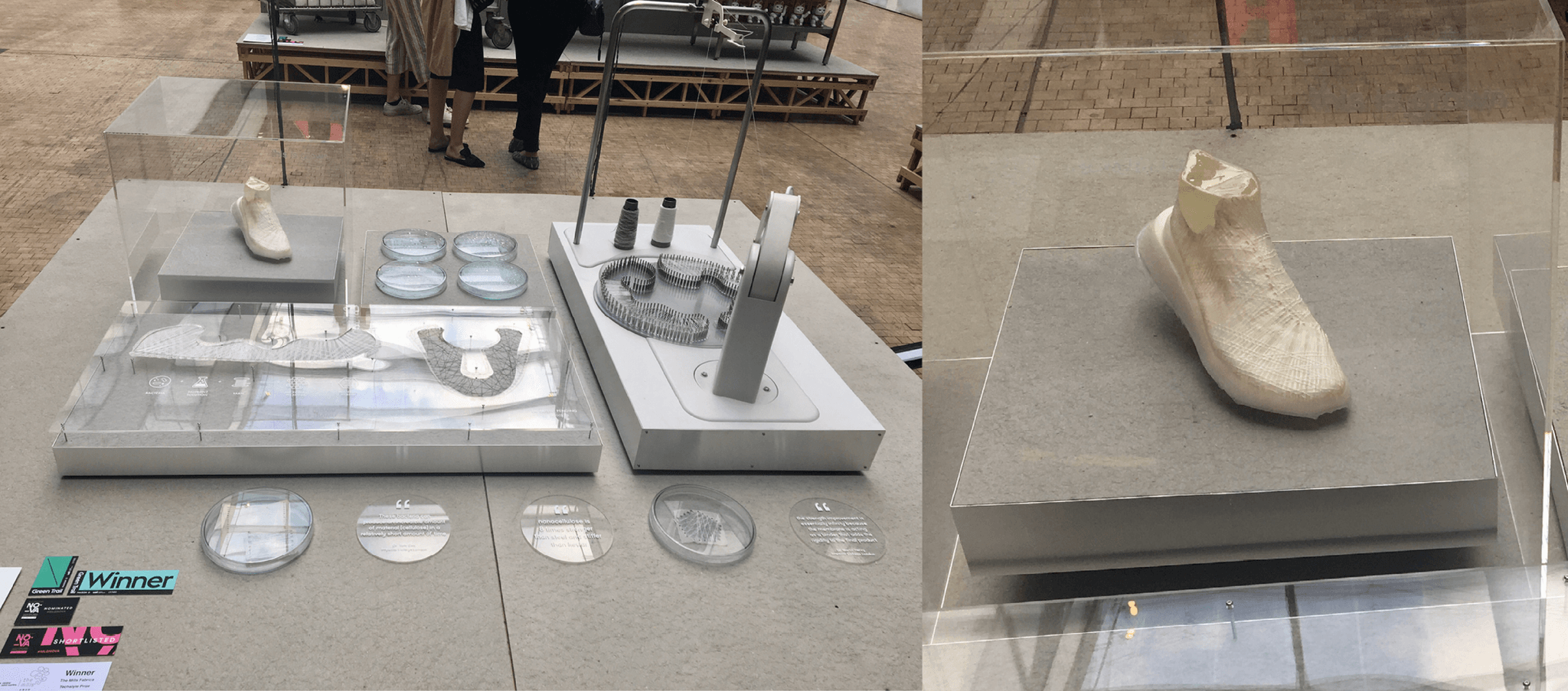 Jen beautifully showcases the trainer in the making - from individual pieces to the finished product, spread out almost clinically. Someone in the crowd asks, "what do you do to stop if from growing?", humorously Jen replies, "you have to kill it".
I know, by now it all feels very Black Mirror season four but she adds, "with heat, and that's how you're able to shape it".
Katie-May Boyd is the student behind the project Foreign Garbage, a Green Trail nominee. Katie-May explains to me that the idea behind this project came from China banning the import of foreign garbage the 1st May 2018. Which unfortunately meant trouble for the UK as historically, 30% of our garbage is sent to China.
Experimenting with expanded polystyrene, a material solely used for packaging purposes, she says "the root of the problem is in fact the excess of buying not the excess of waste". By liquifying the expanded polystyrene, she developed a new recycling process she calls Deflated Polystyrene, Katie-May explains that you'll be able to use it as an alternative to plastic.
She decides to showcase this by creating rows on rows of the classic Maneki-neko, The Fortune Cat, and in a way, tying in the new Chinese ban with her new recycling initiative. Clever and creative.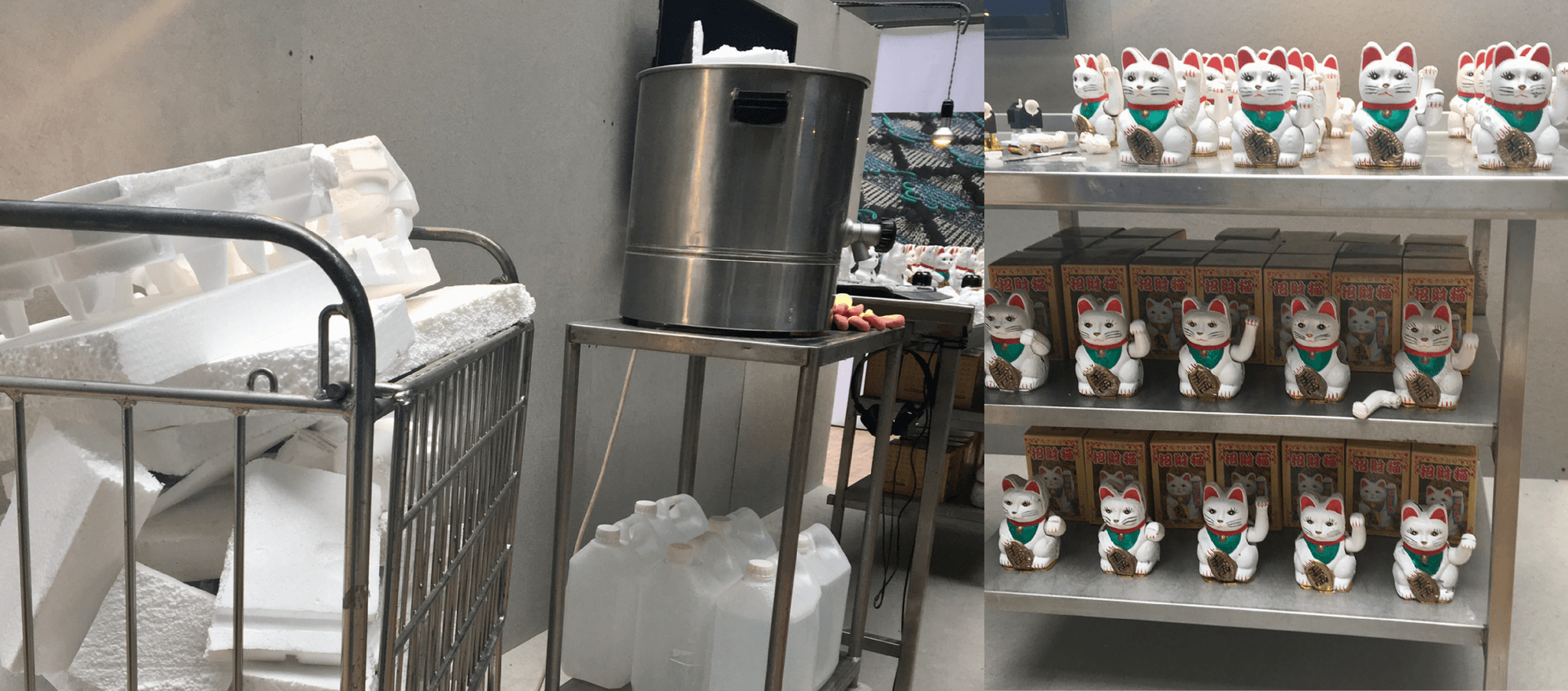 I ask Katie-May if this is something she'd want to continue with when she graduates in a few weeks, and it didn't take long before she shouted "yes!" but continued with, "but it's all about resource, this machine would cost me between £5000-£10 000, the fact that it's all so accessible here makes it so easy to allow yourself to explore the unknown without feeling restricted".
Safe to say, tuition fee well spent.
Don't miss Pure Origin's new innovation area in July, see it in the Upper West Gallery the 22nd-24th July.
---
About the Author
Nelly Gergi is the Content Editor for Pure London. Born in Stockholm with roots in Lebanon, she moved to London to study and graduated London College of Fashion with a BA degree in Fashion Journalism.