Experiential retail: RIXO's flagship store
RIXO's new 5,000 square foot flagship store on King's Road is a prime example of experiential retail. It has a coffee kiosk and a beautifully designed cocktail bar where customers can enjoy the brand's experience.
Despite a clear separation between areas, everything is unmistakably RIXO, with carefully curated pieces, a hand-painted, bespoke De Gourney wallpaper and Dedar fabric curtains created for the fitting room.
Since its conception in 2015, this brand has gone from strength to strength and embarked on a sustainability journey, and the new store includes applaudable new initiatives such as RIXO Rental, RIXO Re-loved, a True Vintage edit and live alterations.
There's also a designated Bridal Suite that can be booked for private appointments, with a selection of pieces also available to rent. The store is a testimony of the brand's ability to evolve with the times and embrace circular economy principles that are in line with current sustainable values.
RIXO was founded by best friends Henrietta Rix and Orlagh McCloskey who share a passion for vintage. The brand's DNA hinges around the concept of future vintage without following trends.
It encourages customers to invest in pieces they genuinely love, will re-wear and pass down through generations. Learn more about the brand's journey with co-founder Henrietta Rix.
1. What was the original idea behind the new store? Did you change it along the way or was that not necessary?
We'd been brainstorming our flagship store since we started the brand in our university living room eight years ago; we always knew we wanted it to be the House of RIXO, we just needed to finalise what experiences we wanted to offer our customers. Since we launched bridal in 2021, we knew it needed to have a dedicated space in our flagship – it's such a successful category for us. Our flagship store was always intended to be a place where the RIXO community can come and meet one another, and really immerse themselves in the brand.
2. Did you hire an agency or interior designer to bring your concept to life?
We worked with Orlagh's twin sister, Gemma, who owns Cupla design studio. She completely understands our vision, and was living with us when we started RIXO, so the decision to work with Gemma was a no brainer. Gemma and her team are so talented, they've done an incredible job – we couldn't be happier!
3. What has been the reaction so far? What's the most popular feature?
The reaction has been incredible. It's been amazing to see the store so busy, and lovely to meet so many of our customers the past week or so. In addition to our new collection, pre-loved and true vintage have been really popular which is exciting. Vintage is something Orlagh and I are so passionate about so it's a great feeling being able to share this with our #humansofRIXO. Our bridal boutique has been back-to-back with appointments, and we've been serving lots of coffees and drinks in the bar!
4. Since you first started, how has the shopping experience evolved?
Orlagh and I both strongly believe in the importance of physical retail, and that customers want more than just a shop from brands these days. It's so important to provide customers with an experience – something that really brings your brand to life and that they can connect with.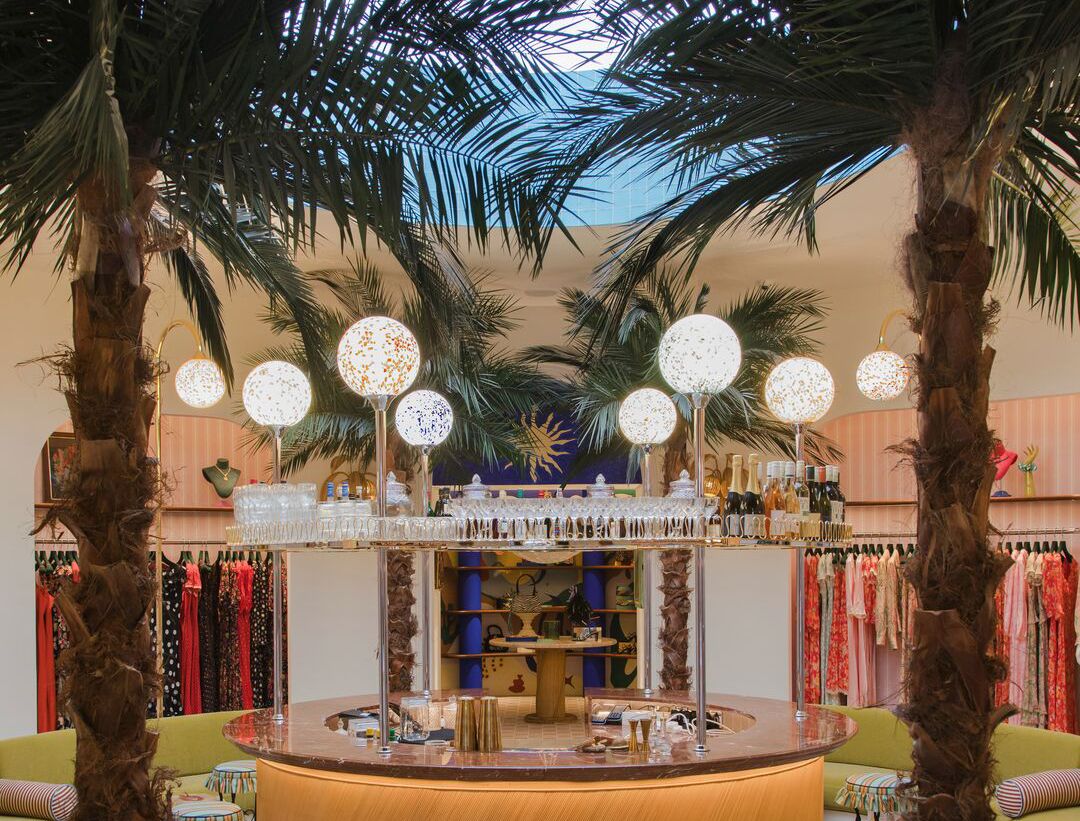 5. How important is to build a community around a brand?
So important! Our #humansofRIXO community is so special and it's integral to us as a brand. At the end of the day your community are the ones that are purchasing your products and supporting your brand, so we really wouldn't be where we are without them.
6. There are many 'Instagrammable' areas in-store. Was this intentional?
We wanted the space to be beautiful and really represent us and RIXO, but it wasn't intentionally done for social media. It definitely helps having such a bright and colourful store, and it has been so lovely to see our customers taking pictures and tagging us on Instagram.
7. There's also a designated alterations area. Was this in demand or you just wanted to add a customised service?
A bit of both really! We've had lots of feedback from customers that they'd love to tweak small parts of their RIXO so it fits them perfectly, we understand every shape is different and offering alterations means we can help our customers to feel amazing in their clothes and ultimately get more wear out of them, it feeds into our overarching sustainability plan.
8. Vintage has other brands that seemingly blend in with Rixo. Do you have specific criteria to follow when it comes to curating Vintage pieces to sell in-store?
Orlagh and I are huge vintage fans, and we just wanted the vintage edit to reflect our tastes and things we'd actually want to purchase. There isn't a specific criteria, we just choose what we like – everything from simple camisoles to amazing Pucci dresses.
9. What advice would you give to other brands? What's the key to building a successful brand?
Stay true to yourself and what you wanted your brand to be! Building a brand isn't easy and it takes a lot of long days and dedication – you have to be really passionate about what you're doing to put all the long hours and hard work in but it's worth it in the end.
10. Do you have plans to open other stores in the future?
Definitely! Both in the UK and overseas.
Other Digital Content
Generation Z, also known as Gen Z, is the demographic cohort born between the mid-1990s and the mid-2010s. This generation is known for its digital proficiency, social consciousness, and global perspe ...

Much has been written about brand building, from creating a marketing strategy to grow your business to forming an emotional connection with your customers. But for many it's still puzzling. How to bu ...