22 May 2018
Fibre Revolution - Bio-Based Renewable Materials
With a focus on sustainability in raw materials, we take a look at the new generation of fabrics derived and inspired by nature.
No longer do we have to produce fabrics, yarns and leathers in the same conventional ways we have in the past. With new technology's emerging and the industry pushing funding into innovation in raw materials, the future use of Petroleum-based polymers, toxic processes and non-renewable materials will be something of the past. With a call to create closed-loop production, sustainable fabrics and renewable solutions we take a look at what Bolt Threads and Pinãtex®, have been growing… literally!
On the 15th April 2018 Bolt threads introduced their second new material to the world 'Mylo™'. The first commercially available take on modern leather grown from mycelium, the root structure of mushrooms.
One of the key features of the material that makes it particularly noteworthy is the fact that it only takes a matter of days to take form, unlike animal leather, which takes years.
Another incredible product in the Bolt Threads portfolio is a protein-based polymer that can be spun into spider silk.
Taking a cue from Mother Nature, by studying the DNA of spiders and the silk they make, Bolt threads brewed and fermented yeast added some sugar and salts and created an ultra strong lab-grown Spider Silk & Microsilk™. The products are not only sustainable but also biodegradable, delivering a low impact revolutionary raw material with remarkable properties including high tensile strength, elasticity, durability and softness.
Bolt is able to replicate their processes at scale and produce around a 1-ton batch of silk protein every three days, equalling the same amount 20,636,363 spiders could create.
'On an environmental level, silk has been found to be the second-worst material in terms of environmental impact, just behind leather'
Bolt Threads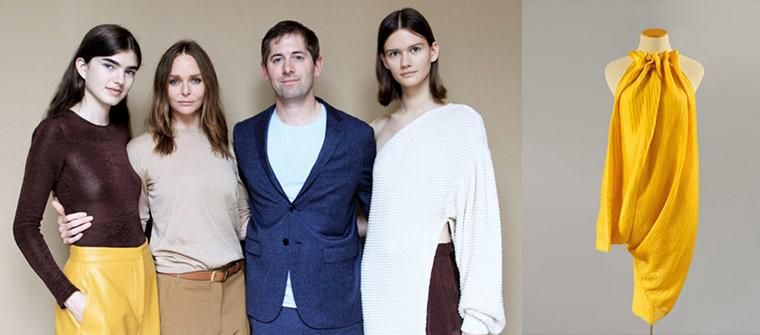 Photo Credit: Stella McCartney & Bolt CEO Dan Widmaier
+ Photo Credit: Bolt Threads X Stella McCartney X MoMA NYC
Bolt Threads are hoping to spin this for a mass audience soon.
And last but certainly not least is Pinãtex®, an innovative natural textile made from pineapple leaf fibres. The raw material that forms the base of Pinãtex® is a by-product of the pineapple harvest and after processing, forms a leather-like appearance, creating a textile that is soft, flexible and durable. It is a sustainable alternative to leather in footwear, fashion accessories, clothing, interiors and automotive upholstery.
The Fashion industry has already started to embrace the new material seeing it used in handbags and clothing from Edun, Lancel, Taikka and Stella McCartney amongst many more, whilst Hugo Boss have taken the material and created a limited edition men's sneakers.
Available in an array of colours and metallics, Pinãtex® is another great sustainable alternative to real Leather.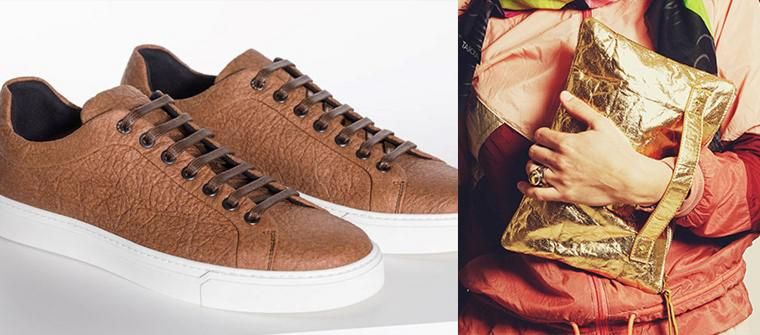 Photo Credit: Hugo Boss X Pinãtex®
Photo Credit: Taikka X Pinãtex®
These innovative examples showcase a combination of Lab grown fabrics and 100% natural materials that may be the future of sustainable, eco-friendly clothing.