06 Feb 2020
In conversation with Geraldine Wharry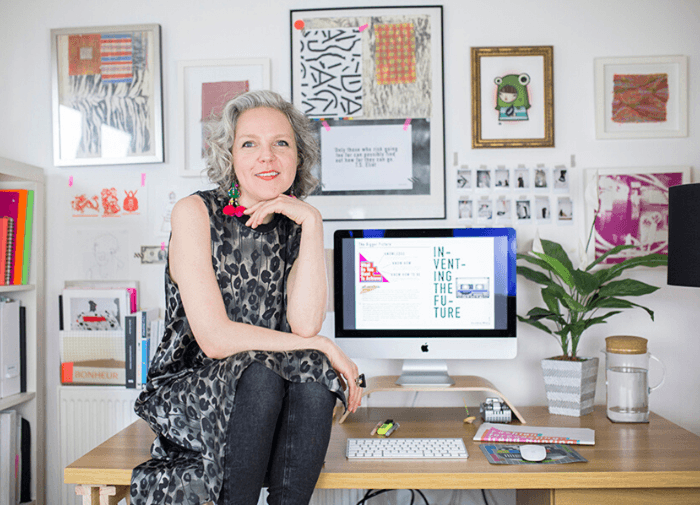 Ahead of her appearance on The Nomad Stage on Monday 10th February, I sat down with futurist and trend expert Geraldine Wharry to get a sneak peek inside her talk at Pure London AW20/21.
Tell me about your career background
I am a Fashion Futurist, Speaker, Educator and Designer with 20 years of experience working across the style industry in Design, Beauty, Innovation, Tech, Marketing and Retail for leading brands, agencies and institutions.
For 11 years I was a fashion designer managing collections in New York and Los Angeles so I understand the imperatives of a design team and a fashion brand very well. But I am originally from Paris and really wanted to be closer to my family so I moved to London where I evolved into future forecasting and started my consultancy in 2013. Since then I have worked with companies ranging from Nike to Dior Beauty and it's been more diverse then I could ever expect as I've also been involved in projects for Samsung, the World Retail Congress and the future of the Dubai Airport.
As a Futurist, I am a polymath and that suits my personality and way of working very well as I tend to research everything. It has always been my strong belief that tech, science has an intimate connection with design and style. My work has now evolved into a variety of activities from being a strategic advisor, researching and forecasting for clients, to being a public speaker and an educator, as well as writing for publications. I've been fortunate to be featured on the BBC, Vogue, Vice, Hypebeast and other international press publications and I regularly write for Dazed Beauty.
Knowledge and sharing is at the core of my values. My hope is always to fuel ideas from a place of looking at society and the role we play in it, as each and everyone of us has influence. I am from a family of educators, artists and scientists and very involved in environmental and social justice. My father is an artist as well as a trained organic farmer so it's been a way of life from a young age. My greatest sense of achievement is when I can see through an exchange either at a strategic meeting, a talk or a class, that something for a person has been unlocked, unleashed, and they can adopt a different way of thinking about our world, and approaching a problem or solution.
For those readers who don't know, what is a futurist?
A futurist is someone who studies and researches what the future is about and what it may present by using tools such as scenario planning, speculative design and even science fiction writing. This extends to research, brainstorming and a diverse toolbox. The time span we work with can be near futures as well as far futures. We look at possible, plausible, preferable, far futures and wild cards. However the farther you go, the less you can use data and the more you have to use speculative thinking and "visioning". I have worked on projects where I am looking at a whole century ahead where I have had to tap into science fiction thinking. Our job ultimately is to predict and present scenarios of a new world and what will drive economies, technology, societal, behaviours and cultural shifts. And for this we have to think creatively and not be afraid to shake things up and show where disruption might take place.
Can you take us through the process of trend forecasting?
I use and teach a system that I call The Trend Ecosystems and Trend Molecules within a 3-pronged methodology.
The first stage, the HUNT needs to be open and we have to research many areas from Tech to Science, Design to Socio-Economics to accurately cross triangulate the signals we find, using a mixture of intuition and data. This is where you have to research "Wide and Deep" within the parameters of a client or project brief.
The second stage is the IDENTIFY stage. This is the intermediate zone after you have accumulated a rich and diverse set of data and inspiration. This stage is about making sense of your search, connecting the dots and extracting the key drivers that will have influence. Messages have emerged from the HUNT and you can now develop them with further research to have a defined viewpoint.
In the third stage, the GATHER stage, you are ready to give actionable direction on how to apply the trends you have identified. You are confident about your messages and are finalising the forecast. This is the stage where you can finalise the structure of your thinking and narrative, your writing and presentation.
Within this there are a variety of factors to take into account: Trend Timelines, Innovation cycles and how that affects product, service planning as well as behavioural shifts. The different types of research need to be addressed from primary to secondary, quantitative and qualitative research. This will be key to successfully create a rich agglomeration of research that comes from different places and empowers accurate cross triangulation. There is also data driven research which stands alongside intuitive forecasting. You also have to employ creative writing, brainstorming, visual connotation, visual prototyping so it's quite a rich approach that I cover in depth in my comprehensive online course.
You'll be taking us through some of the upcoming macro trends at Pure London – can you tell me a bit more about what these will look like?
I'll be focusing on the Big Ideas set to shape the next 2 to 5 years with a focus on Systems thinking, Climate action and positivity at scale, Relearning, Fluid reality within the digital and physical spaces and new majorities, looking at demographics.
And how will these affect fashion?
This has everything to do with fashion. As an industry we have the power to help change and shape the world as we face the climate crisis. We have the power to shift culture. We face a time of great change where we have to modify our entire systems in order to ensure the wellbeing of future generations ahead. Not only do we need to rethink on an operational level how we manufacture, how we use materials, we also need to learn the deeper responsibilities of designing. We must learn to be in unison, in harmony with the full lifecycle of products and services. It's about circular and regenerative ways of designing and working that mimic the intelligence of nature, something we have forgotten to do. It is a great opportunity for collaboration across skillsets and industries, it's daunting but also so exciting!
Can you describe your personal style?
I have always been into streetwear. I love bright colours and patterns as well as sneakers. However I balance those shapes with feminine details. So I'll pair military or streetwear items with high heels or accessories. I also love to rework vintage pieces with my own graphics and textile manipulations, especially on vintage military clothing.
What are you most looking forward to at Pure London this season?
I am really looking forward to discovering the brands exhibiting and attending the seminars. I am also looking forward to meeting new people and love exchanging with the audience after my talks. Pure is really pushing the sustainability agenda so that is something I feel very aligned with and I am excited to attend Pure Origin.
Geraldine will be sharing her expertise on the Nomad Stage on Monday 10th February at 15:15. Make sure you're there to get a first look at Geraldine's forecast for the future of fashion.
If you enjoyed this piece, you might be interested in enrolling on Geraldine's online course. Pure London visitors get an exclusive 25% discount using code PURE2020 until March 1st 2020.