31 May 2018
Levi's and the upcycling era
For the July show, Pure Origin will introduce a focus on the denim industry and the way brands continue to look for alternative ways to make denim more sustainable, from new materials through to new processes being developed to help reduce water wastage. In preparation, I look in to the upcycling trend, and how denim giant Levi's continues to stay relevant through their endless vintage stock.

Someone once told me there's probably enough old Levi's jeans in the world for Levi's to never have to produce another pair, EVER! So, what do you do? Welcome to the era of upcycling. With more brands coming to the realisation that they can make a business out of another business, all these different versions of everyone's favourite 501's are popping up.
US based denim brand Re/Done, basically created an entire business model that lives and dies with vintage Levi's. At the same time, the brand is big on sustainable fashion and promotes it through their branding, and the fact that a pair of Levi's lives on forever. Cause really, why create a new pair of jeans (which on average means 20.000 litres of water, 1 kg of cotton per jeans, just saying (fashionunited.uk)) when there are perfectly good ones out there that just needs a bit of tweaking? That's what they do, proving that the trendy distressed denim, the ideal blue wash and the perfect waist is already out there.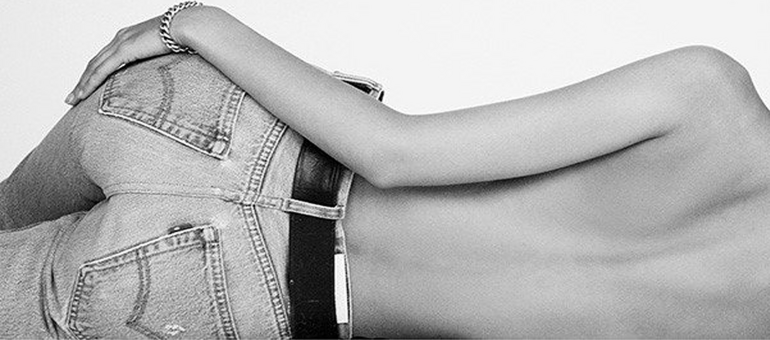 Image curtesy of Re/Done
High-end streetwear brand
Vetements
is another Levi's recycler (or upcycler). How did it start? By creating a pair of patched-up designer jeans for £800 a pop that sold out within minutes of the first drop. The reason to why it's worked is in the formula; they weren't copy-friendly and you couldn't find an exact replica at Zara. Sure, high street retailers tried – middle seams, twisted seams, two-tone denim, but they were nowhere close to the original
Vetements
jeans (which in turn are in fact original Levi's jeans, the irony).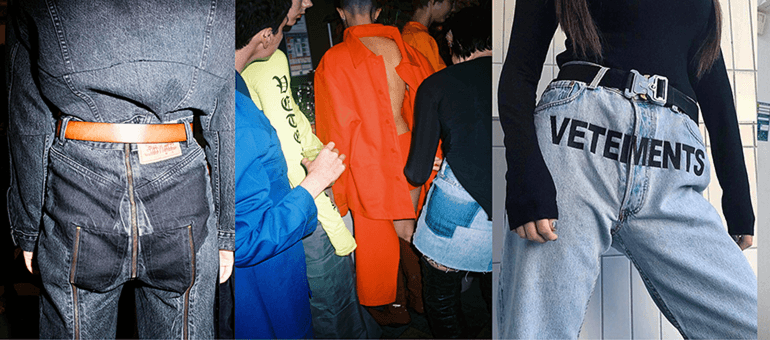 Image curtesy of Vetements
Off-White
is another high-end streetwear brand that reclaimed vintage Levi's in a reoccurring micro-collaboration of reimagined vintage Levi's pieces with Off-White aesthetics. The collection ranges from $715 for a pair of jeans and went up to $1500 for a shearling trucker. When
Glamour Magazine
asked the
Creative Director
and founder
Virgil Abloh
why reworked vintage denim has become to be so popular he said, "I think we've seen the height of luxury and pristinely-made garments, and I think culture is at a certain point where they're reminiscing about things they loved".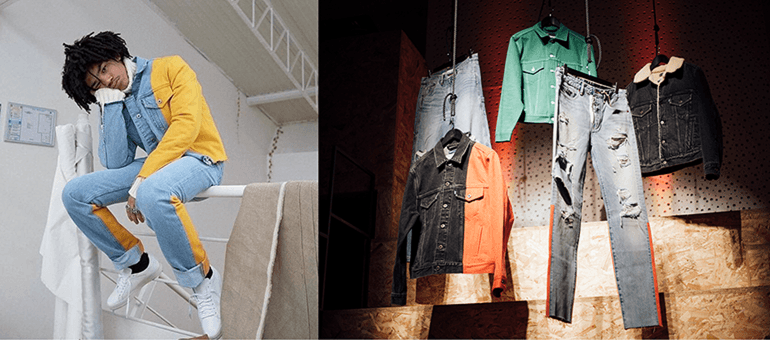 Image curtesy of Off-White/Levi's
So, in essence, spending £700-£800 for a pair of reclaimed vintage denims might be ok because you're technically buying into sustainability (although that might not be the main reason). But as the upcycling trend continues to grow, the fashion industry is taking a big step towards a sustainable future – whether it's a business choice or a conscious choice, it's a good one.
Find out more at the Pure Origin show, 22-24 of July.
---
About the Author
Nelly Gergi is the Content Editor for Pure London. Born in Stockholm with roots in Lebanon, she moved to London to study and graduated London College of Fashion with a BA degree in Fashion Journalism.