03 Feb 2020
Meet our keynote: in conversation with Dame Zandra Rhodes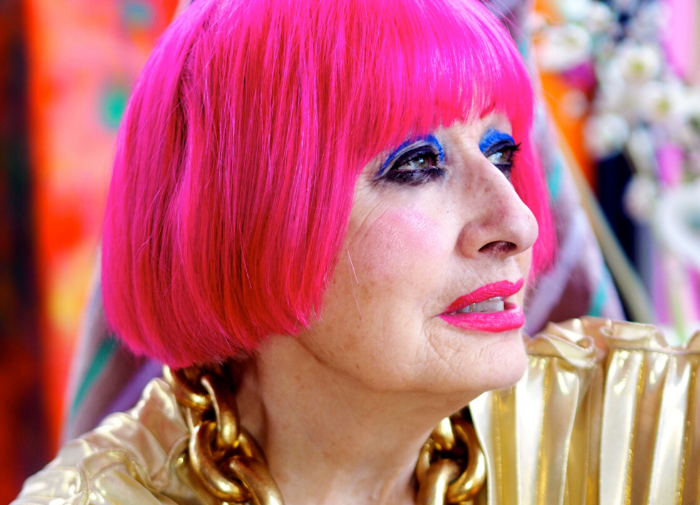 There's just six days to go until we open the doors of Olympia London to unveil a new look Pure London, complete with an exciting appearance from one of the biggest names in the business. Dame Zandra Rhodes will be taking to the Nomad Stage this season, as she celebrates her very own fashion jubilee. I had the privilege to sit down with this iconic figure to find out a bit more about her story so far ahead of Pure London AW20/21.
Can you tell me a little more about your career and your background in fashion? How did you get into the industry?
My mother was one of my main driving forces as to why I joined the fashion industry. She was a Fitter for the Paris Fashion House of Worth so I suppose you could say that dressmaking was in my blood. My designs were considered too outrageous by traditional British manufacturers in the 1960's - this led me and Sylvia Ayton to open to Fulham Road Clothes Shop in 1967. In 1969 the store ceased and I went at it alone, I got picked up by the iconic Diana Vreeland of U.S. Vogue and she introduced my designs to the international fashion scene! The rest is history!
You're celebrating "50 Years of Fabulous", but has there been a particular fashion highlight for you?
I celebrated my 50 years last year in 2019. September was a month full of such great things. My retrospective exhibition 'Zandra Rhodes: 50 Years of Fabulous' launched at The Fashion and Textile Museum and there is an accompanying book published by Yale University Press. The exhibition is now travelling to Aberdeen at the Aberdeen Art Gallery and will be on show over Summer 2020.
Who or what is your biggest design inspiration?
My teacher Barbra Brown inspired me to go into printed textiles and go to the Royal College. I often look back at my own archive for new inspiration and adapt more current shapes to archive prints. However I would say that travel is my biggest inspiration, especially colourful places such as India and to visit there with inspirational friends such as Andrew Logan who loves sketching and having adventures with me.
Do you have a favourite trend right now?
I find netting and volume very gorgeous - it reminds me of my magical ballgowns from the 1970's. As I have a vast archive of prints we are able to look back at into my amazing adventures for inspiration.
What advice would you give to aspiring fashion designers?
Educate yourself as much as possible, intern at as many companies as you can and find your feet and purpose. You could think that you want to go into design but once you have worked in the environment you could notice new skills that lead you down a new path! There are so many paths to go down in the industry so keep your mind open and work as hard as you can (not just 9 to 5!!)
What will you be speaking about at Pure London this season?
I will be discussing my 50 years in fashion and signing my retrospective book "Zandra Rhodes: 50 Years in Fabulous Fashion."
Finally, why do you think London is such an important fashion destination?
It's diverse and inclusive - which leads to originality and something fresh each season! Sadly it is very different from the 70's and 80's - London is now often bypassed at fashion weeks.
Pure London kicks off on 17th July 2022 Prepare for three days jam-packed with the must-see collections, speaker exclusives, inspirational catwalk presentations and more.
This post was created by Pure London editor Emma Wilder

---
About Pure London and Pure Origin
We are the UK's number one leading fashion trade event that brings together the entire fashion supply chain, right the way from fibre to fashion, whilst being responsibly sourced.
No other UK show offers sourcing and brands together, making Pure London and Pure Origin the only event to cater to all your fashion buying needs under one central London roof.
Location & Opening times:
Olympia London,
Hammersmith Road,
Kensington,
London W14 8UX
-
Sunday 17th July 2022, 09.30 - 18.00
Monday 18th July 2022, 09.30 - 18.00
Tuesday 18th July 2022, 09.30 - 16.00