10 Jul 2019
Meet the buyer… Jacynth Bassett, the-Bias-Cut.com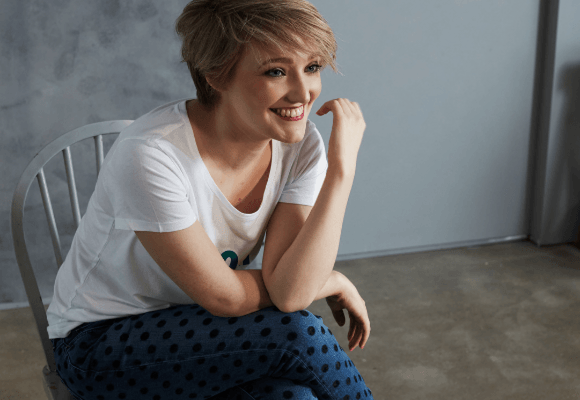 Trailblazers, trend setters and innovators. These are the people that Pure London is designed for. From the small and emerging designers, to household names in retail and fashion design, creativity and innovation brings us together each season. Anti-ageism trailblazer Jacynth Bassett is one of these inspiring people. Ahead of her appearance of Pure London SS20's Future Stage, I sat down with Jacynth to find out more.
Can you tell me a bit more about the-Bias-Cut story?
I founded the-Bias-Cut.com – the first pro-age online independent fashion boutique –after growing saddened and frustrated at seeing women, like my mum, being treated as invisible or irrelevant in the eyes of the Fashion Industry, largely due to their age.
I developed the business straight out of graduating from university, having had no prior experience in fashion or retail. I actually studied Law at Cambridge and, from age 13, had intended to become a barrister. But I realised it wasn't for me, and wanted to work in an industry I really loved. The Fashion Industry had always been a passion of mine and it was whilst I was at university that I came up with the idea for the-Bias-Cut.com.
After thorough market research, I launched the-Bias-Cut.com in March 2016, having started a blog nine months earlier to gain a following and start conversation. I began with just 4 small British labels, and funded the business entirely with my very minimal savings. It really was a shoestring budget, so I built, developed and ran everything myself – from the website, to buying, to the marketing.
Since launch we have continued to grow organically and 3 years later we now have over 30 labels – a mixture of known and unknown (I really like to support up and coming designers) - and a global customer base. We also recently launched my own eponymous label which had always been a goal.
My overall mission is to fight ageism within the Fashion Industry so, alongside the-Bias-Cut.com, I launched the movement 'Ageism Is Never In Style' in August 2016 to discuss and challenge diversity in the Fashion Industry.
Obviously, ageism and inclusivity are important topics for you, why is that?
We live in a society where we're repeatedly told ageing is something to fear. And yet it's a part of life, something that cannot be stopped, and is actually a privilege that sadly many are not fortunate to experience. So we should be embracing and celebrating it, not the reverse.
Ageism is the only 'ism' that every single one of us could experience, so it's really important that we all engage in the conversation and tackle it. And whilst ageism is genderless, women in particular are more subject to it due to sexism… men become 'silver foxes', whilst women become 'spinsters' and 'mutton dressed as lamb'. We need to redefine what it means to age so that older women feel confident and visible, whilst younger women have something to aspire towards.
With regards to inclusivity generally, it's vital that people see themselves represented and celebrated. We see 3-5 thousand adverts a day, so it's virtually unavoidable to be affected by images around us, and if you don't see yourself represented – especially in Fashion, which defines beauty standards – it's inevitable you will feel excluded, and have your self-esteem and confidence damaged. And even if you do see yourself represented, we should all advocate for more diversity, because enriches all of our lives, perspectives and attitudes.
Where did the inspiration for the name "The-Bias-Cut" come from?
It's a double entendre: a reference to the technical fashion term, as well as our mission to cut through ageist bias within the Fashion Industry. I'll admit it took me a long time to come up with it! As I was developing the business, it had a different name for a while but it never felt quite right… Then one day I woke up after a sleep and it just came to me.
Describe your personal style
I'm very eclectic… But I'd describe it as contemporary, feminine with a dash of playfulness and effortlessness. I also love colour, particularly hot pink!
Is there anything in particular that you look for from brands and/ or collections when buying?
I look for pieces that balance beautiful quality, contemporary style and flattering cuts in equal measure by labels that have an interesting, unique point of view. And, of course, they have to share and support our belief that age does not define style.
What will you be talking about at Pure London this season?
In my talk "Fashion For All Ages: Humans Not Consumers", I'll be discussing how to understand different age demographics today, how to relate and engage with them, and how to avoid patronising, stereotyping and segregating.
Whilst ageism is being increasingly recognised by the Fashion Industry, there's still a lot of misunderstandings and out-dated ideas. Times and people have changed, so different ages have much more in common than assumed - but equally there are lots of important and new nuances to understand. For example, in order to successfully cater to an older demographic it isn't as simple as just featuring a 'mature' model in a campaign; customers are savvier so can spot inauthenticity and purely commercially opportunistic behaviour. So I'll be addressing this, and sharing how you can embrace and celebrate all ages in Fashion.
Is there anything or anyone that you're particularly excited to see at Pure London SS20?
I'm looking forward to catching up with our labels that currently show at Pure, including Gibson & Birkbeck, YULL London and POM Amsterdam, as well as discovering some new exciting ones. I'm also very much looking forward to hearing Patrick Grant talk, and I find the psychology behind colours and fashion fascinating, so it will be really interesting hearing from Pantone.
Finally, if you could describe Pure London in three words, what would they be?
Educational, inspiring, style.
Don't miss Jacynth on the Pure London Future Stage on Sunday 21st July at 12:45. See the full seminar programme here.
REGISTER TODAY APPLY FOR A STAND
---
About Pure London and Pure Origin
We are the UK's number one leading fashion trade event that brings together the entire fashion supply chain, right the way from fibre through to finished ready to wear garments.
No other UK show offers sourcing and brands together, making Pure London and Pure Origin the only event to cater to all your fashion buying needs under one central London roof.
Location & Opening times:
Olympia London,
Hammersmith Road,
Kensington,
London W14 8UX
Sunday 21 July 2019, 09.30 - 18.00
Monday 22 July 2019, 09.30 - 18.00
Tuesday 23 July 2019, 09.30 - 16.00