04 Mar 2019
Meet the indies... Meera Kumar, Lounge of Lewes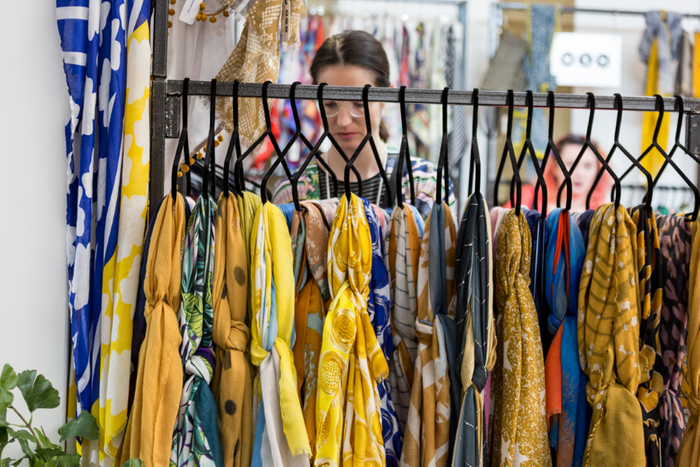 Meet the Indies… Meera Kumar, Lounge of Lewes
The Pure London buzz attracts buyers from companies big and small to the halls of Olympia London each and every season. It's always exciting to hear from the big names, like Selfridges, John Lewis and ASOS, who, among many others attend the show. But this season, I wanted to take some time to sit down with some of the UK's smaller businesses, to get the indie take on what makes the fashion world go round. In the next few weeks, I'll be bringing you insights from independent buyers up and down the country on all things retail.
First up is Meera Kumar from boutique Sussex store, Lounge of Lewes. I had a chat with Meera about her business story, the particular challenges of owning an independent store and what sums up her aesthetic…
Tell me about Lounge of Lewes and the story of how you started
Lounge of Lewes is a ladieswear store that caters to the fashion-savvy woman. Our collections are inclusive and versatile and cater to customers from the age of around 28 and upwards.
At the time I started Lounge of Lewes, I was a newly single parent, with my daughter Estelle, who was three at the time. I discovered the Lewes was a lovely place and wanted my daughter to grow up and go to school here. With my love of fashion and previous buying experience, it was a natural progression for me to open up my own store and we've been here ever since.
What do you tend to look for in your collections?
Our aesthetic is all about femininity, wearability and uniqueness – I pride myself on the fact that my collections are never overly distributed, so you can't find them in many other places!
How do you get into the mind of your customers to understand what it is they want to buy?
It's simple – I just ask them! Clients will always tell you what they want to see. I also take the time to chat with them and pay close attention to their hobbies and lifestyles. That way, when I do my buying, I already have a good idea of what customers want to see in the next collection.
What advice would you give to emerging brands and designers looking to get in front of buyers and store owners like you?
The first thing that I think is important is for new brands to try and get their collections out at the same time the bigger brands do. That's when most shop owners will do their buying so making sure you're showing alongside other brands makes the buying process much easier and more efficient – and so we're more likely to see you! I also think that having realistic delivery dates and flexibility with minimum orders and packages is really important, especially for smaller businesses.
In your experience, what are the biggest challenges facing independent store owners like you?
I think the biggest issues are around costs. Escalating running costs and business rates are making it difficult to continue on with business as usual. Another thing I'm finding is that limited parking and expensive parking charges are reducing footfall through the doors which is an obvious challenge for bricks and mortar stores!
And what are the benefits of owning a boutique-style store?
It has to be doing what you love! Running your boutique is a lifestyle choice. The end of every day brings a new sense of achievement which is exciting. I also love being able to work with innovative, exciting brands, that share my ethos and aesthetic.
Why did you choose to attend Pure London this season?
I attend Pure because of the sheer variety. There's always a great turn out of ladieswear brands at Pure and it means I can choose my collections from a huge range of pieces and brands.
Were there any brands that you were particularly excited by?
This season, I discovered loads of new brands; Emme, Sophia Schnoor and Postcards from Brighton are just a few! It's also always exciting to see some of the bigger brands like Vilagallo and Mos Mosh.
If you could sum up Pure in three words, what would they be?
Vibrant, commercial and accessible.
Meet the buyers for yourself and enjoy London's Festival of Fashion this summer. Pure London will return to Olympia London for the SS20 edition on 21st – 23rd July 2019.