10 Apr 2019
Meet the indies… Shelly Keeys, Ruskin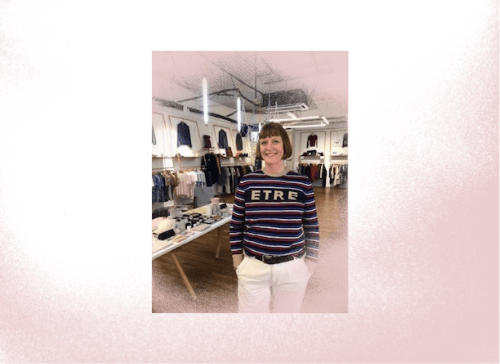 The Pure London buzz attracts buyers from companies big and small to the halls of Olympia London each and every season. It's always exciting to hear from the big names, like Selfridges, John Lewis and ASOS, who, among many others attend the show. But this season, I wanted to take some time to sit down with some of the UK's smaller businesses, to get the indie take on what makes the fashion world go round. In the next few weeks, I'll be bringing you insights from independent buyers up and down the country on all things retail.
Find out what Shelley Keeys, co-founder and owner of Kent-based business Ruskin, had to say when we sat down with her to discuss her business story, what she loves about running her own boutiques and her Pure London discoveries from the AW19/20 edition…
Tell me a bit about your business and the story of how you started
We started very small with just one brand and gifting for men. We soon realised that there was an untapped market for great men's clothing in the area and within months took on other brands such as Folk and Universal Works, dropping the gifting side of the business to concentrate on the clothing. Soon, women were asking us to start stocking women's clothing in the same style as the men's collection. Within a year we had renovated our stockroom and created a womenswear area. After 2 years we took on a new unit in Margate and opened there 2 years ago.
Last year we rebranded the whole business and re-merchandised the Whitstable shop to match the look that we designed for our Margate store. As a result, the business now looks more cohesive, reflecting that we are an independent, multi-brand retailer catering for men and women equally. We have also launched a new website, which is growing well, and we also sell on Trouva, which has been great for us.
What do you tend to look for in your collections?
We look for brands that echo our aesthetic; clean, contemporary, well designed, carefully made. We're also very aware of the environmental impact of our brands and so we try to buy form brands that are made in the UK and Europe or have a sustainable ethos.
Are there any trends this season or coming up that you're particularly excited to see more of?
We are less inspired by trends and more by an overall aesthetic. Our look is more classic and we like to encourage our customers to buy pieces that they will enjoy wearing season after season. However, we love that colour, especially pastels, is very much part of collections at the moment. It brings a fun, fresh look to the shops.
How do you get into the mind of your customers to understand what it is they want to buy?
We have a very loyal clientele, most of which have become friends of the shop, so it is easy to get into the mindset of our customer, we often reference particular customers when buying, we also listen to what it is that they want from us.
What advice would you give to emerging brands and designers looking to get in front of buyers and store owners like you?
Have a strong social media presence and do the leg work. We are always happy talk to new brands, and have bought from new brands that have simply walked into the store, or called to make an appointment. You need to do your homework on every retailer you approach, though. Make sure that your brand is the correct fit for the shop that you are talking to.
What are the benefits of owning a boutique-style store?
The fact that we meet people every day and we can build relationships with our customers. That allows us to respond in a visceral way to what our customers really want. People still enjoy shopping in a real shop where they can try on the clothes, touch and feel the fabrics, get advice on the best places to eat, drink and go elsewhere in town. It's important to us to remember that we are part of a community, within our town and in the wider retail community across the country and beyond.
Were there any brands or content sessions you saw at Pure this season that you were particularly excited by?
Pure is not a show that I would normally attend, as the collections tend to be a bit more mainstream than the collections we stock. However, my two daughters are just at the point of setting up their own brand and we discovered two brilliant fabric houses within Pure Origin!
Meet the buyers for yourself and enjoy London's Festival of Fashion this summer. Pure London will return to Olympia London for the SS20 edition on 21st – 23rd July 2019.
Find out more about Ruskin here.