20 Dec 2019
Pure Presents... Aqua & Rock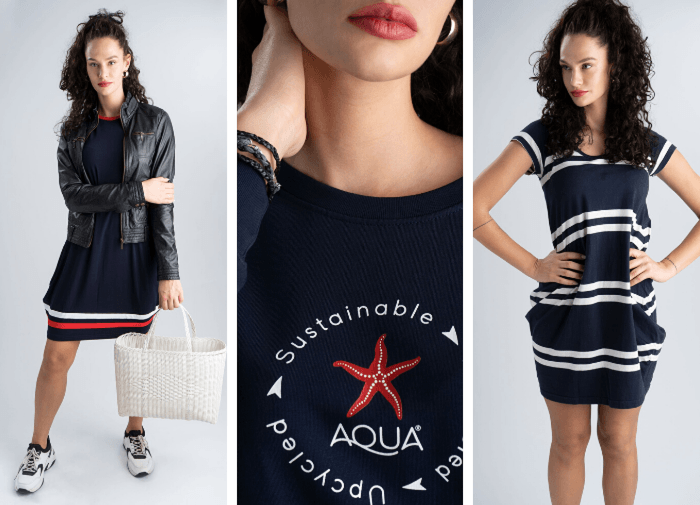 We've asked our Pure London exhibitors a few simple questions to get to know them better ahead of the AW20/21 show. Meet Dea Baker from Aqua & Rock…
Who or what inspires your designs?
When I started Aqua & Rock the forefront of my project was sustainability. I didn't have a very clear picture or a path to follow, it was a just a concept that needed to evolve. I embarked on a journey "how to construct sustainable fashion brand" and discovered an underground movement of enthusiasts, entrepreneurs, artists, designers, old British mills and factories working in collaboration complementing each other and being a part of the sustainable future. I wanted to be part of that future. Once inside old working mills I explored traditional and new weaving technics, fabrics, styles, waxing methods and our collection just designed itself. The story of starfish is represented in our logo Aqua & Rock hence our natural connection with nautical theme but the style was inspired by young Coco Channel and her Breton stripes styling.
What does it mean to be sustainable?
Sustainable means future, it means respect for the environment, nature, people and all of the communities round the Earth.
What does your company do to be sustainable?
We use recycled cotton, polyester and a considerable amount of recycled clothing and blends with virgin material; linen, wool or cotton and turns into new clothing. The production of recycled clothing reduces CO2 emissions. In addition, carbon is retained in the clothing when up cycled rather than being released as CO2 when incinerated or broken down in landfill sites. To keep our carbon foot print to a minimum, we source all our material from UK or EU suppliers and 80% of our manufacturing is based in the UK. This also ensures that our supply chain will always adhere to the latest UK & EU environmental standards, and thus be treating people fairly while helping to look after the planet.
How would you describe London?
London is exciting, vibrant, full of energy and forefront for new and exciting ideas. I just love this amazing city where everyone feels at home. It doesn't matter where your from, London makes you feel welcome and is happy to embrace different cultures and ideas.
Where in the world is your favourite fashion destination?
I would have to say London as it does have it's edge and it's ever changing ideas bringing forth bright and exiting new fashion ideas which are changing the world.
This season, Pure London is celebrating creativity without boundaries. What does that mean to you?
Pure London has always been open to creative and innovative ideas but to embrace sustainable fashion and take it to a whole new level, we are honoured to be part of it. I see Pure London as a leading idea not a following one. For us to be able to showcase our collection and our story as completely unknown brand is a fantastic opportunity and so inspiring. We are thrilled to be at Pure London!
Meet Dea and discover the Aqua & Rock story at Pure London AW20/21. Register to visit today.
---
About Pure London and Pure Origin
We are the UK's number one leading fashion trade event that brings together the entire fashion supply chain, right the way from fibre through to finished ready to wear garments.
No other UK show offers sourcing and brands together, making Pure London and Pure Origin the only event to cater to all your fashion buying needs under one central London roof.
Location & Opening times:
Olympia London,
Hammersmith Road,
Kensington,
London W14 8UX
-
Sunday 9th February 2020, 09.30 - 18.00
Monday 10th February 2020, 09.30 - 18.00
Tuesday 11th February 2020, 09.30 - 16.00